Utush scores twice, leads SDSU to 2-1 win vs Wyoming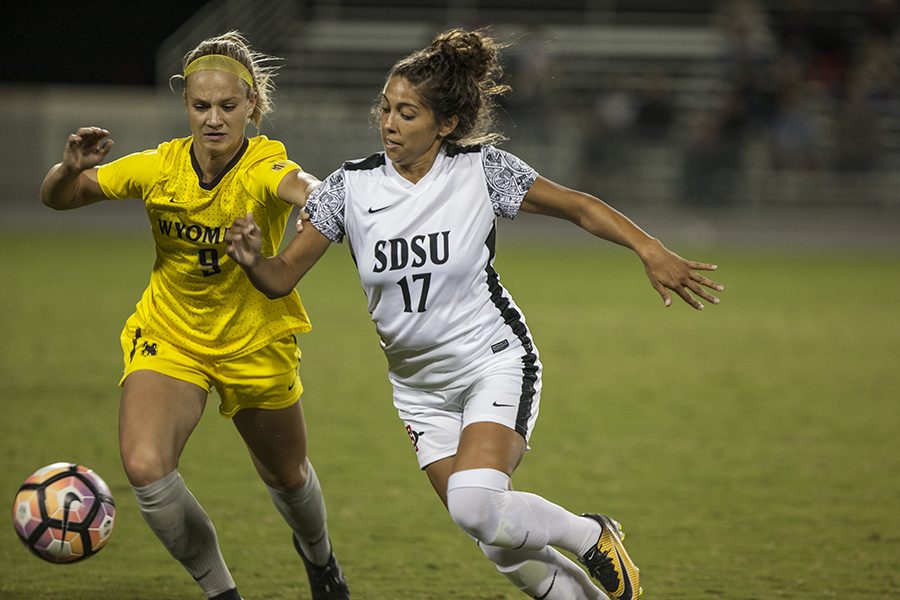 by Christina Corona, Contributor
October 21, 2017
San Diego State women's soccer won its second consecutive Mountain West Conference match on Friday night, corralling the University of Wyoming, 2-1.
Senior forward Aaliyah Utush scored twice in the second half to lead the 2-1 comeback victory on Senior Night.
With the victory the Aztecs move to 8-7-2 overall and 5-2-2 in Mountain West play. It is the first time all season that SDSU has had a winning percentage above .500.
SDSU struggled to convert in the first half against the Cowgirls, going scoreless on 21 shots.
Freshman midfielder Chloe Frisch had six shots alone in the first period.
"In order to score you have to take shots," Frisch said. "You have to keep going and eventually it will go in, you just have to work hard for that."
The first goal of the night came when Wyoming redshirt junior forward Brittney Stark sent an accelerating shot past redshirt sophomore goalkeeper Gabby English in the 36th minute.
The Cowgirls took the 1-0 lead into halftime. 
Friesen said he told his team to keep its foot on the gas pedal.
"The halftime talk was, keep doing what we're doing," Friesen said. "We're creating the chances and the goals will come." 
The aggressive offensive attitude payed off.
The Aztecs scored an early goal when Frisch and freshman forward Mia Root assisted senior forward Aliyah Utush who tapped a shot past Wyoming junior goalkeeper Georgia Rowntree.
The final goal of the game came when Utush scored again off an assist from senior defender Hailey Balma.
It was Utush's second goal of the game and fifth of the season.
"The main part to winning this game is us being together," Utush said. "At first we were getting shots off but we weren't playing them in the right spots. When we finally work together we're unstoppable."
SDSU head coach Mike Friesen said the game never felt out of their control.
"The key factor to this victory is that we didn't panic going down the hole," Friesen said. "We had such a dominant performance in the second half and we have to do it again on Sunday."
The Aztecs will host their final home game against Colorado State on Sunday, Oct. 22, at the SDSU Sports Deck.