Students react to new ticket system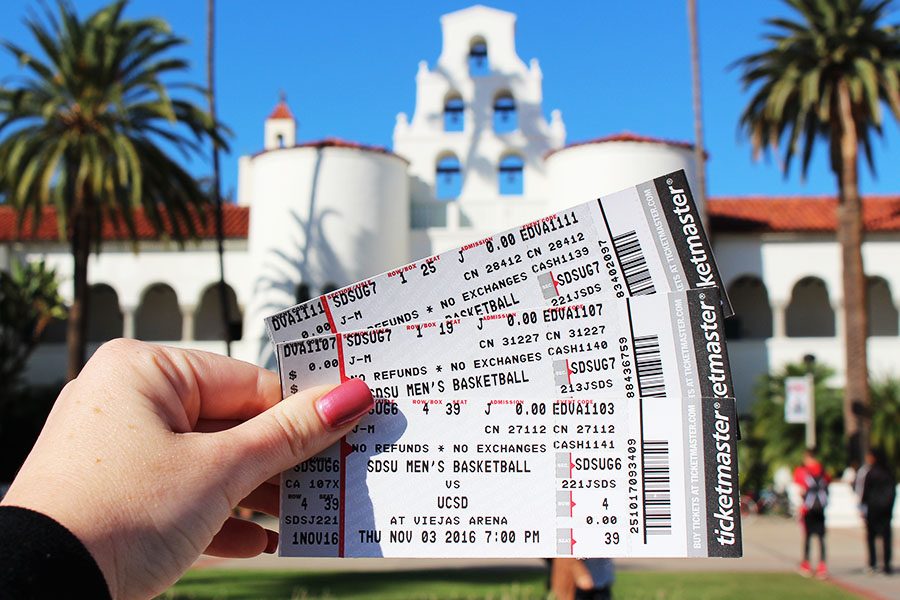 As the San Diego State men's basketball team approaches the 2017 season, members of its renowned student section – The Show – will now redeem tickets differently this season than they have in years prior.
The Show has brought energy and excitement to Viejas Arena for numerous years dating back to 2001, after SDSU's student section was nicknamed by a fan on an SDSU athletics online message board.
For years, students had to wait in long lines out of Viejas Arena to claim tickets.
On numerous occasions, students camped outside the box office for hours on cold weekday mornings.
An email from the SDSU Athletic Department was sent to students on Oct. 23 announcing that students are now able to claim basketball tickets through Ticketmaster on a first come, first served basis.
Students can redeem their tickets at 8 a.m. one week prior to the game.
These tickets guarantee seats in Sections J, K, L, and M and can only be accessed via smartphone.
There is a "3 Strike Rule" attributed to students' accounts if they claim tickets and fail to attend basketball games.
On a third and final offense, a student's account will be reviewed and potentially banned from claiming tickets for the rest of the season. If a student claims a ticket and cannot attend, they must call the Aztec Athletic Ticket Office two days prior to the game to avoid receiving a 'strike.'
General public ticket sales will open two days after the student ticket claim date.
Freshman business major Drea D'Ercole believes the traditional distribution system is more effective.
"I think the tickets should be given out the way football tickets are distributed to avoid confusion," D'Ercole said.
She said that all Aztecs sporting events, particularly football and basketball games, should be viewed as fun, and she dislikes the idea of the "3 Strike Rule."
"Such strict guidelines should not be attached to the new ticket distribution system. The risk of receiving an offense through the '3 Strike Rule' eliminates the fun," said D'Ercole.
Sophomore communications major Keely Kerr said that the new ticket distribution system has both advantages and disadvantages.
"I like the idea of the new ticket system," Kerr said. "I think it's extremely convenient, but I don't like the idea that you could be penalized if you don't go to a game."
Steve Schnall, executive associate athletic director of external relations at SDSU, outlined the objectives behind the new basketball ticket distribution system.
"The goal is that in the span of a half-hour we could sell out student tickets if that's what the demand is," Schnall said. "It's good that student will be able to have control of their own destiny with their computer and not have to spend a lot of time doing it."
According to Schnall, the decision to switch to digital tickets is SDSU's attempt to use technology to everyone's benefit.
"We certainly want to make sure those who pick up the tickets actually want to attend, and we want whoever's picking up tickets to have a simpler process to do it. We want 2,500 students at every game," Schnall said.
Connected students will now find the new ticket distribution method more convenient. The university is making tickets accessible to everyone simultaneously. The new ticket distribution system allows up to 2,500 students to claim tickets.
Sophomore Max Burns, a nursing major, said he appreciates the new ticket distribution system because it makes tickets available to all students.
"I think it's a good system because students were frustrated when they were unavailable to claim tickets in previous years," Burns said. "I'd definitely say it's better for students who really want to be there, and I like the fact that tickets are still free. It incentivizes students to go to games, and it prevents them from scalping their tickets as well," he said.
Freshman athletic training major Guillermo Gonzalez Jr. thinks that the new system has benefits, but some students might be unable to claim their ticket on time.
"The new ticket system is convenient and better for the long run as our society becomes more reliant on technology," Gonzalez Jr. said, "but it is unfair because it is based on luck more than first come, first serve. For example, if you don't claim your ticket the minute they first become available, you might not be able to attend that game after all."
Junior mechanical engineering major Brandon Pires said that if the new ticket distribution system turns out to be a success, SDSU might be able to implement it for other sporting events, such as football games, in the future.
"There's no difference between distributing a basketball ticket and a football ticket online because students will still attend sporting events," Pires said. "The new ticket distribution defeats the purpose of waking up early, going in line and getting hyped for the game. What if the internet crashes or your phone lags?"
Pires said he believes that the size of The Show will remain the same, even with the implementation of the new basketball ticket distribution system.
"I don't think the new ticket system will change the amount of people that go. People who like to go will go, but people who don't like to go won't go. If anything, I think this system is worse because people will redeem tickets and not go to games," he said.
Whether or not the new ticket distribution system will impact the amount of students that attend basketball games, The Show's influence and support will continue to aid SDSU's men's basketball team throughout the 2017-18 season.