Halsey pulls us closer in the back seat of Viejas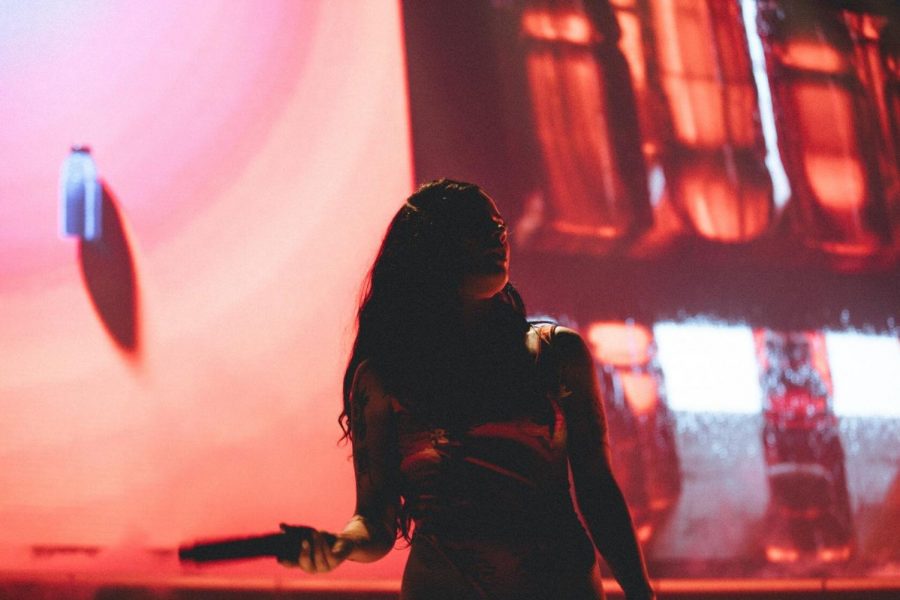 "You don't belong to anyone," Halsey yelled to the crowd during her concert at the Viejas Arena.
The singer's "Hopeless Fountain Kingdom Tour" made a stop in San Diego on Nov. 5 where she performed hits from both her albums.
While her sophomore album of the same name cryptically recounts tails of past relationships and heartbreak, Halsey's underlying message is one of self-empowerment.
Even though Halsey shares her failures of her love life in this project, she's never wavered from her path as a musician.
Biology junior Alex Ahooja said Halsey is one of the few artists who is genuine when promoting these types of messages to their audience.
"A lot of artists try to promote self-love, but Halsey says it and lives it," Ahooja said.
Halsey kept her performance simple throughout the show, making use of only one back up dancer, and instead relying heavily on graphics and visuals.
Despite not being a Halsey fan, marketing sophomore Taylor Arlandson said she enjoyed the show as a whole.
"I thought her stage set up was really cool and it was entertaining the whole time," Arlandson said.
Hidden behind a large white curtain, Halsey began singing the first few lines of her cinematic "Eyes Closed," before being revealed against a large staircase that doubled as a screen.
Her clear and even voice maintained as she descended from the staircase, switching into the song "Hold Me Down," all the while emitting a larger-than life aura, which could be attributed in part to the success she's seen since her debut album, "Badlands."
Standing in front of the stairs, Halsey told the crowd about the emotional rollercoaster of a relationship that inspired the song "100 Letters." Using King Midas as an analogy, she explains how she regrets giving up so much of her identity just to try saving a relationship that ended up failing anyway.
The crowd sang along to "Bad at Love," her current top hit, which runs down various relationships, explaining what went wrong with them.
Although many of the songs have a sad undertone to them, Halsey performed them with the bravado of someone confident and successful.
This year alone she became a Grammy nominee for her collaboration with The Chainsmokers for the song "Closer." She took the time during the concert to reflect on this moment, joking with the audience on how annoyed she got when the radio stations kept playing the song on repeat. She delved deeper though, thanking the audience for letting the song explode and for allowing her to soundtrack their lives.
Halsey's genuine character and her willingness to share her vulnerabilities with her fans through her musical projects have propelled her to the top of the charts, proof being "Hopeless Fountain Kingdom" debuting at number one.
"Everytime Halsey performs she sends (a positive) message, and I think that's really good because she has a young fan base," mechanical engineering junior Sarah Salgado said.