Aztecs escape with 4-3 victory over Michigan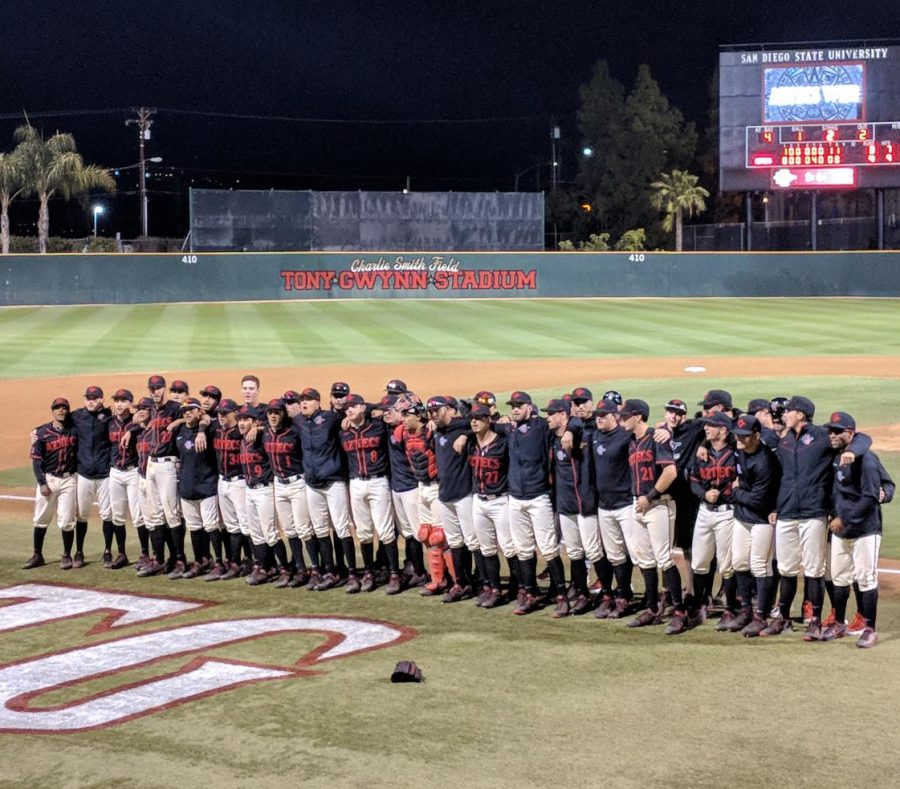 by Justin Wylie, Staff Writer
February 26, 2018
San Diego State baseball escaped a bases loaded jam in the eighth inning to defeat the University of Michigan, 4-3, on Monday night at Tony Gwynn Stadium.
Senior right fielder Chase Calabuig nailed Wolverines right fielder Christian Bullock at the plate to get out of the inning, after a single by outfielder Jonathan Engelmann.
Junior second baseman Ako Thomas was able to score from third on the hit, but Bullock was no match for Calabuig's big arm.
"I don't even know who the first baseman was… I was throwing all the way through," Calabuig said.
Sophomore pitcher Adrian Mardueno relieved senior pitcher Jacob Erickson (1-0) in the inning, helping preserve the southpaws first victory of the season.
Senior pitcher Jorge Fernandez came on in the ninth and earned his second save of the year.
With the victory the Aztecs improve to 6-2 on the year, while the Wolverines lose their fourth straight game and drop to 2-5.
Redshirt junior pitcher Justin Goosen-Brown made his first start for the Aztecs, and struck out 10 in 6.1 innings, giving up only two runs.
"We thought he was a good match up for a midweek game because he doesn't get rattled and throws strikes," head coach Mark Martinez said. "He did a great job for us tonight."
SDSU scored all four of its runs in the fifth inning, chasing Michigan senior pitcher Jayce Vancena (0-1), who gave up seven hits and three earned runs in 4.1 innings of work.
The big inning included a double by sophomore second baseman Jacob Maekawa, a triple from freshman outfielder Matt Rudick, and singles by Calabuig and senior shortstop David Hensley.
Next up for the Aztecs is a road date with UC Irvine on Feb. 27