Event preview: TEDxSDSU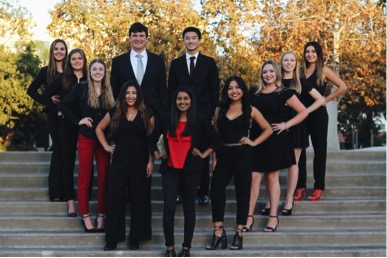 by Katie Stanchis, Staff Writer
March 8, 2018
Hang on for a minute...we're trying to find some more stories you might like.
Nine people will take the stage at Montezuma Hall this weekend for TEDxSDSU.
From 10 a.m. – 2 p.m. on Saturday, March 10, students, professors, alumni and others will share their experiences about this year's theme: "pattern disruption."
TEDx is a program of local, self-organized events where TEDTalks video and live speakers bring together audiences for the purpose of sparking deep discussions and building connections.
"You can take pattern disruption in so many different ways, so by picking a theme that is so broad the different speakers have different avenues in which they can approach it, which makes for a better event because in a diverse group each gets what they want," said Kelsey DeGuia, the chief curations officer of TEDxSDSU.
The speakers include:
Alex Weber, a comedian known for hosting NBC's American Ninja Warrior.
Amanda Oleander, a Los Angeles-based artist known for live-stream painting.
Amen Ra, an award-winning, international poet.
Brandon Liebel, an SDSU alumnus who co-founded Sand Cloud, a beach apparel company.
Dr. Heidi Hanna, an integrative neuroscience researcher, executive director of the American Institute of Stress anda New York Times best-selling author.
Dr. Nathian Rodriguez, an assistant professor of digital media at SDSU whose research interests include minority representation in media, identity, radio broadcasting, pop culture and issues of masculinity.
Hayden Willis, a senior at SDSU and Associated Students vice president of financial affairs.
Kirsten Johnson, a life coach and YouTuber, who has also created an online community of former victims of child sexual abuse.
Lori Stewart, a religious studies lecturer at SDSU who is also currently authoring a textbook on world religions.
Parker Edison, a well-known rapper, director and lecturer in the San Diego community, who has served as one of the executive producers for the Reclaiming the Community Music Project.
"What makes me most excited about my talk is having the opportunity and platform for 10 minutes to touch the minds and hearts of thousands of people," Willis said.. "My goal is that each person can take something valuable away from it and find the courage to start something special and unique to their 'why.'"
TEDxSDSU is a student organization that has been working to put the event together since last summer.
"Organizing TEDxSDSU this year has been an absolute honor — watching speakers present on a platform our team has worked so hard to create will make the endless nights of planning and countless meetings worth every second," said Salwa Khan, the chief executive officer of TEDxSDSU. "Our event will include a diverse lineup of captivating speakers and talented performers comprised of students, alumni, professors and guests."
The topics covered will range from stress all the way to sexual assault. Brian Applegate, a student musician, will also perform. For more information on the event, visit the TEDxSDSU webpage.