Senior citizens at SDSU seek to have a voice on campus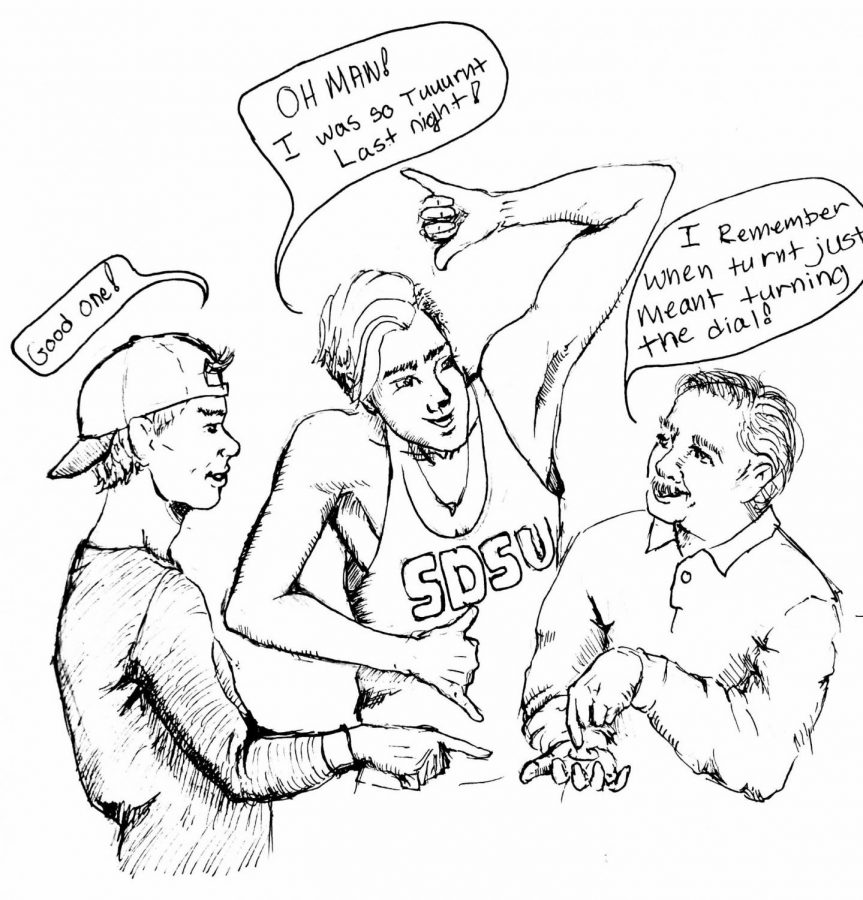 by Stephan Early, Staff Writer
March 14, 2018
Learning isn't a competition.
There are countless clichés to describe why it's okay to go back to school at any age. The variety of ages among students at San Diego State illustrates this point. However, the oldest segment of SDSU's student population may be somewhat underrepresented. The 50 and over crowd is alive and well at State. Senior citizen students are here to learn and they have work to do.
"My brain is like a sponge and I just love absorbing all the new knowledge," Lee A. Taylor, a senior studying criminal justice, said. "It just gets harder as you get older."
Older students are combating stereotypes of senility and notions of seniors being too old to continue their education. SDSU has several programs to help seniors achieve their learning goals, no matter what those goals may be.
The 60-plus program is available to certain qualifying senior students at SDSU who are 60 years or older. For these students, tuition is waived. This allows this group to pursue degree programs and save money in the process.  Some older learners are taking full advantage of this program like Taylor. However, Taylor has stated concerns about the program in her 2016 article "Creating a Space for Senior Life at SDSU" in the San Diego Free Press.  
"Very few seniors were aware that this 60-plus program even existed, as it is not being fully marketed by SDSU,"  Taylor wrote.
She said that some older learners she has encountered only found out about the program because she told them about it.
"I wouldn't be here now if I hadn't joked about a senior discount to the SDSU reps at my junior college," Taylor said. "I mean, who knows to ask such questions?"
She also said the assistance the program provides may not be enough to meet the needs of many older learners.
"Don't get me wrong, paid tuition is an absolutely wonderful benefit, but why not extend it further?" Taylor wrote.
Degree programs aren't the only course of action senior citizens can take advantage of at SDSU. There are the more publicized lecture-only classes and workshops available through the Osher Lifelong Learning Institute, known as "OLLI," from the College of Extended Studies. These classes are available to seniors who just want to engage in informational and hands-on workshops. These courses allow senior citizens who aren't in the market for degrees but still care to continue their education to do so in less formal settings.
"Try one class, try five classes, there's no obligation at all," OLLI student Mike Friedman said. "See what you like, and if you don't like it, try something different."
The classes range from any number of subjects and offer lectures, workshops and outings.
The class Friedman happened to be attending was titled "There's No Business Like Show Business: The History of the American Musical," taught by Maya Ginsberg. Ginsberg, who is an SDSU alumna with a master's of art in music, teaches students major talking points of musical theater from the early 1960s to present day.
This time frame being taught in class aligned perfectly with many of the class members' ages. The class offers information students may not have known, but many members have firsthand knowledge of much of the subject matter because they lived through it.
While this approach may be a more leisurely side of academia, these students still have issues any other SDSU student would be familiar with.
"Oh, it's difficult to get here sometimes with traffic and parking, but it's worth it," OLLI student Linda Wright said.
Wright spoke of the rewards and benefits of getting out, learning and sometimes relearning information provided through the OLLI program. Another benefit that stems from this type of program is the availability for like minded seniors to get together.
"I've met several people that are fun to talk to because everybody is kind of different, everybody lives in different places and is interested in different things," OLLI student Joyce Swett said. "It's an easy place to make friends."  
This sense of community is something that was missing for older students in degree programs according to "senior-senior" Taylor. She said she wanted a space for older students to meet and share with each other.
So, she started the Aztec Seniors 50+ Group.
"I'm a fixer, I try to find solutions to problems and this was a problem," Taylor said.
As president and founder of the club, she invites SDSU's older population to get involved so they are represented on the campus as the force that they are.  She also said that she hopes not only people over 50 come to check it out because it's a group with a lot to offer.
"We are 'Aztecs for Life.' We are also seniors in life and living much longer, so let's empower each other," Taylor said.