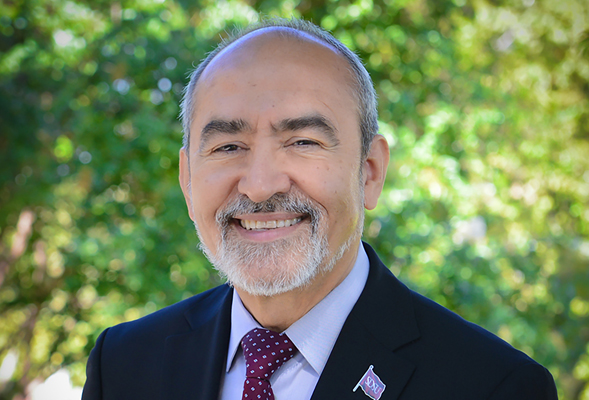 SDSU NewsCenter
Morteza "Monte" Mehrabadi, dean of the College of Engineering, died Tuesday, March 13 after a brief illness, San Diego State officials said.
Mehrabadi's professional contributions to the San Diego State community were vast, including his efforts in planning the new Engineering and Interdisciplinary Sciences Complex on campus, according to a university statement.
His aspirations for his college were always rooted in what Provost Chukuka S. Enwemeka said was a "quiet, focused determination," to foster progress.
Eugene Olevsky, associate dean for Research and Graduate Studies, described his experience working in the College of Engineering under Mehrabadi's leadership as a blessing.
Mehrabadi continuously displayed a willingness to listen, Olevsky said.
"He, in some magic way, was able to find the resources to innovate," Olevsky said. "I literally could not recall anybody in his position that would be able to achieve those kinds of results."
However, Mehrabadi's personality was often what resonated most with those who encountered him.
Mugdha Dokhale, a mechanical engineering alumnus, said Mehrabadi always showed he wanted to learn about her and listen to her experiences.
Dokhale said, for a long time, her interactions with Mehrabadi were limited to passing by one another during lunchtime. Before they formally met, she said he remembered her as "the girl with the interesting lunch," and that he would always take the time to ask about her lunch and talk to her about her home country of India.
"He would be very inquisitive about my experience at SDSU as an international student," Dokhale said. "He always gave me the feeling he actually cared about what I wanted in my future."

Mahasweta Sarkar, associate professor of electrical and computer engineering, said Mehrabadi's passion for his work and others was truly unique.
"He was one of those rare human beings who possessed a silent strength of purpose and determination," Mahasweta said. "His loss is a huge one for our college,  not just because of his professional contributions but also for the person he was."
An event celebrating the life and accomplishments of Mehrabadi will be held Friday, March 23, at 10 a.m. at the Parma Payne Goodall Alumni Center, according to SDSU NewsCenter. University officials asked anyone planning to attend the celebration to RSVP here.