San Diego band Sights and Sages scores in local music scene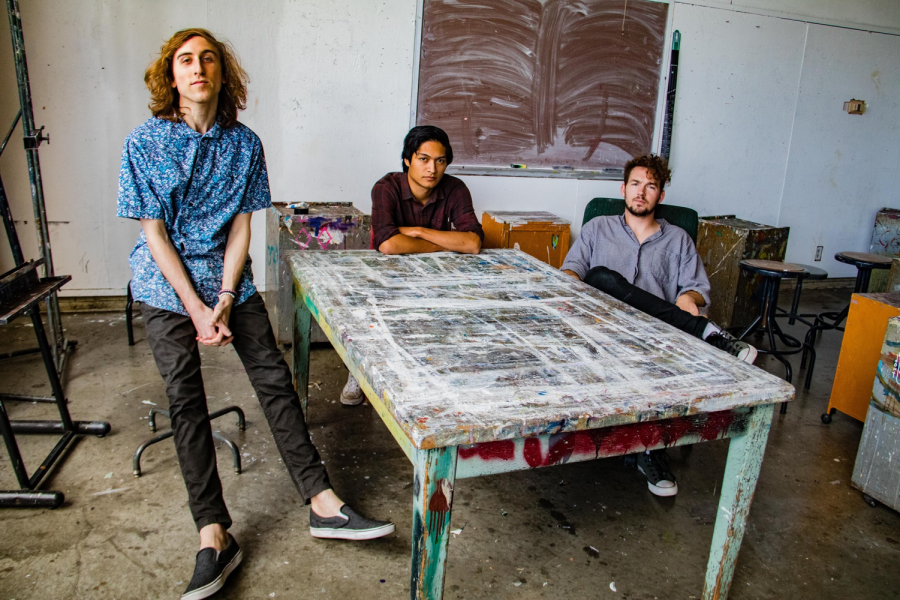 Members of Sights and Sages have been performing together since their middle school days in various iterations, but the most recent incarnation takes music fans further along the journey from teenage ska group to an alternative, indie rock band.
Last year, the band made the list of 10 finalists in a 91X contest of more than 250 local bands. They were picked as the winners by the band Switchfoot, opening for them in the annual Switchfoot BRO-AM — a surfing and music event that raises money for charity.
"We were really excited about that because we were able to shine through all of the other bands that got submitted," Jay Sanchioli, bassist for Sights and Sages, said. "Not that we're better than the other bands or anything like that, but it was just cool that we were hand-selected by Switchfoot. That was a really, really cool feeling."
Since releasing a seven-track album, "doubleplus," in June 2017, the band has been nominated for Best New Artist and Best Indie/Alternative Album for the 2018 San Diego Music Awards.  Even though they didn't take home either award during the awards show on March 19 at the House of Blues, they were excited to be included in the list.
"It would have been cool (to win), but we weren't necessarily extremely worked up about it," Sanchioli said.
The group originated as a ska band, but as the members grew up and added other performers to the ensemble, their sound evolved into an alternative, indie rock band with 1980s musical influence, said Christian Clark, guitarist and vocalist.
While the source of musical inspiration varies amongst the band members, some influences include Beck, Nine Inch Nails, Gorillaz, Radiohead, Depeche Mode, The Cure, Oasis and Blur, as well as composers like Danny Elfman and John Williams. These artists and songwriters have inspired members of the band to become role models for future generations of musicians.
"When I was a kid and I'd listen to some artists, my influences, I couldn't believe it — I was in awe of the fact that these people could actually create something this beautiful and that meant so much to me," Clark said. "I just want to be able to — not in an egotistical way — have a similar impact on people. I want people to just listen to it and just put a smile on their face."
Guitarist and keyboardist Sebastian Rizo, the most recent addition to the band, was the audio engineer who recorded Sights and Sages' first album. Working with them in the studio inspired him to join the group, adding another layer of evolution to the band's sound.
"I bring whatever is weird about our band," Rizo said. "Since I don't really listen to rock music, my goal for us is not to sound like a rock band. I think 'Let's just make something that people haven't heard before.'"
Throughout his time performing in San Diego, Clark said that the music scene has grown but is still much smaller compared to Los Angeles.
"San Diego compared to a lot of places is relatively small," Clark said. "If you were to compare San Diego to somewhere like LA, it's not even close."
Despite having success as a band and as an audio engineer, Rizo said that San Diego's minimalist music scene may be affected by the crowds at shows, or lack thereof.
"Music is sadly an inconvenience to a lot of people here in San Diego. You go to a bar and people don't want to listen to music," Rizo said. "San Diego is kind of in a weird spot right now. People are still holding on and trying to make it a 'music city,' but locals haven't been very supportive of that."
Adding that "there's not very many places for underage bands, or underage music fans, to support music," Clark said he has seen the San Diego scene grow throughout his musical career.
Sanchioli and Clark also play in another local band, Caroline Corn's Love Glow. Clark said he's thankful for those who support his bands and the local music scene, and encourages locals to go out to see live music more often.
"I think it's really important to give back to your community and support local artists — people work really hard in their free time to make cool stuff," Clark said. "I would just urge people to keep exploring new music, because it gets really easy in the grind of regular life to just lay back on some of the old tried and true songs and artists that they enjoy, but there is such an amazing, huge world of music out there and it's really incredible."
Drummer Chaz Lamden, Sanchioli and vocalist Kody Knode, who also plays the keys and trumpet, all attended San Diego State.
Whether they become a household name or simply a local success story, Clark aims to connect to audiences through producing music that he and the band can be proud of.
"My ultimate goal in relation to this project is to do something that I am personally proud of and that people can listen to and connect with and enjoy," Clark said. "Ultimately I think that the purpose of music is to complete the ideas and concepts of emotions and feelings and illicit reactions. It's a powerful thing, really."