Senior setter finds her place on the Mesa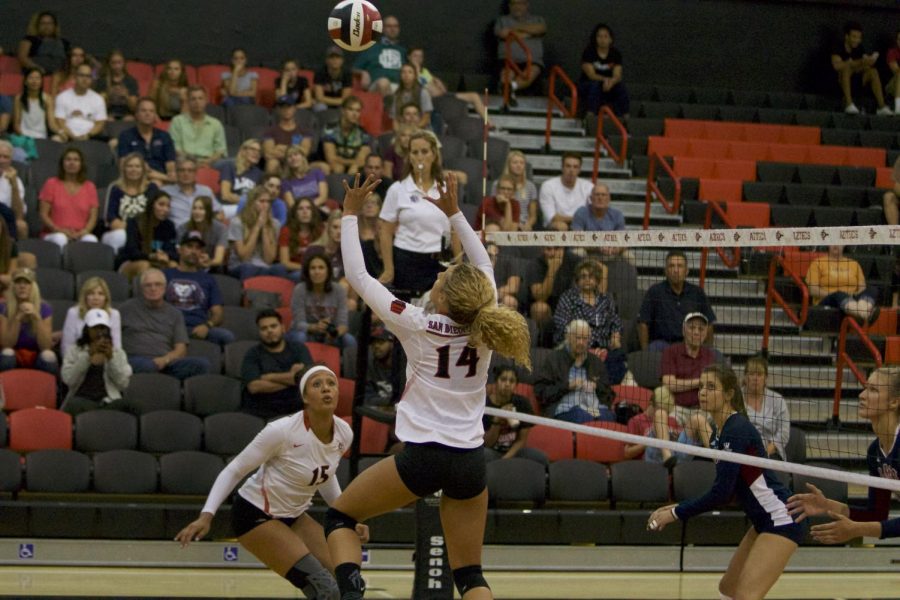 by Sydney Williams, Staff Writer
November 11, 2016
Many people may believe that being a setter in volleyball is easy, although they do not see the work behind closed doors that is put into achieving perfection. This is where Indigo Thompson began to shine.
Thompson started her college career playing at Virginia Commonwealth University and she said she wanted to find a team that was competitive with a great team culture. In 2016, the Aztecs decided to give her a shot. She now wears the number 19 and is the starting setter on the Aztecs Women's volleyball team.
Thompson tried out for her first team in the coming of her ninth grade year and ended up making the Junior Varsity team for Armstrong High School.
This was her first time playing on an actual team.
She caught interest in the sport by dipping her feet in different sports including soccer and basketball.
Overall, she fell in love with volleyball. She said she loved how fast paced the game was, the competitiveness and the cheering. Watching her family play throughout the years also influenced her to give the sport a try.
Thompson grew up with an extremely athletic family. Her mother, Stephanie Thompson, aunt and uncle all played Division I volleyball while her sister, Dominique Thompson, also played volleyball at Wisconsin. Thompson's father, Darrell Thompson, was the No. 19 pick in the 1990 NFL draft and played for the Green Bay Packers. Thompson said that growing up in an athletic family, that everything was always a competition and because of this sports happened naturally.
"When I began playing sports, I had a hunger to go out and play," Thompson said. "Sports was an outlet for me to showcase that hunger. Having an athletic family helped us all grow close and sports was something that I had grown into wanting to do."
Once Thompson found her niche, she began to evolve even more as a setter. Thompson was drawn into being a setter from the beginning of her career. She loved that being a setter was all about technicalities and dynamics.
"It is such a challenge to interact with each player throughout the entire game but that is what I love," Thompson said, "I love being involved in every play and overall, I love to be challenged."
Head Coach Deitre Collins Parker saw that this 5-foot-6 girl was the one who could adapt to such a challenging environment and she decided to give her a shot. When Thompson transferred, she quickly earned a starting spot on the team.
"It was not easy. It is a lot of hard work and each day in the gym is a day to get," Thompson said. "A new day to earn and keep my spot. A persistent mindset is key for me and keeps me working hard."
After leaving her hometown of Plymouth, Minnesota, Thompson found herself homesick and missing her family, but she continues to showcase her talent and make them proud. She now has 453 assists, 98 digs, eight blocks and four kills. Thompson said she feels that transferring from VCU was a great decision. She wanted to be a part of a team that made her step up her game and that is what she did.