Julian Escobedo bulks up for Aztecs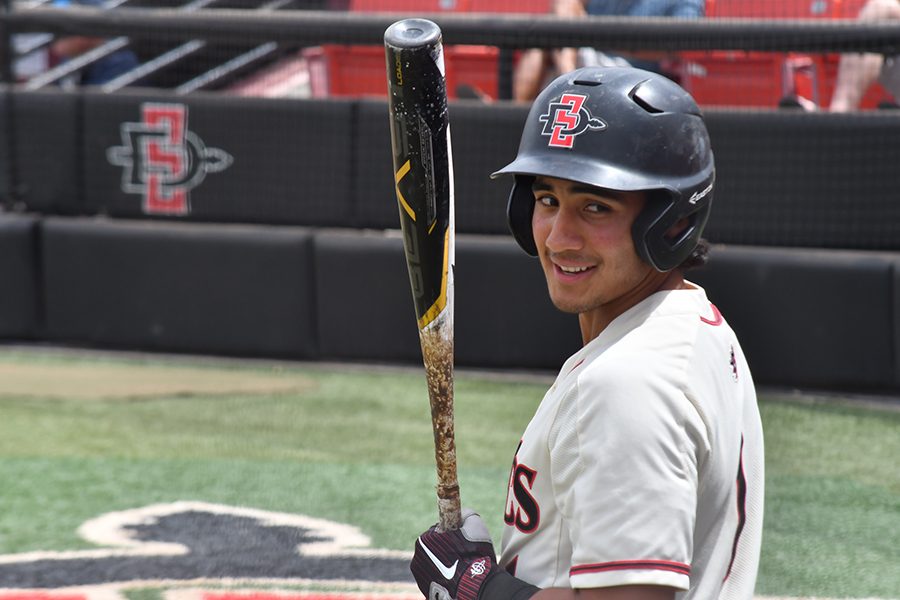 by Justin Wylie, Staff Writer
April 25, 2018
As an athlete, repetition is something one battles with every day during practice in order to reach their full potential.
For San Diego State baseball sophomore outfielder Julian Escobedo, repetition has been his best friend and has allowed him to be successful up to this point in the season.
Escobedo is another local guy that the Aztecs coaching staff has been able to keep in San Diego. During his high school years, he played ball for Eastlake High School in Chula Vista.
Escobedo came in as freshman weighing 165 pounds, and relied on his speed and wiry frame to roam the outfield.
However, Escobedo took the summer coming into this his sophomore year to solely lift and gain weight, and he has transformed his build to a sturdy yet speedy 180 pounds while standing at 5-foot-11-inches.
"My weight training has improved my swing, my endurance, and my play in the outfield," Escobedo said. "My style of play made a big change being able to hit the ball with more power."
Not only has the weight helped him hit more consistently and for more power, Aztecs head coach Mark Martinez feels it separated him from the other outfielders in the conference.
"For me, he's one of the best outfielders in our league that is what he's grown into," Martinez said. "He's a great defender, the work he does out there has changed and he's paying more attention in his preparation."
Escobedo's maturation physically is the most visible transformation for a bystander to see, but his maturation between his ears is what has allowed him to secure the starting center fielder position for the Aztecs.
Escobedo's success was not instant, however.
Escobedo struggled mightily to begin the season, hitting under .200 before an unprecedented series against Cal Poly San Luis Obispo where he got a hit in seven of 12 at bats.
Escobedo made some minor adjustments in not only his mechanics but his mental approach to his at-bats.
Escobedo said that his goal became "just putting a good at bat together every time and trying to spray the ball to all fields, that was probably my biggest change in mindset".
The adjustments he has made have left a mark on his stat line, ever since he began putting them into effect.
Escobedo now leads the Aztecs in runs scored, is second in on-base percentage and walks, and is hitting a healthy .328 average.
"(Escobedo) is still figuring out what his identity is… but he has been doing a great job doing that," Martinez said.
The Aztecs coaching staff have the luxury of having Escobedo for potentially two more years, and the ceiling for the young ball player remains yet unknown.
Escobedo will continue to help the Aztecs on both sides of the ball, tracking down would-be hits from opposing teams and wreaking havoc on the bases as SDSU pursues another NCAA tournament run.