Blog: The Daily Aztec wins big at Society of Professional Journalists local chapter awards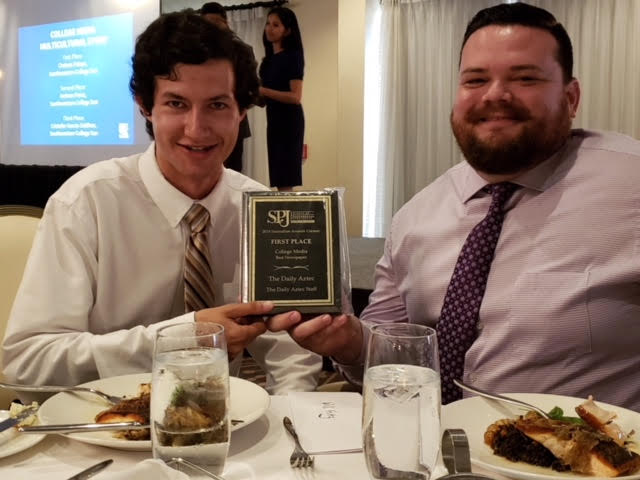 San Diego State's independent student newspaper, The Daily Aztec, was once again named "Best College Newspaper" by the San Diego chapter of the Society of Professional Journalists at this year's local journalism awards banquet on July 17.
It's the second year in a row The Daily Aztec had taken home the award.
Several Daily Aztec writers and editors also won individual awards in news writing, editorial writing, illustration, photography and video production.
The Society of Professional Journalists pro chapter, San Diego, is part of the national SPJ organization that promotes good journalism practices and recognizes outstanding work on both the professional and collegiate level.
The Daily Aztec awardees were:
Best Newspaper
1st Place: The Daily Aztec staff.
Feature Photo
1st Place: Kelly Smiley, "Opening the 'Door of Hope.'"
Sports Photo
1st Place: Kelly Smiley, "Rashaad Penny hurdles the Boise State defense."
News or Feature Series
1st Place: Will Fritz, Bella Ross and Jasmine Bermudez, "Aztec Mascot Controversy."
3rd Place: Lauren J. Mapp, "New CSU program automatically substitutes supply orders with sustainable options."
News Story
1st Place: Sofia Bert, "Maya residents molded by unwanted spores."
Newscast
1st Place: Diana Guerrero, Carolina Lopez, Mirella Lopez, "Campus prepares for 'Great Shake.'"
Opinion/Editorial
1st Place: The Daily Aztec Staff, "Editorial: Black minds, like black lives, matter."
Illustration or Cartoon
1st Place: Mary York, "Black minds matter", The Daily Aztec
In-Depth Reporting Story
2nd Place: Andrew Dyer, "Students say campuses not friendly to conservative values."
Layout and Design
2nd Place: The Daily Aztec Staff, "Friendship park front page Nov. 29, 2017."
Arts and Entertainment Story
3rd Place: Lauren J. Mapp, "Coffee shops in San Diego have grounds to brew popularity."
Feature Story
3rd Place: Lauren J. Mapp, "SoCal Bronies gallop to SDSU."