Volleyball starts season hoping to exceed expectations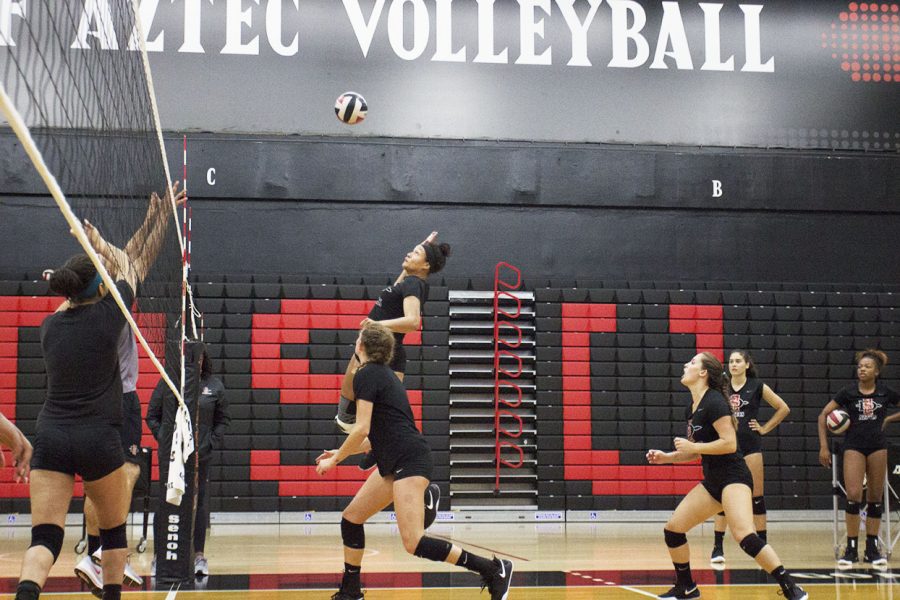 San Diego State women's volleyball looks to expand on back-to-back winning seasons, as it attempts to win its first Mountain West Conference title since 2012.  
SDSU head coach Deitre Collins-Parker's said the team's initial goal is to get better every day.
"(We want to) get better every time we step on the court," she said. "We try not to put a long-term goal right now. We just focus on day by day. We have some injuries we're overcoming, so we're still figuring out and growing, but we've got a lot of good talent returning, so we expect good things."
SDSU was voted to finish third in the conference by MWC coaches, behind Colorado State and University of Wyoming in the league's annual preseason poll.
To win the conference, Collins-Parker said that Colorado State, the reigning conference champions who the Aztecs have not defeated since 2013, is the biggest obstacle.
"Colorado State is perennially at the top," Collins-Parker said. "We know that going in and they return a lot. We know if we're competing with them, we're competing with the best in the nation because they're a great program."
The Aztecs' first chance to compete will be on Aug. 24 at the Aztec Invitational where they will face CS Bakersfield, who made the NCAA Tournament last year, Seattle University and University of Portland.
Collins-Parker said the Aztecs intentionally scheduled tough opponents for the opening weekend tournament.
"I think it's a good competitive schedule that we have a good chance to do well in and that's by choice," she said. "There's some really good teams in this tournament."
SDSU's roster of 20 is split between 10 returners and 10 newcomers, which includes junior setter Delaney Taylor, a transfer from Oregon State.
Collins-Parker said Taylor is expected to make an immediate impact.
"(Taylor) was a backup at Oregon State so she got to practice with the best every day," Collins-Parker said. "She's our starting setter so we expect a lot out of her. She brings a lot of intangibles already. The things she says, the expectations she holds herself to, and that's what she can present to other people: what it takes to play at a high level."
Junior outside hitter Ashlynn Dunbar said the team's goal is to win the conference but must focus on one game at a time.
"As our team goal, obviously, we want to be conference champions," Dunbar said. "We want to make it to the NCAA Tournament, but we realize that we can't look too far ahead in the future, so we've got to take it game by game."
Dunbar said the team has embraced not being the favorite and use that as motivation to push even harder this year.
"I feel like every preseason we're always picked below with what we think we can do," Dunbar said. "I think that it's important for us to not pay attention to what everyone else says because we know what we're capable of and we know that if we play our game, it doesn't matter."
Senior middle blocker Deja Harris said being voted third is an opportunity to surprise and prove people wrong.
"I like being the underdog because we get to show up and show off and prove to everyone else that we should be first in that poll," Harris said. "I think that we're going to be able to work out all the new kinks of the new girls. We have different pieces that are going to be super essential for this program and get us to the end goal."
Harris, a reigning three-time all-Mountain West selection, returns as the only all-Mountain West player on the team.
Collins-Parker said that Harris' role will expand this year as she takes on more of a leadership role.
"This is the first time she's a leader. She's got to step up and make people around her better," Collins-Parker said. "She, physically, is one of the most gifted in our conference. I think if we get her the ball and she's blocking, as well as hitting, she can be a big impact on our team."
Harris said the perfect ending to her career as an Aztec would be to leave with a championship.
"The joy of playing volleyball with these girls behind me, leading us all to the Mountain West championship, getting my jewelry on my finger and definitely going to the tournament, that would be that Cinderella ending," she said. "I believe it's going to happen this year, this is the year. It's now or never."