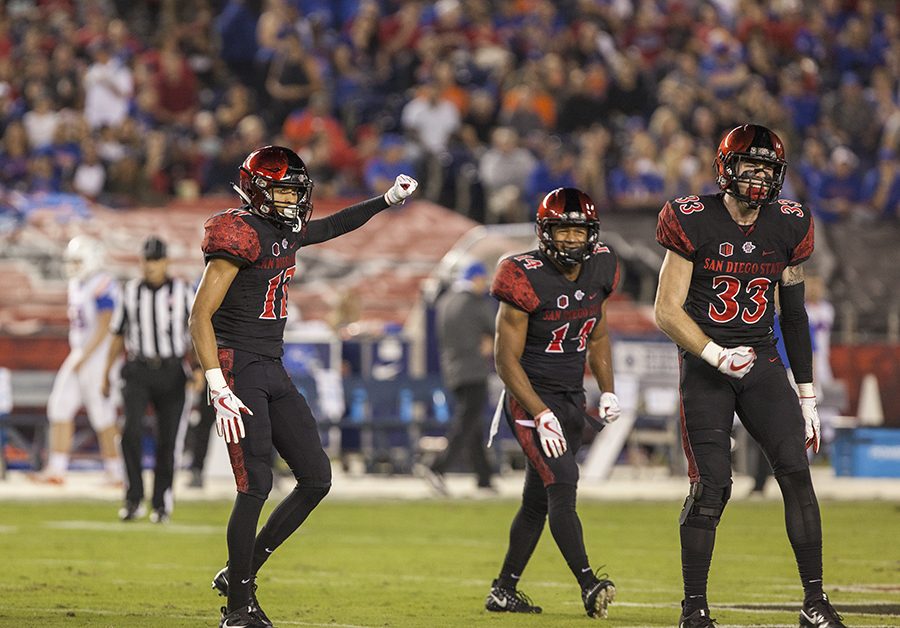 San Diego State football sophomore safety Tariq Thompson is well-decorated for a player heading into only his second collegiate season.
Last year, Thompson became the first SDSU true freshman to start since 2009, and was named a Freshman All-American by both the Football Writers Association of America and USA Today.
This season, the local product from St. Augustine High has been named to the 2018 Mountain West Preseason All-Conference Team.
Thompson said that while receiving the award is an honor, his only focus is on improving and helping his team win games.
"My goal is to come out everyday and get better," he said. "The preseason awards are nice, and it's a true honor, but I'm more (interested) about the team and how (many) games we can win."
Thompson did his fair share last season, racking up 63 tackles to go along with a team-high five interceptions, including one he ran back 83 yards for a touchdown in the Aztecs week five victory over Northern Illinois.
Despite this, Thompson said he feels he wasn't in the best shape last season, and that this year he will be able to contribute even more.
"Last year I feel like I kind of got bullied a little bit, and I got fatigued," he said. "This year I feel like I'm in better shape, better strength wise, better condition, just (going to) do better this year."
SDSU finished the 2017 season with a record of 10-3, but failed to make the conference title game after regular season losses to both Fresno State University and Boise State University.
The Aztecs have been voted to finish second in the West division this year, behind Fresno, the first time the Scarlet and Black have not been the division favorite since 2015.
Thompson said being voted second is a reminder of how the the team came up short, but that this year, like every year, the goal is to win a conference championship.
"Every year our goal is to win the championship," he said. "To see us not predicted to win is kind of a reminder of how we didn't win last year."
Thompson will be starting in one of the two Warrior spots, which will have him running around in the defensive backfield in head coach Rocky Long's 3-3-5 defense.
"Any coach Long defense, every safety should be involved in run-pass," Thompson said. "It's kind of a variety of jobs you have to do so you never really get to do much of one thing."
While Thompson is still a young player, his advanced skill set has placed him in the position of being a leader on a team which will be looking for him to set the tone among the defensive backs.
First-year defensive coordinator Zach Arnett said that the best way for Thompson to lead is to perform out on the field.
"(Thompson's) just going about his business," Arnett said. "Obviously the best way to be a leader is to be a really good player and master your job."
Another player with a leadership role on the defense is senior linebacker Ronley Lakalaka, the Aztecs reigning tackle leader with 82.
Lakalaka heaped praise on Thompson, and said he expects him to thrive in his new role.
"(Thompson's) a very genuine leader. He shows his leadership through his hardwork and his dedication on the field. He's very humble," Lakalaka said. "I'm looking forward to him taking that leadership role, because the knowledge that he has for the game is up there with all of us."
Thompson said he still has to work on getting used to his role as a leader, but he accepts the challenge and is relying on help from upperclassmen, such as Lakalaka, for support.
"I still have a lot of upperclassmen ahead of me that are helping me lean into that (leadership) role," he said. "It's definitely something I'm working on trying to be more vocal, and just trying to be the best person I can be."