Column: Chapman must make better decisions under center for Aztecs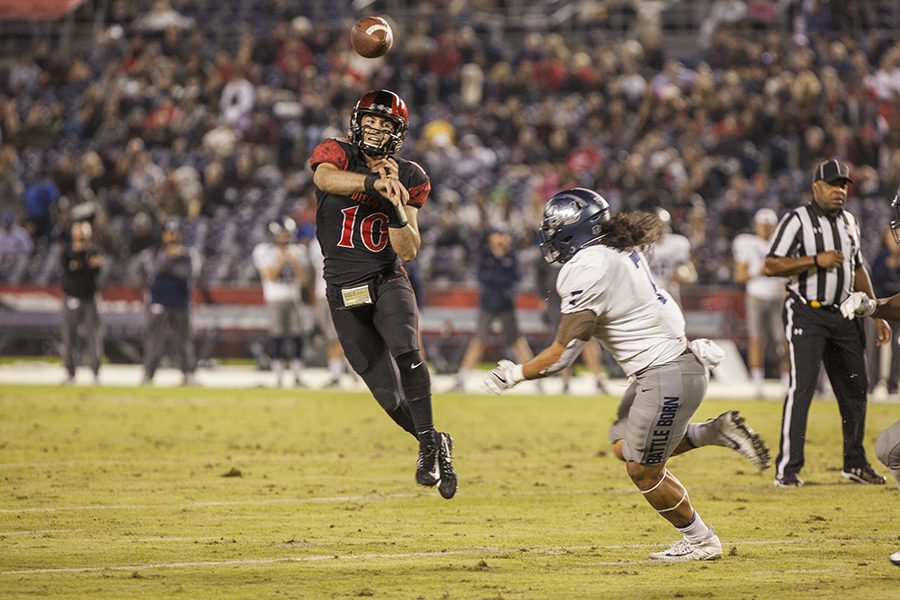 San Diego State football senior quarterback Christian Chapman entered the first game of the season one win away from becoming the winningest quarterback in SDSU history.
During his first chance against Stanford on Aug. 31, however, Chapman failed to deliver for the Aztecs in a 31-10 loss.
Chapman threw 10-for-15 for 113 yards against a solid Stanford secondary, and while these stats are productive for a run-centered offense, his decision-making posed some questions.
With 7:27 left in the second quarter, Chapman was being chased down by a Stanford defensive tackle his own end zone. Chapman rolled out to his right and, rather than throwing the ball out of bounds, was tackled in his own end zone while he tried to get rid of the ball.
The play was ruled a safety, giving Stanford its first two points of the game and possession of the football.
At the 13:30 mark of the third quarter, Chapman was under pressure yet again. He was able to escape one defender, but was brought down by a trio of Cardinal defenders as he ran backwards.
Chapman was sacked five times total, and while the offensive line shares blame, Chapman had several opportunities to throw the ball away rather than attempting to escape Stanford defenders, which could have prevented lost yardage for the Aztecs.
Associate head coach/offensive coordinator Jeff Horton said Chapman needs to play better.
"Obviously we need him to play better for us. (Chapman) did some uncharacteristic things that he hasn't done in the past," Horton said. "He was really into the game, maybe too excited at times."
Chapman was impressive on a drive early in the third quarter, however, he completed five passes on seven attempts and drove the Aztecs to Stanford's 13-yard line, eventually leading to a field goal.
Chapman never took any chances throwing deep, even as the deficit increased. His longest completion of the game was 28 yards to sophomore wide receiver Tim Wilson Jr., but the pass was caught just 11 yards past the line of scrimmage.
Horton said that throwing the ball deep is especially difficult in tough third and long scenarios.
"They play a lot of times with a very high safety, more NFL style with guys back there 15-20 yards deep," Horton said. "If it's third (and long), I'm not gonna play it to the defensive hand and try to force the ball down the field, get an interception or something like that."
Between all components on offense, the Aztecs inability to find a true rhythm in the air was the deciding factor against an experienced Stanford defense.
Horton said that Chapman will learn from the loss and be ready to face Sacramento State on Sept. 8 at SDCCU Stadium.
"I know Christian; he's a winner," Horton said. "He'll bounce back this week and be ready to go. (He'll) be able to get things back under control."
If Chapman is able to make smarter decisions while under pressure, SDSU might not always have to rely on the run game as a security blanket.