Column: Low shot total is an area of concern for Aztecs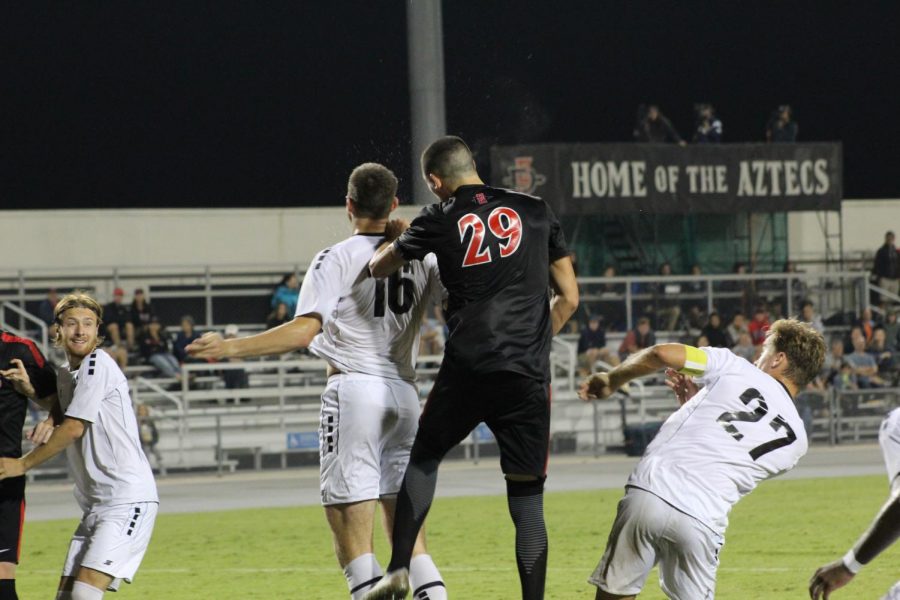 The San Diego State men's soccer team notched its first victory of the season Friday night against LIU Brooklyn, with a 2-1 win at the SDSU Sports Deck.
Despite the victory, the Aztecs were hampered by an inability to convert scoring chances.
SDSU showed it can put pressure on a defense, but it also showed its indecisiveness in taking scoring opportunities. To put it simply, they don't shoot the ball when they should.
"We need to take (shot opportunities)," head coach Lev Kirshner said. "We are continuously talking about getting shots and getting to goal, and we just have to look for the half chances as opposed to the half pass. It's the age-old statement; you can't score if you don't shoot."
Over the three games this season, the Aztecs have averaged just fewer than 10 shots per game, and this one was no different. SDSU managed to take only nine total shots over the course of the night, despite being awarded eight corner kicks.
"We have almost as many corner kicks as shots," Kirshner said. "We have to start putting ourselves in positions to take chances."
The first SDSU shot of the game did not come until the 27th minute, when it came off the boot of senior forward Damian German. German's shot sailed wide left of the net, and the Aztecs had only two more shots for the entire first half.
Redshirt junior midfielder Pablo Pelaez has three of the Aztecs four goals this season, and said that the team has not always been as aggressive as they can be.
"We've given up some really soft goals at the beginning of the season, and I don't want to say that we were too timid to go forward, but we definitely lacked… we did have low shots on goal," Pelaez said.
The Aztecs are not opposed to pushing their forwards back to get behind defenses, as they got behind the Blackbirds' defense repeatedly, although they had seven offside calls against them. 
Junior forward Robby Jacobs said that while being called offside can be frustrating, it is important for the Aztecs to remain on the attack.
"It was a little annoying when we kept getting called offside, but you just have to keep making runs and keep getting behind the defense," Jacobs said. "Eventually you're going to get one that goes your way."
Shot opportunities were present, but players such as Jacobs, hesitated to take them.
Following Jacobs' goal off an assist from Pelaez in the 44th minute, the junior from Colorado Springs had another opportunity to find the back of the net in the 51st minute. Jacobs found himself in a breakaway opportunity with only the goalkeeper to beat, but elected to pass to one of his teammate instead of taking a shot.
"You've got to put that away or at least get it on target," Kirshner said about the missed shot opportunity.
As the opportunities present themselves, SDSU's future success will rely on its ability to make the opposing goalkeepers work.
The Aztecs next test will come against UC Irvine on Sept. 9 at the SDSU Sports Deck.