Student filmmakers form unlikely partnership for "Wolf"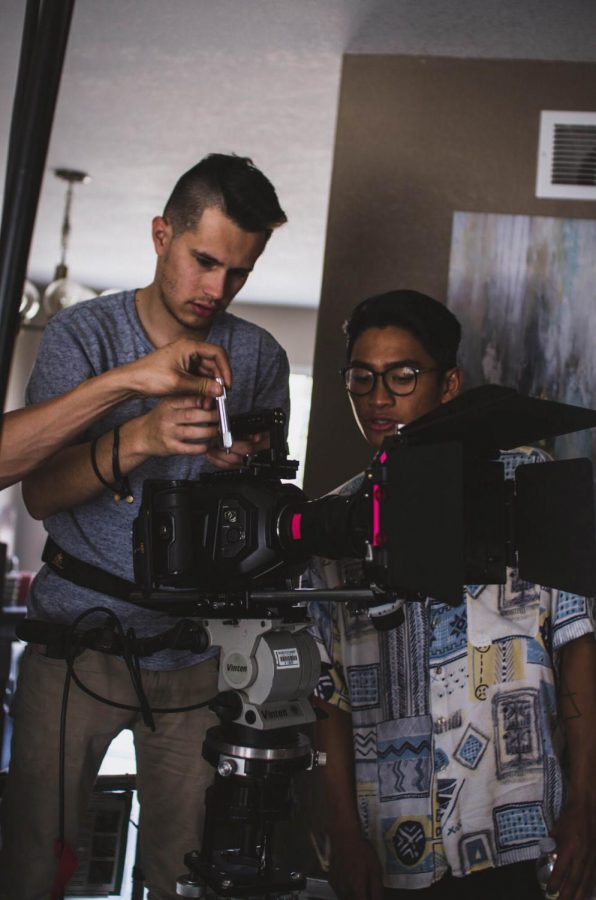 Student director/producer duo Kyle DeGuzman and Valerie Bush, both television, film and new media seniors, found their way to filmmaking along very different paths, coming together to create an acclaimed short film, "Wolf," which was featured in San Diego State's Best of the Best Film Festival on Sept. 14.
"Wolf" is centered around the interrogation of a man living in a society in which only select people are allowed to have children, and his loyalty to his country is questioned.
For DeGuzman, the pursuit of filmmaking sprang out of a love of photography and writing. He started at SDSU as an undeclared freshman and became enamored with the process of storytelling and filmmaking his sophomore year.
"The biggest thing for me is being able to share something that I create with other people and see their reactions and gain some feedback," DeGuzman said.
On the other hand, Bush knew she wanted to work in film. However, becoming a producer was not always the plan. She came to SDSU with the goal of becoming a film editor and came across producing, which she discovered was a much better fit.
"I stumbled upon producing and found that it was something that felt very natural and easy to me," Bush said.
Despite their different paths, DeGuzman and Bush have proven to be a powerhouse team. While working to bring "Wolf" to the screen, the two collaborated on several aspects of the film, from the script to the crew.
"As the producer, you are the person who makes sure the film is happening," Bush said. "I want to make sure I am picking (a team) that can collaborate, and collaborate well."
DeGuzman also had input on whom he wanted by his side to help him bring the story he wrote to life.
"I talked to a lot of people about the story first and made my decision based on what they brought to the story," DeGuzman said, "I was fortunate enough to have really good talent and… everyone working on ("Wolf") brought something to the table."
However, both emphasized that each film has its own unique set of challenges, and "Wolf" was no exception.
"The biggest thing is money," DeGuzman said."Oftentimes, we find ourselves compromising because of the lack of funds."
While financial constraints were a prominent obstacle in the making of "Wolf," DeGuzman and Bush were confronted with creative challenges as well.
"Stylistically, I use a lot of dialogue," DeGuzman said, "Directing it was was a very hands on experience in order to get the dialogue just right."
Despite these challenges, both students seem to have found success working together. First screened in spring of 2018, "Wolf" was part of a select group of short films that stood out among hundreds considered for Best of the Best by a committee of faculty.  
"It is reassuring that other people agree with our creativity and the vision we had for the film," Bush said.
Currently, Bush and DeGuzman are working on another short film together, a sci-fi romance called "Remnants," that is expected to premiere sometime next semester.
The next SDSU film festival will be the Howling Halloween Film Festival on Oct. 31 in the Don Powell Theater.