Football set to take on Boise in conference opener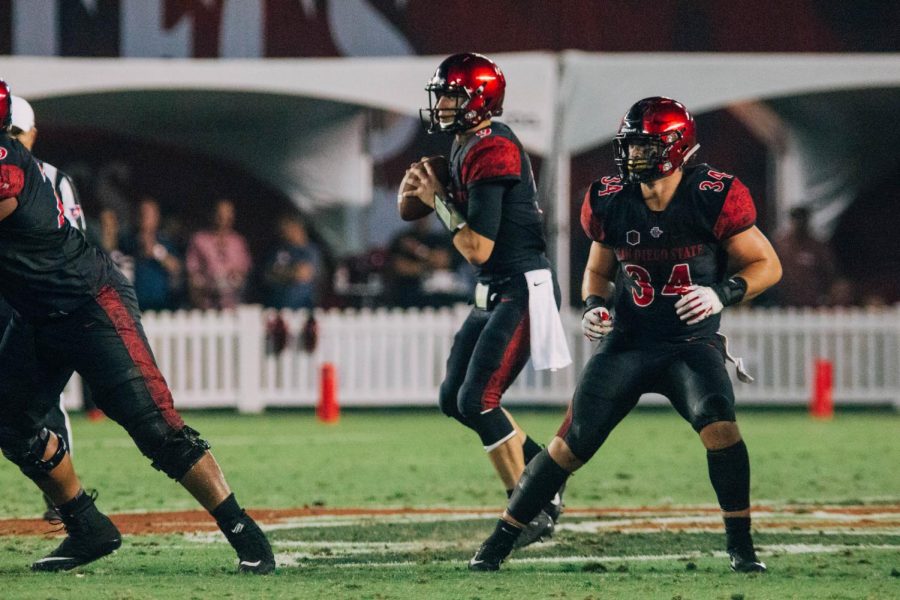 San Diego State football will open Mountain West conference play and look to continue their three-game winning streak against No. 24 Boise State on Oct. 6 in Boise, Idaho.
Head coach Rocky Long said he is excited to begin conference play.
"We consider conference games more important than our non-conference schedule, so it's exciting about getting into conference play to see where we stand right away," Long said.
Last season, the Broncos defeated the Aztecs (3-1, 0-0 MW) by a score of 31-14.
Long praised Boise State (3-1, 1-0 MW) as being one of the best teams in the Mountain West.
"Boise State is one of the better teams in the league, they always are," Long said. "They're a really, really good football team this year."
Junior tight end Parker Houston said he is watching film from last year home loss against Boise to improve.
"Watching the film and picking out those little things: the blitzes, the shifts, the slants, just knowing we have to — the tight ends, the offensive line, the fullbacks — we have to create more room for our running backs," Houston said.
BSU's only loss this season came on Sept. 15 against then-No. 25 Oklahoma State.
Boise senior starting quarterback Brett Rypien has been efficient for the Broncos this season, throwing for 1,389 yards, 12 touchdowns and no interceptions.
Senior defensive lineman Anthony Luke said the key to stopping Rypien is a consistent pass rush.
"Just getting pressure on him and not letting him be able to get (the ball) to his star wide receivers," Luke said.
The Aztecs will be without their starting quarterback, fullback, and running back against the Broncos.
Senior quarterback Christian Chapman has resumed football-related activities but his 3-6 week MCL sprain prognosis remains.
"He's throwing passes, doing individual drills, doing scout team work," Long said. "He's actually jogging around. He's actually throwing the ball."
Junior quarterback Ryan Agnew will make this third straight start. In three games this season, Agnew has 464 passing yards with three touchdowns and three interceptions.
Junior fullback Isaac Lessard suffered a neck injury in the win against Eastern Michigan on Sept. 22. Lessard is expected to be replaced by senior fullback Chad Woolsey, who filled in for Lessard against EMU.
Sophomore running back Chase Jasmin will make his first collegiate start against the Broncos, replacing junior running back Juwan Washington. Washington suffered a clavicle fracture against EMU and was ruled out up to six weeks.
The backup to Jasmin is yet to be decided, according to Long.
Long said sophomore wide receiver Tim Wilson Jr. and senior defensive tackle Noble Hall Jr. will return to the starting lineup this weekend.
In the past two weeks SDSU has played more freshman than seniors.
Long said that injuries are forcing the Aztecs to continue to put in younger players.
"I feel that we're getting younger by the day," Long said. "Everytime you lose a starter or a veteran player, we're playing younger guys. There's nothing you can do about it but hope they play well."