Aztecs' winning streak halted at five with loss to UNLV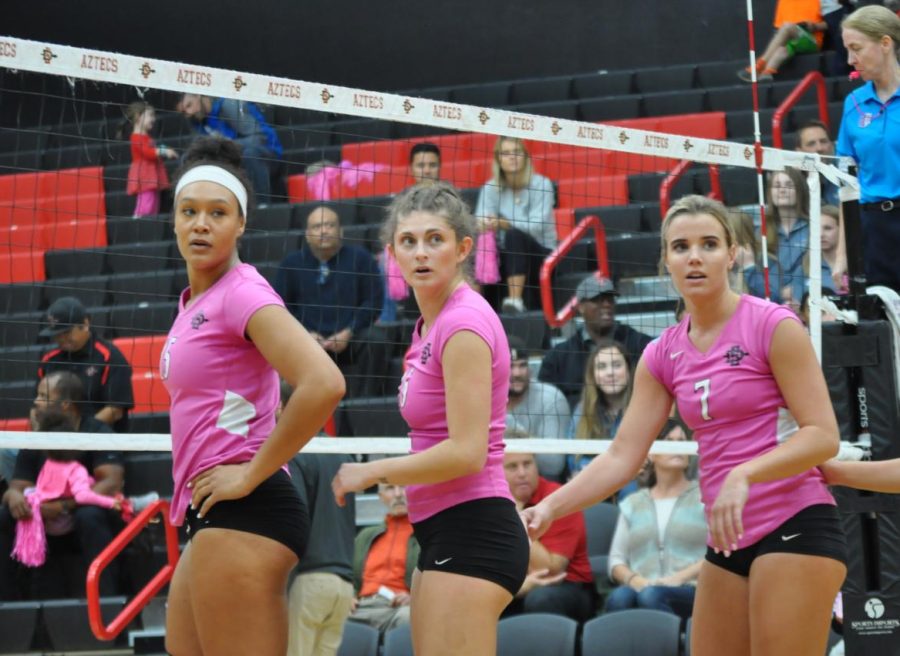 San Diego State volleyball ended their five-game winning streak by losing in four sets (17-25, 21-25, 25-17, 28-30) to UNLV on Saturday evening at Peterson Gym.
After dropping the first set, the Aztecs (6-15, 4-4 MW) had a 7-3 lead in set two before the Rebels went on a 7-0 run to take the lead for good.
In an elimination third set, SDSU jumped to a 10-4 lead.
However, when the Aztecs led 20-15, a tip violation prompted head coach Deitre Collins-Parker to challenge the call. As a result, the Aztecs won the point and an eventual third set win.
Collins-Parker said the team did not play up to their standards against UNLV (14-6, 5-3 MW).
"We saw that we can play with (UNLV)…and those are always the things that you are willing to learn," Collins-Parker said. "Maybe you have to struggle so you can come back and pick your game back up."
The fourth set saw UNLV jump out to an 8-4 lead, but the Aztecs would not give in. SDSU would tie at 21, take a 23-22 lead, and have three chances to win the set. However, on the third match point opportunity for the Rebels, they would score the point and win the match, 30-28.
Collins-Parker said a win in set four would have given the Aztecs all the momentum the rest of the way.
"I felt that if we (won) game four, we were going to win the match," Collins-Parker said.
The Aztecs had some individual bright spots such as junior outside hitter Hannah Turnlund.
Collins-Parker said Turnlund, who led the way with a game-high 16 kills, played admirably.
"I was really proud of Hannah all the way around," Collins-Parker said. "Not just at the net, but back row, she just played solid for us."
The 16 kills for Turnlund marks the 14th time she has recorded 10 or more kills in a match this season.
The Aztecs head off to a four-game road trip, beginning with San Jose State and followed by Nevada, Colorado State and Wyoming.
Collins-Parker said the road trip will present a significant challenge for SDSU moving forward.
"Our travel in our conference is difficult…so it is tough," Collins-Parker said. "(Elevation is) probably the worst part about going to Wyoming and (Colorado)."