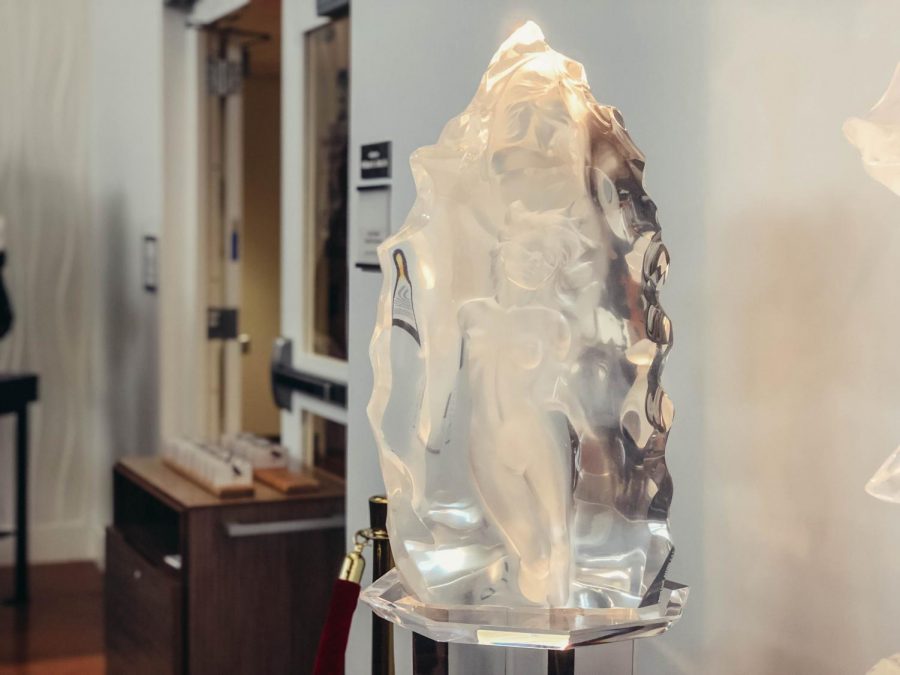 Kayla Johnson
Peter and Elaine Shaw, longtime donors and supporters of the faculty and students of San Diego State, donated six new sculptures to the Fowler College of Business.
The Shaws said they fell in love with SDSU when they made their move from the east coast to San Diego.
"At SDSU we found the willingness to roll up your sleeves, work hard and get things done," Peter Shaw said. "This was us. This was who we were and we wanted to be a part of it."
Eager to join the SDSU family, Peter Shaw reached out to Dean Lance Nail with the request of being involved with furthering the success of students. After making the connection, the two came to the decision of putting Shaw in charge of the new Fowler Scholars Program.
This program has been designed to set a select group of students on an accelerated path towards strong leadership roles in business and society.  The dedication of the faculty and students is what keeps the twos support and love for the school so strong, and motivated this generous donation from their personal art collection.
The six sculptures that are a part of this donation were created by artist Frederick Hart, who was an American master sculptor in the 20th century. He is well respected in the arts community for the traditional, sensual and innovative aspects he brought to the creation of the human body.
Hart is known worldwide for his depictions of the human body, and has several sculptures displayed in Washington D.C. today.
Of the donated works, one that stands out in particular is his clear acrylic resin sculpture entitled "Emerging Flame." This sculpture is sculpted to give an illusion of a body protruding from the crystal-like material. With the addition of the rotating base and illumination from below, each side of the sculpture reveals a new perspective of the feminine body.
General management junior Edward Holzman said that viewing the collection of works will start valuable dialogue about art.
"Getting exposure to these types of things starts up conversations with people that are knowledgeable about them," he said of the exhibit.
Accounting freshman Landon Delgadillo of the Fowler Scholars Program said he's excited to see work from one of his favorite sculptors displayed at SDSU.
"I really like Hart's workmanship," he said. "I think it symbolized being born from the mold, and breaking out to create your own shape."
The pieces were briefly displayed on the third floor of Student Services East at Page Pavilion.
Oct. 18 3:30 p.m.: This story was updated to reflect that the pieces are no longer on display.