Aztecs welcome in San Jose State, look to extend five-game win streak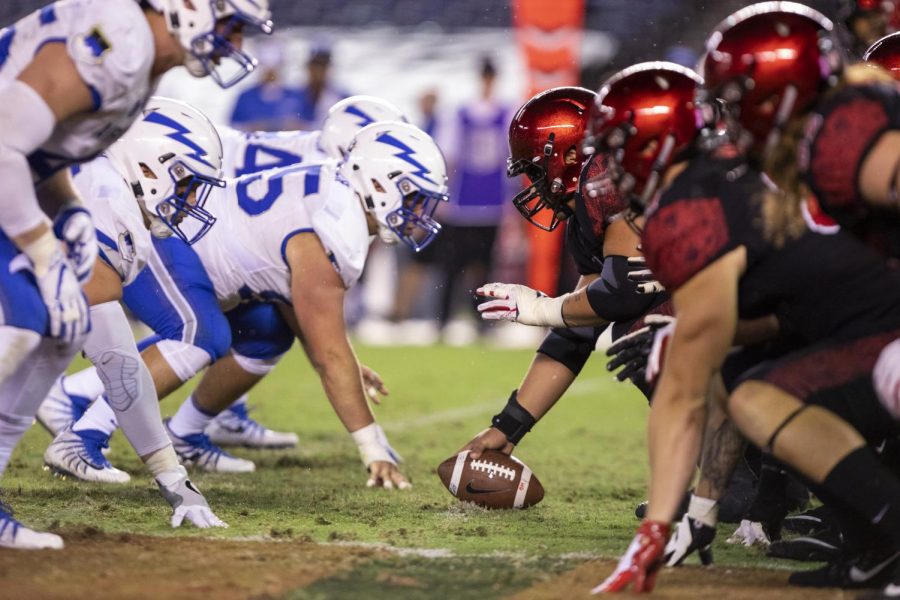 San Diego State football will look to extend its five-game winning streak as it takes on San Jose State on Saturday Oct. 20 at SDCCU Stadium.
The Aztecs (5-1, 2-0) pulled off a fourth quarter comeback victory against Air Force on Oct. 12 in a game that included a 67-minute lightning delay.
The Spartans (0-6, 0-2) have struggled throughout their winless season but have played in three close games.
UC Davis took down SJSU 44-38 on Aug. 30, No. 12 Oregon defeated the Spartans 35-22 on Sept. 15 and current Mountain West Conference leader Hawaii beat SJSU 44-41 in overtime on Sept. 29.
SDSU head coach Rocky Long said that SJSU has had a chance to win half of their games this season.
"They have some quality athletes that, in the six games, have had a decent (chance to win) three of the six," Long said. "So the record is not necessarily indicative of what kind of football team they are."
One of the threats the Spartans pose is in their special teams. SJSU senior wide receiver and kick returner Thai Cottrell averages 29.7 yards per kick return this season and returned a kick 96-yards against Oregon.
Long said that SJSU does a good job executing all components on special teams to set up long returns by Cottrell.
"They do a nice job. (Cottrell) is good with the ball in his hand, but they also do a nice job blocking for him," Long said. "They have a really good scheme and they execute it really well."
SDSU junior linebacker Troy Cassidy, who played against Cottrell in high school, knows the threat he poses in the return game.
"(Cottrell) was one of the best players I ever played against in high school," Cassidy said. "He's good at staying on his feet; he has great balance and coordination, and he's just really quick in open space."
Offensively, SDSU struggled to run the ball in the last two weeks against Boise State and Air Force.
The Aztecs rushed for 3.5 yards per carry against the Broncos and averaged 2.5 yards per rush against the Falcons.
SDSU offensive coordinator Jeff Horton said that the Aztecs need to run the ball more consistently.
"We gotta run the ball better. That's who we are; that's what we're all about; that's how we dictate tempo of the games," Horton said. "We just haven't consistently been able to run the football up to this point in time."
Last week, the Aztecs passing attack outperformed a ground attack that only ran for 84 total yards.
SDSU junior quarterback Ryan Agnew threw for a career-high 213 yards and a touchdown in the win over Air Force.
Despite the good game through the air, the Aztecs are still a run-first team.
Long praised the offense's ability to pass the ball but said that the Aztecs need to run and control the ball successfully unlike the weeks prior.
"Our quarterback and some of our receivers have made big enough plays that they've kept us in the game and we've had a chance to win," Long said. "Our offense is doing good things to help us win, but our success around here is based on controlling the ball and being able to run it and we haven't done that successfully the last couple of weeks."
Injury updates
SDSU sophomore running back Chase Jasmin is set to return to the Aztecs' starting lineup against SJSU after he was ruled out of last Friday's game with a concussion.
SDSU junior running back Juwan Washington is still three weeks away from returning from a fractured clavicle.
Senior quarterback and SDSU's all-time winningest quarterback Christian Chapman was warming up in uniform pregame against Air Force.
Long said that Chapman would only play this week in an emergency role.
"I think Christian will go only in a very emergency situation. He is practicing, but he's practicing in a limited role," Long said. "He's getting better, but he's not moving around like he would normally and until he can protect himself, we're not going to put him out there."