Football travels to Nevada to take on the Wolfpack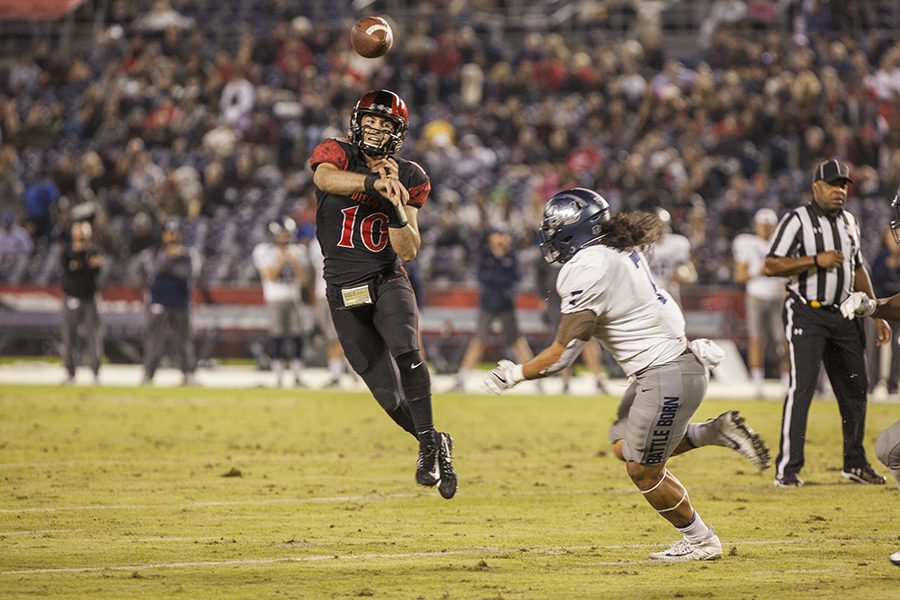 San Diego State football will travel to Reno to take on Mountain West opponent University of Nevada (4-4, 2-2) on Oct. 27.
The Aztecs (6-1, 3-0) are in the midst of a six-game winning streak.
SDSU defeated San Jose State 16-13 on Oct. 20, in-large-part due to three field goals by senior kicker John Baron II, including the 51-yard game-winner late in the fourth quarter.
Head coach Rocky Long, who earned his 70th win at the helm of SDSU football last Saturday, said the team is lucky to be 6-1.
"I think our team is very young and inconsistent, and we've been very fortunate to win the games that we've won," he said.
SDSU's sixth win also marked its sixth comeback victory this season.
After the Aztecs' most recent victory over SJSU, they received 48 votes to be in the AP Top 25 Poll, leaving them ranked at No. 28 this week.
Even with the winning streak, Long said that the team has not played well enough to be voted into the AP Top 25.
"We don't deserve to be in the top 25. We (haven't played) good enough to be in the top 25," he said.
Junior tight end Parker Houston said that the team will continue to perform whether they are ranked or unranked.
"That's fine, we'll prove them wrong," Houston said.
Houston looks to play with an extra chip on his shoulder against his hometown team that did not recruit him out of Edward C. Reed High School which is a 15-minute drive away.
"The (Nevada) coach said I was too short. Apparently, he thought the same of (SDSU sophomore offensive lineman) Tyler Roemer and look at what we're doing now," Houston said.
Houston's association to Nevada is not just by location, but through family ties.
"All my family up there (attended Nevada). My two sets of grandparents, all my aunts and uncles," Houston said. "I actually have an aunt that currently works there and I have an uncle that does a lot of stuff for the basketball team stat-wise."
Growing up near the university, Houston went to Nevada football games as a child.
One memory Houston had of attending a Nevada football game was when the Wolfpack upset No. 3 Boise State in 2010.
"I was at the UNR-Boise (game in 2010) where Boise missed the field goals and everybody rushed the field," Houston said.
Nevada is averaging 32.6 points scored this season, which is nearly 12 more than SDSU.
The Wolfpack's latest victory came over then-Mountain West Conference leader Hawai'i 40-22 on Oct. 20.
Nevada's trio tandem of running backs – freshman Toa Taua, junior Kelton Moore and freshman Devonte Lee – has accumulated 945 rushing yards this season.
Long said that Nevada's rushing attack has improved since last season.
"They've really improved their running game," Long said. "(Their running backs) are not very tall, but they're big and they've got good quickness and they can break tackles. They play three of them, so they stay pretty fresh."
Despite Nevada's versatility in the run game, the Aztecs are ranked fifth nationally in rushing yards allowed per game (83.6).
Senior defensive tackle Noble Hall said the Aztecs' defense is not concerned about Nevada's running back rotation.
"That doesn't affect us. Especially as a front seven, we just get after it," Hall said. "We hit our points and that's why our rush defense is what it is."
Long said that the Aztecs run defense is not necessarily dominating the line of scrimmage just because they are allowing only 2.4 yards per rush.
"I don't think (our defensive line is) physically dominant. I think some of it has to do with the kind of offenses that we've played against," Long said. "Other than the first game…we've been very average against the run."
On offense, SDSU struggled to score against SJSU, who had allowed an average of 41.3 points per game prior to last Saturday's contest.
SDSU committed eight penalties for 67 yards, including three false starts and one illegal formation penalty.
Redshirt freshman Chance Bell was a bright spot for the Aztecs, totaling 81 rushing yards on 15 carries.
Although the Aztecs have rushed for an average 176.9 yards per game this season, Long said that the offensive line has been inconsistent throughout the year.
"I think (the offensive line has) been inconsistent. They've been like our whole team and going into the season, I thought they would they would be one of our more consistent factors," Long said.
The Aztecs played 15 freshmen or redshirt freshmen against SJSU last weekend.
Hall said that youth is affecting the Aztecs' ability to stay consistent.
"We have a lot of young guys on the team that don't have too much playing experience," Hall said. "The old guys that are on the team, we're trying to give them all the experience we know, but I would say it's a lack of game-time experience that we need."