Women's basketball looks to its youth heading into new season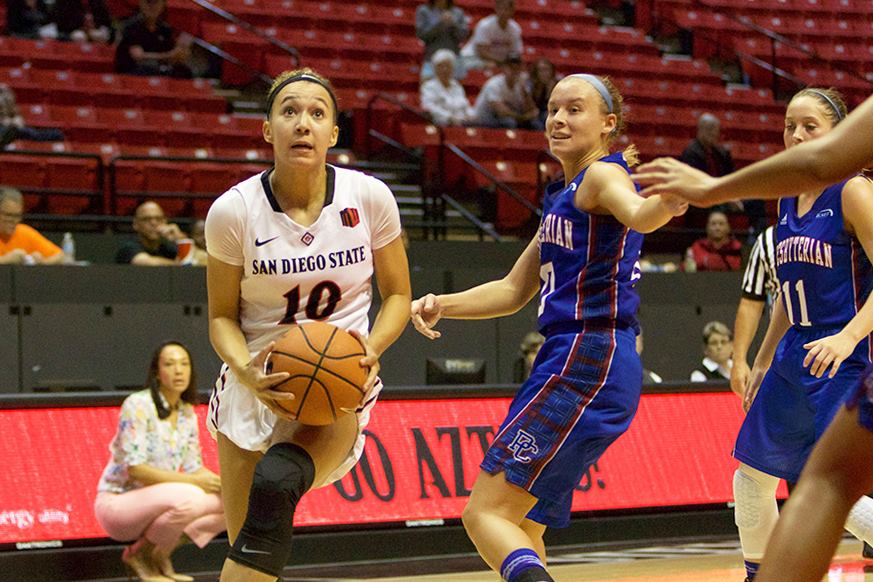 San Diego State women's basketball heads into the 2018-19 season looking for its first winning season since 2012.
The Aztecs went 11-19 last year and graduated six seniors, leaving them with only two seniors on the roster.
Head coach Stacie Terry said the team's inexperience this season brings a different dynamic.
"We have been talking about being hungry and being really competitive," Terry said. "Right now, we don't know what this team is going to be. We're going to see where this year takes us."
Sophomore guards Najé Murray and Téa Adams are expected to take on a larger scoring load, following the graduation of last year's leading scorers Geena Gomez and McKynzie Fort.
Terry said she expects it to be a team-wide effort, but knows Murray and Adams have the potential to play a huge role for the team.
"We're going to be a team that does it by committee. Obviously, we're aware with what Najé can do," Terry said. "She showed that last year, so I expect big things from her. But also, Téa Adams is going to have to come in and contribute."
Murray was named to the Mountain West All-Freshman Team last year, after averaging 9.3 points per game while leading all freshmen in the conference with 1.8 three-point field goals made per game.
However, the 5-foot-6 guard from Stockton, Calif. does not have any individual awards in mind; she just wants to win.
"I'll do whatever it takes if it's charges, layups, loose balls. I don't really have that type of accolade in mind, I just want to win games," Murray said.
Murray said the team must have a winning season and bring its best, especially when conference play gets started.
"We need to have a winning season. It'll start next week, but in conference play, we need to be better," she said. "When conference rolls around, we need to be at our best."
Murray's team-first mentality goes into the development of the team's chemistry as well.
Despite having a multitude of new players, Terry said the Aztecs' chemistry will be the difference that propels SDSU from last year's record.
"Our chemistry will be better with this team. We lost a lot with our senior class," Terry said. "We're looking for a couple of kids to step up, but I really like who we brought in."
Senior forward Arantxa Gómez Ferrer said the team's recent trip to Big Bear Lake solidified relationships on the team.
"It was three days getting off our phones, spending time with each other, all of us in the same room. We had no choice but to talk to each other," Gómez Ferrer said. "That brought us a lot closer."
The Aztecs open their season in a home exhibition against Biola University on Nov. 2.