Devin Watson ready to lead Aztecs' offense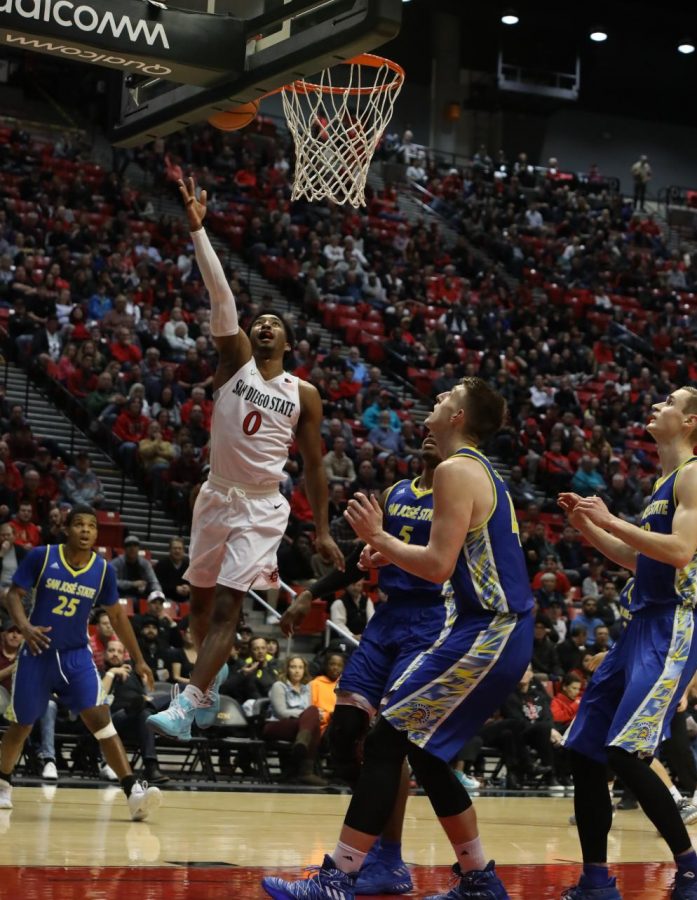 San Diego State men's basketball senior guard Devin Watson is entering his second and final season as a member of the Aztecs.
Watson used his redshirt season as a junior after he transferred from the University of San Francisco in 2016.
Now a senior, Watson said his experience playing at a smaller school will benefit the Aztecs.
"Just my experience from being in college for four-to-five years is what's going to help us this year," Watson said.
Watson brings more than just experience to the table. He was the Aztecs' leader in points scored (12.2), games started (33) and minutes per game (31.2) last season.
In the Aztecs' round of 64 game against No. 6 seed University of Houston in the NCAA Tournament last season, Watson scored two three-pointers to tie the game on two separate occasions late in the second half.
Watson finished the game with nine points, three rebounds and two assists.
Watson said he wants to reach the NCAA Tournament once again and go even further in March this season.
"I definitely want to get to that stage because I feel like I didn't have a good game and I didn't really help the team as much as I could've," Watson said. "I feel like we can get back to that stage. I feel like we can do everything we did last year and more, especially with the veterans."
Guards Jeremy Hemsley and Michael Sohikish join Watson as the other seniors on the Aztecs' roster.
Supporting the seniors are junior forward Nolan Narain and junior guard transfer Malachi Flynn, who must sit out this year due to NCAA transfer rules.
When it comes to a leadership role, Watson said it is easy for the veterans to teach the younger players because of their ability to listen.
"The young guys are eager to listen, that means they're willing to hear everybody who has done this before and have done this before," Watson said. "I feel like that's gonna help a lot. That's gonna help us win."
Watson's objective for the upcoming season is to lead the team in any way possible.
"I just feel like I need to do whatever this team needs me to do to win," Watson said. "I'm going to have to do everything, because now I am a fifth-year senior, so I feel like I'm going to have to do a lot more than what I've done in the past."
In addition to four returning sophomores, the Aztecs are welcoming four new freshmen and redshirt freshman guard Adam Seiko to their roster.
Watson said youth will take the Aztecs far this season.
"Obviously, a lot of young guys coming in. Really, it's about them," Watson said. "Everything that they're doing, how they're doing it, I feel like that's gonna help us in the long run. I feel like these young guys are really gonna take us."
Watson said he wants to make his senior season memorable.
"I picture everything and more. Whatever happens, happens, and it's going to happen for a reason," Watson said. "Whatever comes (our) way, we're gonna take it full throttle and we're not going to show them any mercy."