Graduate assistant Ryan Lindley hired as Cleveland Browns' running backs coach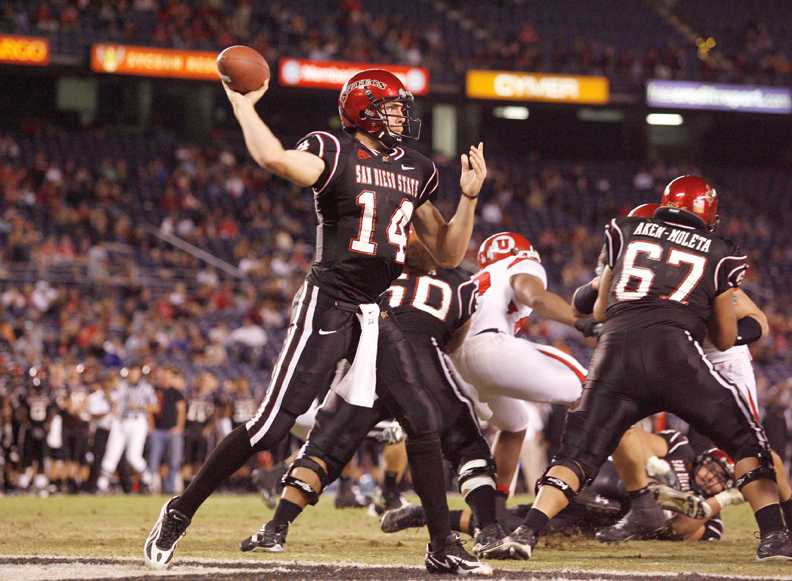 San Diego State football graduate assistant Ryan Lindley was named the Cleveland Browns' running backs coach Wednesday morning.
Lindley played quarterback for the Aztecs from 2008-11 before being drafted in the sixth round of the 2011 NFL Draft by the Arizona Cardinals.
After a four-year NFL stint, he helped train numerous quarterbacks coming out of college, including Carson Wentz and Jared Goff.
Lindley joined the Aztecs earlier this year as a graduate assistant for the secondary.
Head coach Rocky Long left Monday's practice to go home, not expecting a surprise visit from one of his assistants later in the evening.
Long said he turns his phone off at night. Lindley was notified of the position Monday night and showed up at Long's front door to ask him for advice.
"I've never heard of this before, never. So (Lindley) told me the story and, gee-whiz, you can't pass up that opportunity," Long said.
Lindley will replace former Browns running backs coach Freddie Kitchens, who was promoted to interim offensive coordinator after Todd Haley was fired Monday.
Lindley was not available for comment.
Long said Lindley needed to dwell on the offer overnight before making a decision the next morning.
"He came in Tuesday morning and said, 'Coach, I'm going.' I said, 'Okay, get out of here,'" Long said with a chuckle.
Lindley was on his way out of San Diego by 8 a.m.
With the departure of its head coach and offensive coordinator, Cleveland needed to fill a hole at the running back coaching position.
Despite never playing running back, Lindley was hired by the Browns at that spot because it was the only position available.
Long said he was surprised the Browns hired Lindley rather than promote someone internally.
"That (position) was the spot they had. I'm surprised because most teams that put an interim head coach in, they just live with who they have," Long said. "The new offensive coordinator must really like Ryan."
Although the 29-year-old Lindley has never coached the running back position before, Long said Lindley knows the game of football and will be able to relate to the Browns running backs.
"He understands football, he's a smart guy" Long said. "I know he's never coached running backs, but his buddy is going to have to probably ease him through that process."
Notable running backs Lindley will oversee in Cleveland include rookie Nick Chubb and four-year veteran Duke Johnson Jr.
Long said the Aztecs will not replace Lindley.
"We're not gonna replace that position. We can't get a guy in graduate school now," Long said.