Football looks to get back on track against New Mexico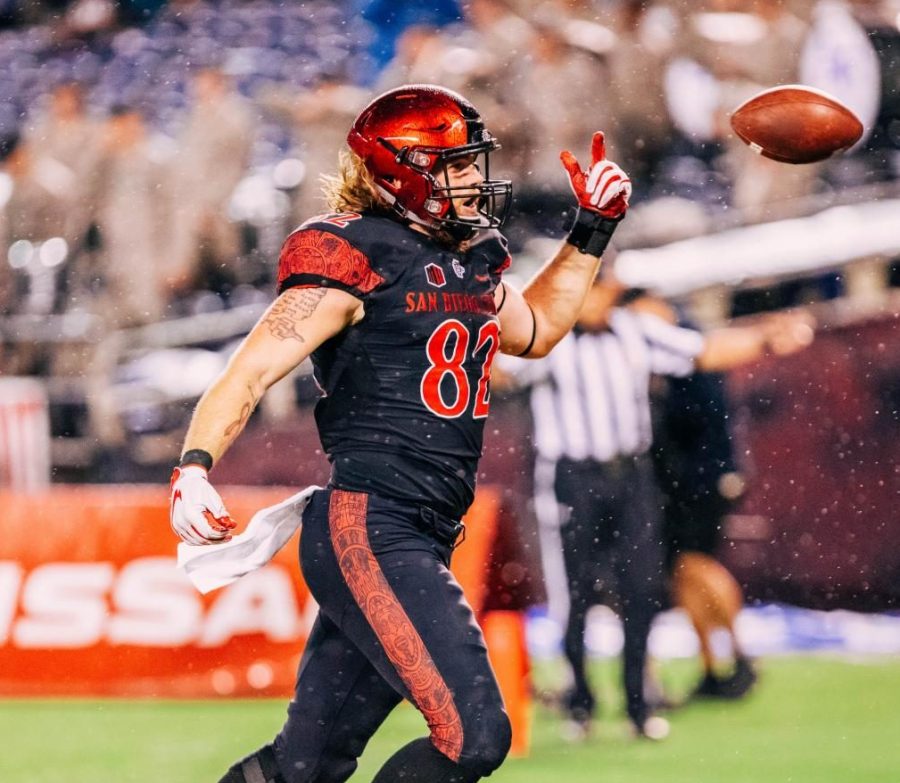 San Diego State football looks to rebound from their second loss of the season on the road against the University of New Mexico on Nov. 3.
The Aztecs (6-2, 3-1) had their six-game win streak snapped on Oct. 27 following a 28-24 loss to the University of Nevada.
The Lobos (3-5, 1-3), meanwhile, seek to end their three-game losing streak, which includes losses to Mountain West teams Utah State and Fresno State.
Senior defensive end Anthony Luke said the Aztecs are looking to avenge their previous loss and be more physical in all aspects on the field.
"There's big chip on our shoulder and we just need to get back to what we do best: to be the most physical team," Luke said.
The Lobos have transitioned from running the triple-option to the spread offense over the past couple seasons.
Luke said the quickness of the Lobos will be a challenge for the Aztecs.
"They're fast, really fast. I think they're coming together as a team, so it's gonna be another challenge for us," Luke said.
Defensive coordinator Zach Arnett highlighted the Lobos' speed and big-play ability on offense.
"They've got some good speed on the offensive side of the ball," Arnett said. "A lot of good athletes, they do a decent job of creating some big plays in the throwing game, too."
New Mexico redshirt senior quarterback Coltin Gerhart will start against the Aztecs. Gerhart played in the second half against Utah State on Oct. 27, throwing 8-for-12 for 110 yards, one touchdown and one interception.
The Lobos could also play junior quarterback Sheriron Jones, who started versus the Aggies.
Long said the Aztecs will prepare for both quarterbacks on defense.
"We're just guessing, but that means the offense is going to change a little bit, too," Long said. "So on defense, we have to prepare for two different types of quarterbacks."
On the offensive side of the ball, the Aztecs could see the return of three starters.
Junior quarterback Ryan Agnew will make his seventh start of the season against New Mexico.
Senior quarterback Christian Chapman, who suffered a left knee sprain in Week two against Sacramento State, will make his first appearance since the injury this Saturday.
Long said Chapman will not start, but will play at least one series in the first half.
"Ryan will start. Somewhere in the first half Christian will go in, and we'll see how he looks, see if he's 100 percent," Long said.
Junior fullback Isaac Lessard could return Saturday. Junior running back Juwan Washington has been cleared by doctors and will play Saturday.

Washington suffered a clavicle fracture in the second quarter against Eastern Michigan on Sept. 22, and Lessard suffered a neck injury later in the game.
Long said even if Washington and Lessard play, they will not be in the starting lineup.
"I know they're not going to start, but if they're cleared to play, they'll play," Long said. "I think there's a good chance they can play because I asked them how they feel, and they both feel fine."
At some point on Saturday, all three backfield starters could be reunited.
Over the past seven games, the Aztecs have not won or lost by more than a seven-point margin.
Long said he expects Saturday's contest to be close.
"My estimation is that it's going to be a close game because that's all we play," he said.