Obituary: Richard "Doc" Morris, SDSU's longest-serving professor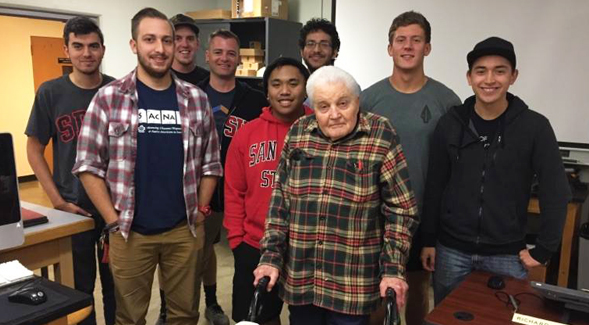 After working for more than 60 years as a professor at San Diego State, retired physics professor Richard "Doc" Morris died at age 89 from issues related to influenza on Oct. 19 in La Mesa.
"Doc was a legend in our department," Physics Department chair Usha Sinha said in an email response. "His passion for teaching and commitment to students was extraordinary."
Morris, who was born in Oakland on Nov. 22, 1928, earned both his bachelor's degree and a doctorate degree in nuclear physics from the University of California, Berkeley. He began his career as a professor teaching at Sacramento State College — later to become California State University, Sacramento — and soon after moved to Southern California to teach at SDSU.
Teaching from 1957 until the spring semester of 2018, he is known as the longest-serving professor at the university and one of the longest-serving educators within the California State University system. During his time as a professor, he oversaw more than 30 graduate thesis projects, according to the Physics Department webpage.
His classes were notoriously long and difficult yet, at the same time, former students of his said Morris inspired his students to pursue careers in physics.
"Doc wasn't really interested in doing anything besides teaching — he loved teaching and he loved students," physics alumnus Grant Varnau said. "However he also refused to 'dumb down the material,' and so he would teach at a very advanced level, and he firmly believed that if you really challenged students, they would rise to the occasion."
Morris told SDSU NewsCenter in 2012 he believed his stringent class structure would have long-term benefits for his students.
"I'm convinced now that the best thing you can do for a student is give them a really hard course," Morris said. "I like the students, and I like to see their devotion and their refusal to give up even if things don't work."
In 2012, the Advanced Optics Lab at SDSU — funded by a $300,000 donation from Cymer in San Diego — was dedicated to Morris. The Physics Department also dedicated a public lecture series in his honor in 2007, with annual lectures on subjects related to physics available for free each year.
After formally retiring from teaching, Morris "continued to teach the challenging capstone lab course 'P357: Advanced Physics Lab' on a volunteer basis," Sinha said. She added that even after becoming sick in late 2017, his compassion for teaching and his students continued.
"I visited him last December when he had to be hospitalized and his one overwhelming concern was that he would not be able to teach the lab in the Spring semester, but that he hoped he would be able to teach the course in the following fall semester," Sinha said in an email response. "This really exemplifies what Doc stood for."
Morris is survived by his wife, Barbara; his daughter Katherine Vockrodt and her husband John; his son William and his wife Lisa Heizer; and two granddaughters.