Aztecs selected to Frisco Bowl in Texas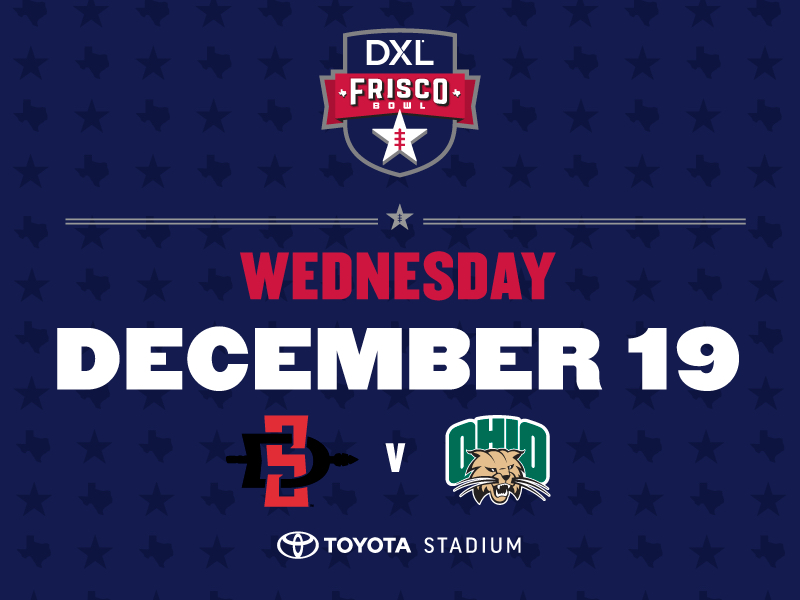 After losing three straight games to end the season, San Diego State football was in danger of missing out in a bowl game.
Thankfully for the Aztecs, head coach Rocky Long got the call on Sunday that even he wasn't sure was going to come.
"The reaction was relief that we were in the game," Long said.
The call informed him that SDSU had been selected to play as an at-large against Ohio in the Frisco Bowl on Dec. 19 in Frisco, Texas.
The Aztecs' (7-5, 4-4) loss to Hawaii on Nov. 24 meant a sixth place finish in the Mountain West, and with more bowl eligible teams than spots available, there was a chance they would miss out on going bowling for the first time in nine years.
The losing streak to end the season prompted speculation of being left out of a bowl game.
Nonetheless, the Aztecs got an invite to the Frisco Bowl, which does not have a direct tie-in with the MW.
The bowl with MW tie-ins include the Arizona Bowl, New Mexico Bowl and Famous Idaho Potato Bowl.
Both the Arizona Bowl and New Mexico Bowl went to MW teams that finished higher in the conference standings: Nevada (7-5, 5-3) and Utah State (10-2, 7-1).
Long said the program's reputation made them desirable as an at-large team.
"There is more people in the country that recognize our brand that we have a good football program," Long said. "Coming from San Diego, the population and the number of TV sets makes us more attractive."
Getting a bowl invitation helps show prospective student-athletes that the football team is a nationally-recognized program.
Long said a bowl game will pay dividends for the future of SDSU football.
"For the sake of our players in the program and for the sake of recruiting and for the sake of developing next year's team, it's very very important that we are in a bowl game," Long said. "The added practices really are a positive."
Junior linebacker Kyahva Tezino and junior tight end Parker Houston found out about the bowl game the same way many college students get their news – Twitter.
Tezino was scrolling through his feed when a tweet from Ohio's account popped up.
"I saw Ohio posted it first. I was going to see if we were going to post it to make sure it was true, so when that happened, (SDSU) posted it so I was like 'oh, it's official,"' Tezino said. "I'm happy we got another chance just to end the season right."
Houston said he was constantly checking social media on Sunday because he wanted to be the first to find out what bowl game SDSU would play in.
"I was just chilling at home, updating (my) twitter feed because you want to find out as soon as possible," he said.
Houston said the Aztecs were relieved they got a bowl game considering the losing streak to end the season.
"The way we finished our season and the way we were looking, I think everybody was just excited to get in a bowl game," he said. "It doesn't matter which one it is; we're just going to go out there and play our best."
This will be the second consecutive year the Aztecs will head to Texas for a bowl game. Last season, SDSU played in the Armed Forces Bowl against Army in Fort Worth.
For Tezino, he is able to try Whataburger, a burger chain based in Texas.
Junior running back Juwan Washington, a Texas-native, has been trying to convince Tezino that Whataburger is better than California's In-N-Out burger.
"Me and Juwan got a competition going on because I keep telling him that In-N-Out is better. I guess because I'm a Cali guy and he's a Texas guy," Tezino said. "I'm going to give it another chance to see how it is, so that's probably the best thing about going to Texas."