Texas natives return to home state for Frisco Bowl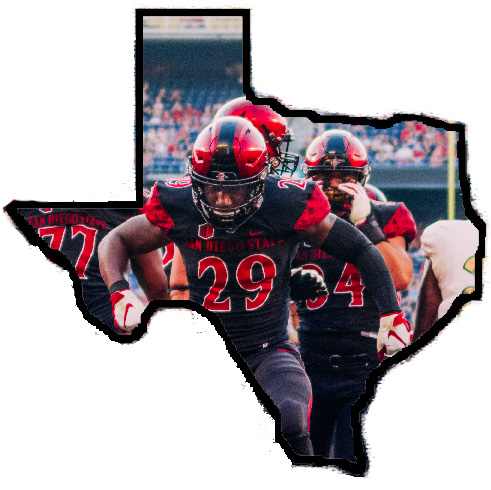 San Diego State junior quarterback Ryan Agnew played in front of about 12,000 people during his regular-season games at Carroll High School in Southlake, Texas.
That number was even bigger when Agnew competed in the playoffs.
Carroll High School, about 30 miles away, had crowds that aren't too far off in size from what Agnew could expect at Toyota Stadium next Wednesday against Ohio in the Frisco Bowl.
In other words, Agnew is no stranger to playing in front of a big crowd in a Texas stadium.
Agnew used Friday Night Lights, a movie about high school football in Texas, as a comparison to show how integral football is to the state's lifestyle.
"Football is a religion down there," Agnew said. "If you see the movie Friday Night Lights, they're driving through the town, (shops) say 'closed, going to the game.' That's what it kind of felt like growing up in my hometown."
Agnew is one of 10 Aztec football players who are from Texas.
Junior defensive lineman Myles Cheatum, a native of Cedar Park, Texas, said the bowl game is a rare opportunity for his loved ones to see him play.
"Getting to go back home again is extra special for the Texas guys because it's not like your family is here (and) get to see you play all the time," Cheatum said. "It gives you a little more juice and energy when you get a chance to play in front of your family."
Each SDSU player is allowed to bring four people, usually immediate family, to come watch the Frisco Bowl.
Junior running back Juwan Washington, who is from Kennedale, an hour drive from Toyota Stadium, is going to need more than just four.
Washington said he is going to try to bring as many people as he can, even asking other players for their tickets.
"Family and a few friends coming out, just trying to get as many as I can," Washington said. "I been asking a couple of guys that live far away that may not have somebody come to the game."
Offensive coordinator Jeff Horton warrants credit for bringing in players from Texas such as Agnew, Cheatum and Washington. He is SDSU's main recruiter in that state.
The honesty from Horton and the other coaches are what brought Texas-natives like Cheatum to SDSU over many blue-blood football programs in Texas.
"When I going through my process, when I came out here, they didn't try to sugar coat anything," Cheatum said. "If you come in and work hard, you get the opportunity to play and I really respected that."
However, the Texas cuisine is one thing that remains exclusive to the Lone Star State.
Agnew and Washington have already listed the places they want to hit up: Baker Brothers, Costa Vida, Chicken Express, Texas Roadhouse and Whataburger.
"The food is what I look forward to going home," Agnew said. "Having my friends and family, past coaches, just being there, getting the support from them is going to be awesome."