Former SDSU football player ascends in the rap game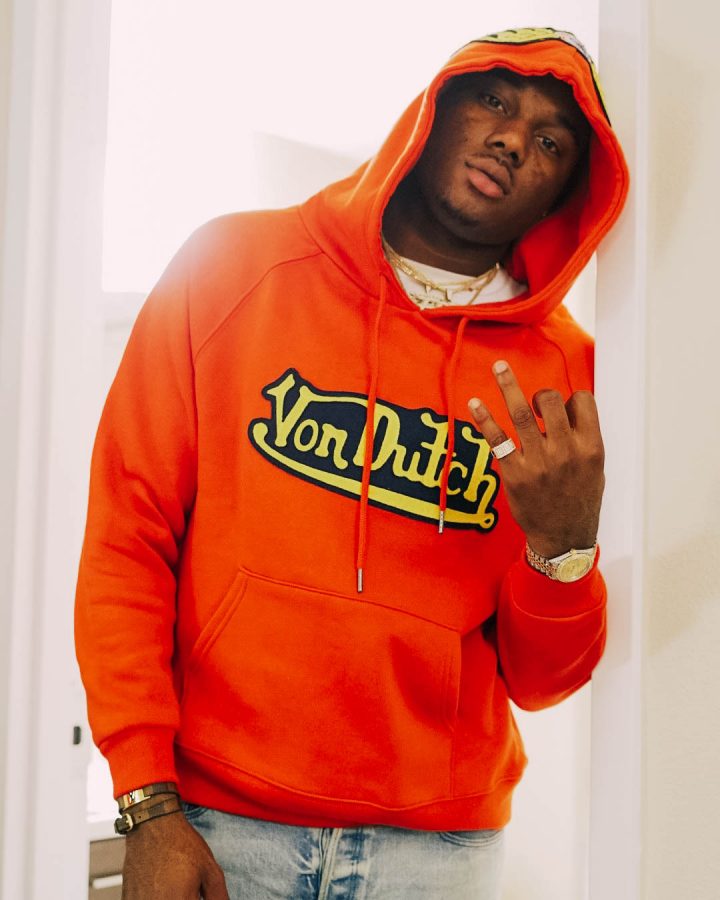 Most people know him as Kalan.Frfr., but the San Diego State community knew him initially as Kalan Montgomery, who played defensive back on the SDSU football team from 2013 to 2016.
Since setting aside the shoulder pads and helmet over two years ago, Montgomery has risen among the ranks in a different industry – music.
He has released two albums and has since collaborated with rising stars such as Rich the Kid on their song "21" and Joe Moses on their collaboration "Back to Back."
Montgomery has amassed over 36,000 Instagram followers and over 411,000 views on his most-viewed music video on YouTube.
Before all the attention Montgomery received for his music, he was once just a high school student making beats in a small, in-home studio.
A Compton native, Montgomery is from an area filled with hip-hop royalty – Kendrick Lamar, Dr. Dre and YG, just to name a few.
Montgomery said those artists from Compton push him to aim for new heights.
"I want to be the best. I want to be bigger than those guys one day," Montgomery said. "It's a lot of motivation seeing somebody can be a product of the same environment that I am and still excel and make it out."
Compton artists are known to have a style centered around gangsta rap, but Montgomery believes his music is not confined to a specific style or genre.
"It's really different. It's like R&B but thuggish (rap) at the same time," he said. "I don't want to be boxed in (one genre). I want to veer all over."
Montgomery's repertoire finds him alternating between entirely singing, like on "Love Song," or entirely rapping, like on his latest song "Fine Fine," which was released earlier this month.
Due to his dual passions, the transition from football to music was not easy.
A turning point in that decision process was after the 2016 Mountain West Championship game, in which Montgomery's interception was called back and culminated in his frustration with the sport.
"Over time, I started falling out of love with (football) more and more, so I kind of started veering away from it," Montgomery said.
Despite quitting football for music, Montgomery has garnered the support of the SDSU football team, who knew he always had the musical talent.
"We always knew because he used to be a rapper in the locker room," junior SDSU running back Juwan Washington said.  "We used to go to his house sometimes and listen to music he was making. I'd actually help him sometimes."
Members of the football team began the "frfr" movement, which referred to changing their Instagram handles to end with "frfr" in reference to Kalan.Frfr.
SDSU football players such as Myles Cheatum (@mac.frfr), Kyahva Tezino (@kyahva.frfr), Darren Hall (@dhall.frfr) and Washington (@jwash.frfr) have all made the change to show support for the former Aztec football player.
Washington said the movement started several years ago.
"It's a movement he started a long time ago when we were freshmen," Washington said. "One day we were just all chilling with him and he asked us to change (social media handles) to help promote him a little bit. Ever since then, it kind of just stuck."
Montgomery said the movement is all about being authentic.
"It's about being yourself," Montgomery said. "Being real with your friends, being real with yourself, being real within yourself, so that's what the 'frfr' stands for."
Montgomery said he hopes to spread the "frfr" movement as a way to give back to his community and support fellow musicians.
"Having a little following makes it easier for people to be influenced by the stuff I do," he said. "With me growing in music, it's easier for me to help one of my friends that wants to do music and put them on a bigger platform."