Baseball struggles to find offense in 5-2 loss to Cal Baptist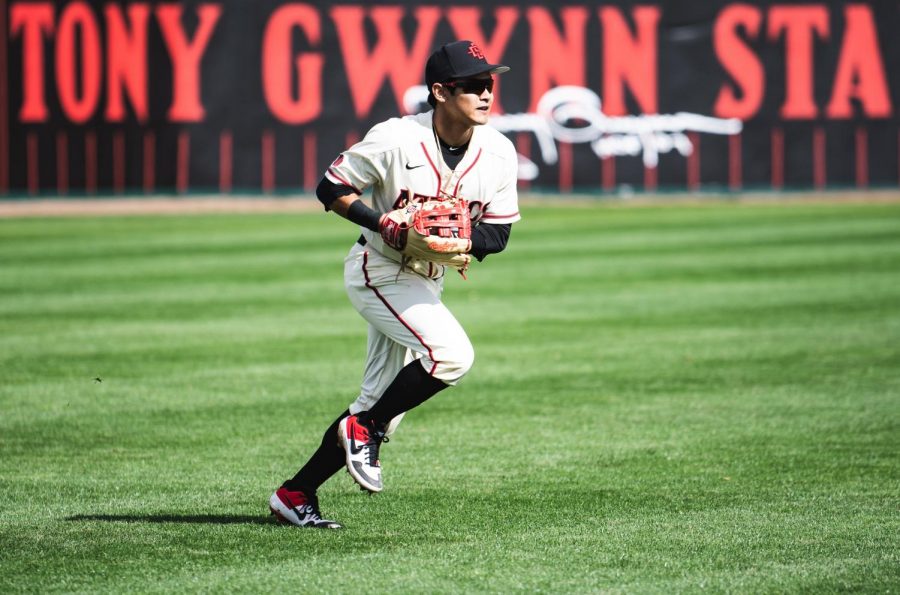 San Diego State baseball was defeated by California Baptist, 5-2, on March 26 at Tony Gwynn Stadium.
The Aztecs (14-10, 4-3 MW) were tied 2-2 with the Lancers (17-8, 2-1 WAC) after four innings, but their offense mustered only four hits the rest of the way.
Head coach Mark Martinez said the game was not their best.
"We played a bad game, simple as it gets," Martinez said. "After a great game last night, we played a really bad game."
The Aztecs could not get the opportunity to get on base and drive in runs.
"Offensively, we threw away half or more than half of our bats," Martinez said. "We weren't focused, we weren't prepared to play tonight. That's my fault."
On the mound, freshman Michael Paredes got the weekday start–going six innings, giving up five hits on three earned runs and notched seven strikeouts.
Martinez said he was impressed by Paredes' start.
"He was outstanding," Martinez said. "He kept us in the game and put us in a position to win, but the offensive performance is why we lost."
Paredes wanted to have a good first collegiate start.
"I was really hyped to hear I was getting the start today," Paredes said. "I wanted to come out and pound the zone the best I could. (It) felt like it was pretty important to come out and throw strikes for our guys, (especially) for the great defense we have behind us."
The freshman said when he is on the mound next time, he hopes to learn from this outing.
"(I) got to make the big pitches; there's a lot of situations you need to focus up and really lock in," Paredes said. "All of us here, we live and play by the two words of 'toughen up' and being able to make those big pitches. Next time I go out there, (I want to) lock in and try my best to make those competitive pitches that we need to make."
Paredes is one of 11 Aztecs to have played high school baseball in San Diego and said the opportunity to play with them is great.
"I love coming out here and seeing the guys I faced in high school," Paredes said. "It's pretty cool. It's awesome to play in front of my family that's lucky enough to come to every game. It's pretty cool to play in the city you were born and raised in."
The local product hopes the team can turn things around heading into a conference series this weekend.
"(On Wednesday) we need to take a moment to realize what we have coming up," Paredes said. "We have a big conference series against Fresno. It's going to be a tough one, so we need to lock in and pay attention to detail, something coach Martinez really preaches to us."  
The Aztecs will have a home weekend series with Fresno State on March 29-31.
Martinez said the team can turn things around, but it begins with him and his staff.
"Today was just a very poor offensive performance; our guys came to the yard with the wrong mindset and the coaching staff is the blame for that," Martinez said. "We have to clean that up and get ready for Fresno State."