Aztecs set to kick off 2019 campaign in home opener against Weber State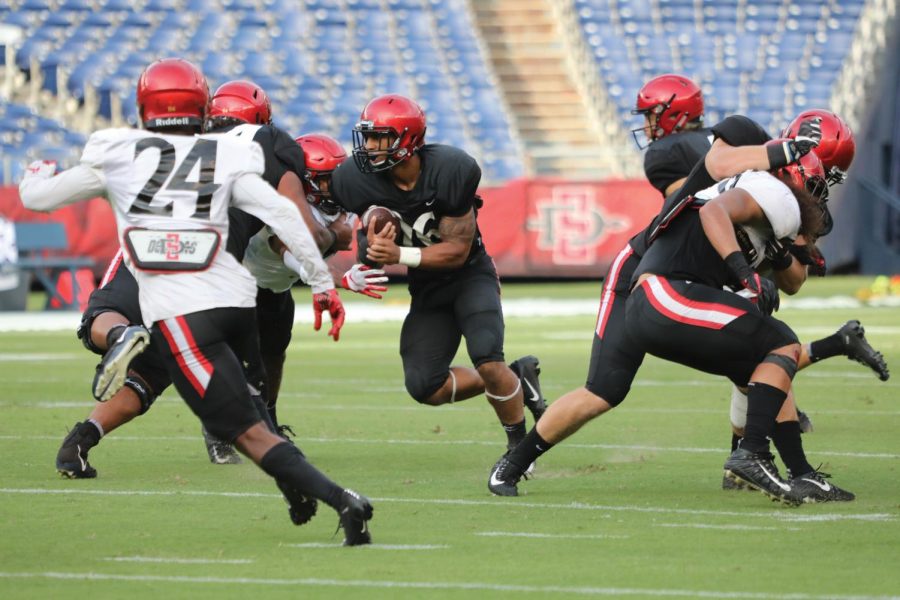 San Diego State's 2018 season ended with a four-game losing streak to finish a disappointing 7-6, considering the program was coming off three consecutive 10-win seasons.
The Aztecs will have the opportunity to officially put 2018 behind them and write a new chapter in 2019 when the team takes on FCS opponent Weber State on Aug. 31.
Yes, it's easy to overlook a team in a lower division, but SDSU head coach Rocky Long is having none of that. 
"The idea of this being easy is ridiculous," Long said.
The Wildcats enter the season ranked No. 9 on the FCS Coaches Poll. They are coming off a 10-3 season that ended in the second round of the FCS playoffs. Running back Josh Davis was the focal point of the offense as he rushed for 1,362 yards and nine touchdowns as a freshman – garnering National Freshman of the Year, first team All-Big Sky and Big Sky Freshman of the Year honors.
"He's a very good player, and he's not a freshman anymore," Long said. "He's a veteran player if he carried the ball that much and gained that many yards."
Look for the Wildcats to attack the Aztec defense with their run game. In 2018, they were a run-oriented offense: 491 rush attempts versus 394 pass attempts.
Another player to keep an eye out for is Weber State junior wide receiver Rashid Shaheed who returns to his hometown. The Mt. Carmel graduate led the Wildcats with 41 receptions, adding 442 yards and five touchdowns. But where Shaheed is also dangerous is on special teams. He averaged 34.3 yards per kickoff return and scored two touchdowns, including a 100-yard return.
SDSU has won its last five home openers. The last time the team lost a home opener was when Jimmy Garoppolo and Eastern Illinois defeated the Aztecs 40-19 in 2013, also marking the last time SDSU lost to an FCS opponent.
Saturday will be the first time fans will officially see the newly implemented spread formation in the offense. Before spring practices began, Long announced the change to a spread formation. 
However, Long has made it clear on numerous occasions only the formations will change, and the Aztecs' run-first philosophy remains the same. 
The focal point of the offense will still be senior running back Juwan Washington.
Washington will see his first live-game action since the Frisco Bowl over eight months ago. It has been a tradition in Long's program to keep the starting running back on the sideline during any full-contact scrimmages, and Washington has been treated no differently.
Despite not having any live reps in the last two offseasons, Washington doesn't seem to have any trouble shaking off the rust in the season opener. Washington rushed for 158 yards and a touchdown on 24 carries during the Aztecs' last season opener at Stanford.
Last season, Long said Stanford had an advantage being on the quarter system and not having classes start until the end of September. His players were forced to have to deal with the craziness of the first week of classes and preparing for a season opener in August. 
This time, neither Weber State nor SDSU hold any advantage in that regard – according to Long – since both schools start fall classes on Aug. 26.
"If they start (classes) Monday, nobody has an advantage," he said. "None."