Five T's: A student guide for SDSU football season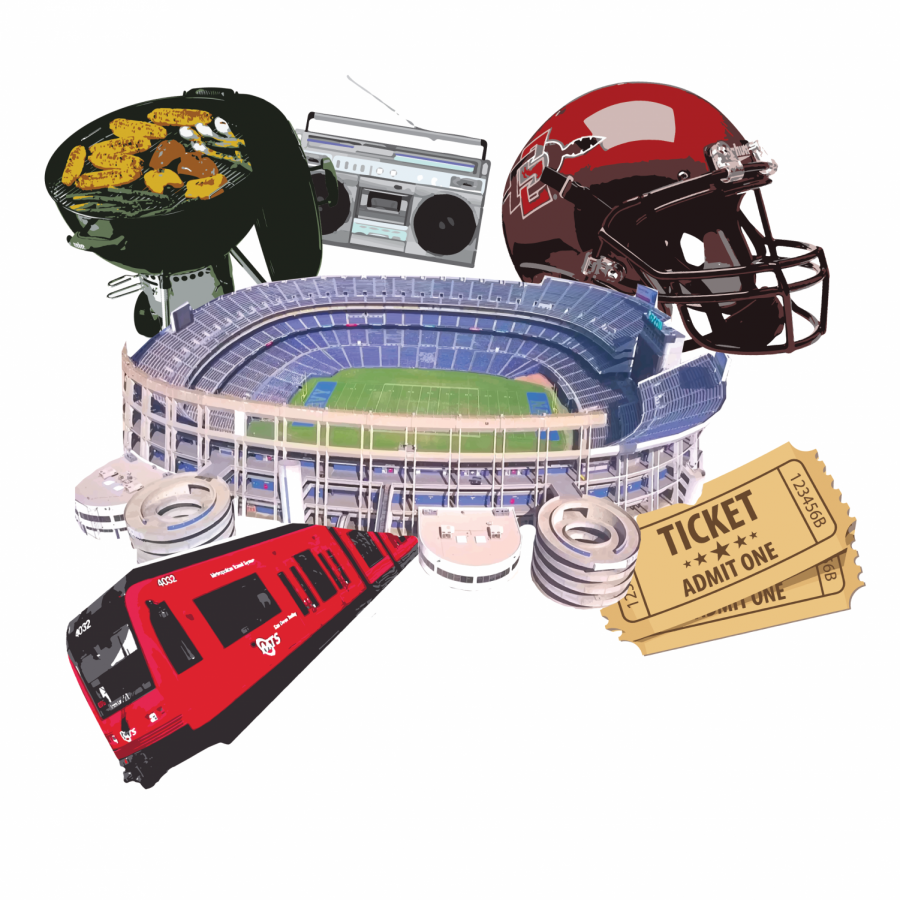 by Kyle Betz, Assistant Sports Editor
August 24, 2019
Tickets
All students can redeem one free game ticket on their smartphone at SDSUStudentTix.com. New users will be asked to input a name, email and phone number to set up an account. Students will then be asked to create a PIN to secure their account. Users can also sign up for automated text messages, notifying them of new ticket offers and promotions.
Once students are in their personal "Fan Hub," they can tap on "Manage SDSU Student Ticket" and "Tap to Accept Tickets." Once the game ticket is redeemed, students can access the ticket barcode. The barcode can be scanned at any gate entrance at SDCCU Stadium. Students are asked to sit in the designated student section (sections 43-48 and 54-57).
The first 1,500 students to redeem their tickets are eligible to claim a free round-trip trolley pass to the stadium.
Students can also purchase up to two guest tickets through the ticket website, typically between $25 and $45 depending on the game.
I recommend redeeming student tickets as soon as possible, especially due to the limit of free trolley passes.
Tickets are typically released one or two weeks prior to gameday.
Transportation
The San Diego Metropolitan Transportation System provides transportation to and from the stadium via trolley. If students fail to claim their free trolley pass via the SDSU ticket website, they can purchase a round-trip trolley pass for $5 at a trolley station kiosk or on the Compass Cloud mobile app. I highly recommend utilizing this service because it has a direct connection to and from SDSU and it's cheaper than parking at the stadium (outer ring costs $10; inner ring costs $20).
Tailgates
On Oct. 13, 2018, an SDSU-issued email notified students and faculty of new tailgating procedures.
The email stated a party of 25 or more were required to reserve a tailgating section online. Fans were also encouraged to review the "Fan Code of Conduct" policy.
These rules were set in conjunction with SDSU's Homecoming game versus San José State on Oct. 20.
Following that email, tailgates were considered "banned." A majority of students stopped showing up to home football games, and SDSU's student section, The Show, didn't really look like much of a show thereafter.
There have been talks surrounding the return of unaffiliated SDSU tailgates this season. It's not clear whether this is true, but SDSU has not released any statement re-enforcing its tailgate policy from last season. 
Don't be surprised to see hundreds of students partying in the middle of the SDCCU Stadium parking lot a couple hours before kickoff on Aug. 31.
SDSU is hosting its own Welcome Week student tailgate in Lot J before the home opener. The first 2,000 students will receive free t-shirts and pizza.
The university also hosts various student and alumni tailgates at home games throughout the season.
SDCCU Stadium's parking spans over 150 acres with over 16,000 parking spaces, so there is plenty of space for tailgating.
I encourage students to eat before or during tailgates, as concession stands inside SDCCU Stadium can be on the expensive side.
Themes
Throughout the season, SDSU distributes promotional items to both fans and students during home games.
Before the Aztecs' home opener versus Weber State on Aug. 31, SDSU will host Faculty/Staff Day in addition to the student tailgate. 
The annual KGB SkyShow game will take place following the game. This game typically has the most attendance, so that's another reason I recommend students claim their tickets ahead of time. Free SkyShow mouse pads will be given to the first 10,000 fans in attendance.
On Sept. 21, the Aztecs will take on Utah State. This date is slated for First Responders Appreciation Day, Extra Yard for Teachers and San Diego County Teachers of the Year honors. Beach bags will be issued to the first 2,000 students.
Next, SDSU will face Wyoming on Oct. 12 during Family Weekend. Hispanic Heritage Month will be celebrated during the game. Dance Marathon Night and Padres Night will also be recognized. A Guard/Twirlers clinic will be present. The first 2,000 students will receive lip balm. Lastly, former Aztecs point guard Xavier Thames and track and field athlete Shanieka Thomas will be recognized in part of the introduction of the Aztec Hall of Fame Class of 2019.
Homecoming and the Fleet Week classic will take place on Nov. 9 against Nevada. The first 10,000 fans will receive a red rally towel. The game is a Redout, meaning all fans in attendance are encouraged to wear red. Former military members will be recognized for Veterans Day.
The Aztecs will play Fresno State on Nov. 15. The first 10,000 fans will receive a free foam finger.
SDSU faces Brigham Young during Fan Appreciation Day on Nov. 30. All fans are encouraged to wear black as part of a Blackout and clear tote bags will be administered to students. Senior football players will be honored pregame. 
The team
The Aztecs are hungry after losing five out of their last six games last season.
The Scarlet and Black are led by senior linebacker Kyahva Tezino on defense. The Los Angeles native tallied 127 tackles and 8.5 sacks last season. He was voted First-Team All-Mountain West last season and was in consideration for Mountain West Defensive Player of the Year.
Senior running back Juwan Washington highlights the offense. He was injured for over four games last season with a collarbone injury, but still managed to put up 999 yards on 199 attempts with 10 touchdowns. The Texas native is also a threat on special teams as a kick returner.
SDSU has defeated three Pac-12 opponents at home in the last three seasons, including schools like Arizona State and Stanford. The Aztecs are seeking their 22nd conference championship this year.
You only get a limited amount of time to watch college football games as a student, so take advantage of it!
Correction: An earlier version of this story mentioned that the SDCCU Stadium parking lot contains 19,000 parking spots. It has since been changed to coincide with information given on the official San Diego website. The Daily Aztec regrets this error.