Senior quarterback Ryan Agnew continues to grow as a starter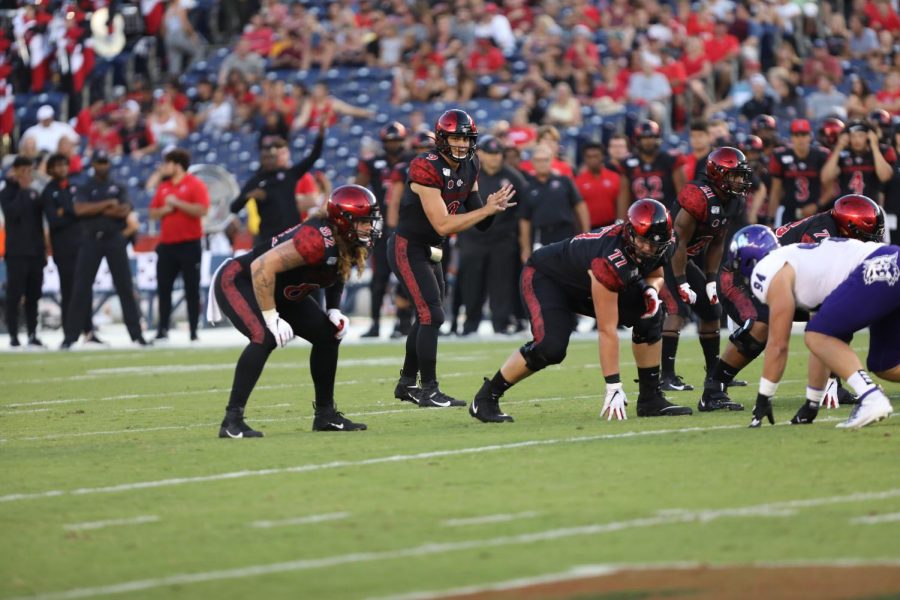 by Kyle Betz, Assistant Sports Editor
September 4, 2019
Senior quarterback Ryan Agnew is one of the most notable names in San Diego State football's starting lineup.
The Southlake, Texas native redshirted his first year at SDSU but worked to earn 2015 Offensive Scout Player of the Year.
Three years later, he was named the team's Offensive Player of the Year after winning six games as a starter.
Agnew recently opened his 2019 account by leading the Aztecs to a 6-0 win against Weber State, passing for 108 yards and rushing for 13 more.
The 6-foot, 190-pound quarterback was called upon by the Aztecs' coaching staff last September after then-senior quarterback Christian Chapman – the school's all-time winningest passer – went down with a left knee injury in the second game of the season against Sacramento State.
He exceeded expectations by defeating No. 23/25 Arizona State and rv/No. 24 Boise State, among others, earning him playing time even after Chapman returned from injury.
Offensive coordinator Jeff Horton said it was important for Agnew to learn under Chapman for the amount of time that he did.
"I think seeing Christian, the way he handled himself and the standard he set as a quarterback, Ryan's done a great job since he's taken over accepting that responsibility and working at it," Horton said. "He's a part of the team, a part of the wins, and you've just got to keep it going."
Chapman differed from Agnew in that he preferred to sling the ball out of the pocket.
One of the reasons Agnew is a dynamic player is his ability to evade defenders by scrambling out of the pocket.
According to head coach Rocky Long, Agnew's mobility is one of his most important traits.
"Ryan's a scrambler," Long said. "You can tell him not to scramble and then you take half his game away."
Of course, anytime a mobile quarterback like Agnew runs towards an opposing defense, there's a risk of injury.
Long, however, added Agnew should be able to play his way without protecting himself.
"A player is a player," Long said. "If that's the way he plays, let him play that way. You don't start trying to change their personality and their character. He's a good player."
In 2018, Agnew passed for 1,651 yards, 10 touchdowns and six interceptions – adding rushing for 141 yards.
Entering 2019, Agnew lost three of his top targets in Fred Trevillion, Kahale Warring and Tim Wilson Jr., respectively. All combined for 1,332 receiving yards and nine touchdowns last season.
Now, Agnew faces a challenge in passing to a more inexperienced wide receiving corps.
Horton said although Agnew excels most when on the run, his ability to throw both inside and outside of the pocket is an advantage for his young receivers.
"He's his best when he gets outside of the pocket," Horton said. "It's not that he can't do it inside, you still have to throw it inside. But I think just being able to move around will hopefully enhance the completion percentage."
Junior center Keith Ismael said he's seen Agnew's leadership role expand to help the underclassmen throughout camp and the beginning of the season.
"He's really stepped up and owned that role for himself and brought all the younger players that are starting to play a lot with us," Ismael said. "He's one of the key figures on our team and on our offense."