SDSU travels to UCLA for first matchup in a decade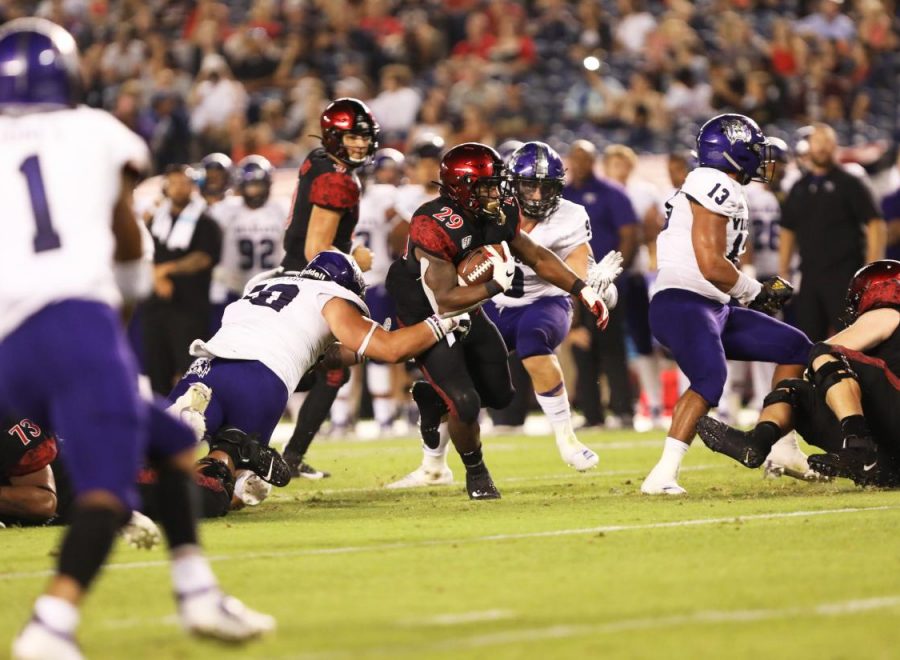 by Kyle Betz, Assistant Sports Editor
September 4, 2019
San Diego State football will travel to the Rose Bowl for a clash against UCLA on Sept. 7.
The Aztecs (1-0), a Mountain West team, have the opportunity to secure more wins against Pac-12 opponents (5) than Pac-12 member Oregon State, who has only four conference wins since 2016.
The Bruins (0-1) lost their season opener to Cincinnati, 24-14, on Aug. 29, although the team was missing pieces on both sides of the ball.
Two running backs, senior Joshua Kelley and sophomore Kazmeir Allen, did not play due to injuries. This left junior wide receiver Demetric Felton – a makeshift tailback – to carry the workload.
Felton finished against Cincinnati with 174 all-purpose yards, including a 75-yard receiving touchdown in the second quarter.
UCLA junior cornerback Darnay Holmes, a five-star recruit who started in 23 games over the past two seasons, did not play after missing practice during the week.
There's a chance Holmes returns from injury to start against SDSU, bolstering a defense that forced two turnovers against the Bearcats last week.
SDSU offensive coordinator Jeff Horton isolated Holmes from any other name in the Bruins' secondary.
"He's probably one of the best in the country," Horton said.
For the Scarlet and Black, the offense is hoping to avoid the same result it achieved last Saturday in its 6-0 win over Weber State.
Horton said consistency is the biggest issue the Aztecs need to work on moving forward.
"Obviously, it was disappointing from our end – really, an embarrassment," Horton said. "We were never consistent, we never sustained anything… (Our offense was) nowhere where it needs to be. Obviously, our job is to score points, and we were very fortunate to have two field goals to win the football game."
The Aztecs found themselves in Weber State's red zone on three separate occasions but were unable to score a touchdown.
Part of that reason has to do with the offensive line.
The unit did not allow a sack against the Wildcats, but senior quarterback Ryan Agnew was forced to move outside the pocket more often than not.
Aztecs head coach Rocky Long criticized the offensive line's play following the game, which was also a common occurrence last season.
"I don't think the offensive line played very well," Long said. "Except for a little spurt in the second quarter where we actually ran the ball pretty well, we didn't block very well for the run."
SDSU junior center Keith Ismael said the offense is working hard in practice to put themselves in a position to score more points.
"It's frustrating on offense when you can't get into the end zone," Ismael said. "We're trying to get the offense to flow better and every position to work hard, so once we get in there, we'll definitely be celebrating."
The Aztecs, whose pride on offense lies in their ground game, finished the first quarter against Weber State with -5 rushing yards but ended up with 130 yards, part in thanks to sophomore running back Jordan Byrd, who rushed only five times but collected 50 yards.
Horton said he would like to see Byrd receive more touches due to his explosiveness.
"We've got to get the ball in his hands more," Horton said. "When we were struggling like we were, you need guys that can create big plays like that."
SDSU is 0-21-1 all-time against UCLA, with the Bruins holding a 19-game winning streak.
Horton said playing UCLA on the road is a big opportunity for the program.
"This is a huge challenge playing UCLA in the Rose Bowl," Horton said. "What more could you ask for?"