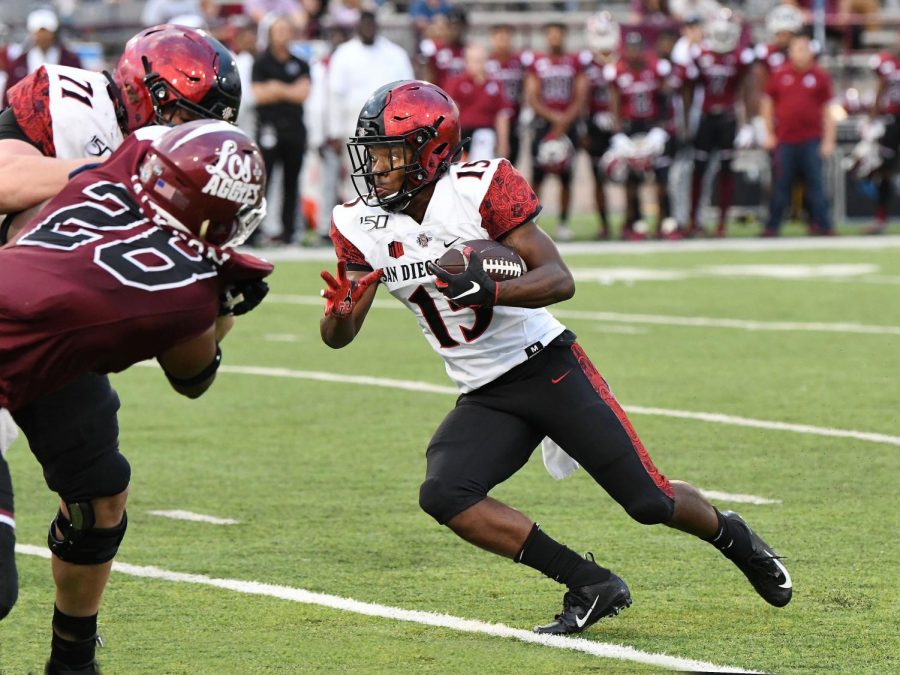 Ernie Anderson, SDSU Athletics
San Diego State football star running back Juwan Washington did not play a down on Sept. 14 versus New Mexico State.
The Aztecs, however, did not need him, as sophomore running backs Jordan Byrd and Chance Bell carried the load and led the Aztecs to a 31-10 victory over the Aggies (0-3).
The win marked the Aztecs' third 3-0 start in the last four years.
Byrd started the game in the backfield and totaled 22 carries for 118 yards with two touchdowns.
He first contributed to the scoring with a 1-yard touchdown with 10 minutes left in the second quarter.
The Albuquerque, N.M. native also scampered in for a 7-yard rushing touchdown just six minutes into the second half.
Bell saw a majority of his carries following Byrd's second score and saw similar success, carrying the ball 17 times for 116 yards.
He also powered his way for a touchdown early in the fourth quarter, spinning off two potential tacklers and keeping his balance as he dove into the end zone.
Both running backs had the best statistical games of their careers.
Head coach Rocky Long said he is pleased that other running backs can step in and perform well despite Washington's absence.
"I thought, going into the season, one of our deepest positions on our team was running back," Long said. "Thank goodness for that… We've still have three healthy (running backs) that are pretty good players. So hopefully they'll continue to perform at that level."
The Scarlet and Black haven't scored 31 points in a game since Nov. 3, 2018, when they defeated New Mexico 31-23.
For the third straight week, SDSU had possession for most of the game as a result of its defense.
Throughout the offseason and fall camp, head coach Rocky Long has called the defensive line "inexperienced," but the line showed progress against the Aggies.
New Mexico State sophomore quarterback Josh Adkins had pressure in his face throughout the game, with redshirt freshman defensive lineman Cameron Thomas and sophomore defensive lineman Keshawn Banks totaling two sacks each.
SDSU finished the night with six sacks for a loss of 40 yards.
Senior defensive lineman Myles Cheatum said the defensive unit, who has only allowed eight points per game, has gained confidence throughout SDSU's first three games.
"I think everyone's playing real confident, especially in the back, those guys are gelling really well and putting a good product out there on the field," Cheatum said.
The defensive line was helped by the secondary, with sophomore cornerback Darren Hall forcing two fumbles and senior cornerback Luq Barcoo adding an interception midway through the second quarter.
Senior linebacker Kyahva Tezino also increased the Aggies' turnover total to four with his first career interception coming halfway through the third quarter.
The Aztecs scored 14 total points off two New Mexico State turnovers.
One of those touchdowns happened with 11:30 left in the first quarter, as sophomore tight end Daniel Bellinger caught his first career touchdown pass from two yards out.
Bellinger was one of seven receivers to get involved in the Aztecs' offense, with sophomore Elijah Kothe leading the pack.
Kothe broke his single-game record for receptions (four) and receiving yards (34).
Junior running back Chase Jasmin was also involved in the offense, carrying the ball five times for 29 yards. However, he did not play in the second half after he was spotted limping towards SDSU's sideline late in the second quarter.