CSU audit: SDSU failed to meet health, safety standards in campus labs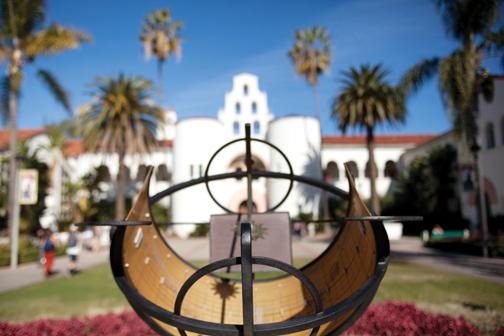 San Diego State has failed to meet safety standards within the school's science labs, according to a CSU health and safety audit published last month.
The Sept. 13  report – first reported by San Diego Reader – found several problems concerning safety procedures, and the school's failure to submit reports and verification forms. 
The university did not conduct regular maintenance inspections for safety equipment such as fire extinguishers, emergency eyewashes and showers, according to the audit. These appliances were also not installed in the required safety areas, which must be within a 10-second walking distance of hazardous materials, according to Larry Mandel, California State University vice chancellor and chief audit officer. 
SDSU was denounced in its state report from last year, which had many of the same findings. State regulations said equipment must be activated and inspected at least monthly, but the school's average time between inspections of shower and eyewash flushes was nearly nine months, according to California State Auditor Elaine Howle, who conducted the 2018 audit.
This year's audit noted findings of chemical spills that were not cleaned for days, along with unlabelled hazardous waste and material containers, one of which accumulated waste for over a year. 
Many containers had neither graphic warnings nor labels that identified contents or proper dates. This absence of proper labeling can risk the failure of disposing of these wastes too late, or worse, students and employees being exposed to the toxins. A fume hood holding some of these toxins was in need of a new filter for airflow, as well.
The school also failed to retain acknowledgment forms signed by students and members of the campus organizations. These forms would confirm students and employees are wearing proper lab equipment, received safety training and have a full understanding of procedures. Despite campus officials confirming these policies, there was no documentation provided, according to the state audit.
Senior Director of Environmental Health and Safety Gillian Marks said the department ensures training for equipment, and that verification is collected as signatures that are audited periodically. However, due to the audit findings, EH&S plans on switching from this traditional format. 
"In the near future verification will be migrated to an electronic platform to provide more engaging training and to ensure tracking can be accomplished," Marks said. 
Many violations were linked to the use of labs by recognized student organizations. These clubs neglected the verification forms and proper disposal and labeling of wastes. There were also instances of food and drinks being consumed in the labs, or clubs storing specific substances prohibited by the school, according to Mandel's audit. These organizations were unsupervised and, therefore, not subjected to mandatory training.
"We found that oversight and responsibility for safety at RSOs, including supervision of students working with various hazards and the administration of safety training, were not clearly defined and often was not documented," Mandel said. "There was also a lack of enforcement of campus-wide safety standards in RSO workspaces."
Marks said the department is unaware of which RSOs are in need of additional training, as they are registered through Student Life and Leadership. To decide which RSOs need more oversight calls for the help of administration. 
"This requires collaboration between academic staff and the university administration," Marks said. "Delivering relevant and important safety information depends on knowing the organizations leadership, needs and location."
SDSU's failure to submit the annual health and safety reports by the now-extended deadline raised serious concerns from Howle. Moreover, the school has not submitted the required report since 2016.
"(SDSU) should ensure that its chemical plan clearly defines the campus entity or individual who is responsible for reviewing and evaluating the effectiveness of its chemical plan, at least annually," Howle said.
These violations are questionable in regards to the security of students. After last year's report from April 2018, CSU Chancellor Timothy White said improvements were necessary. 
"We recognize that improvements need to be made and have already begun taking steps to address many of the recommendations," White said.
Yet, the follow-up report a year later seems to deny proof of these efforts. 
The audit states SDSU administration has agreed to make improvements for each of the issues addressed, and they aim to have these tasks completed by January 2020.
A previous version of this story incorrectly stated the news outlet that first reported on the audit. The Daily Aztec regrets this error.