Cal State Student Association president advocates for students outside office hours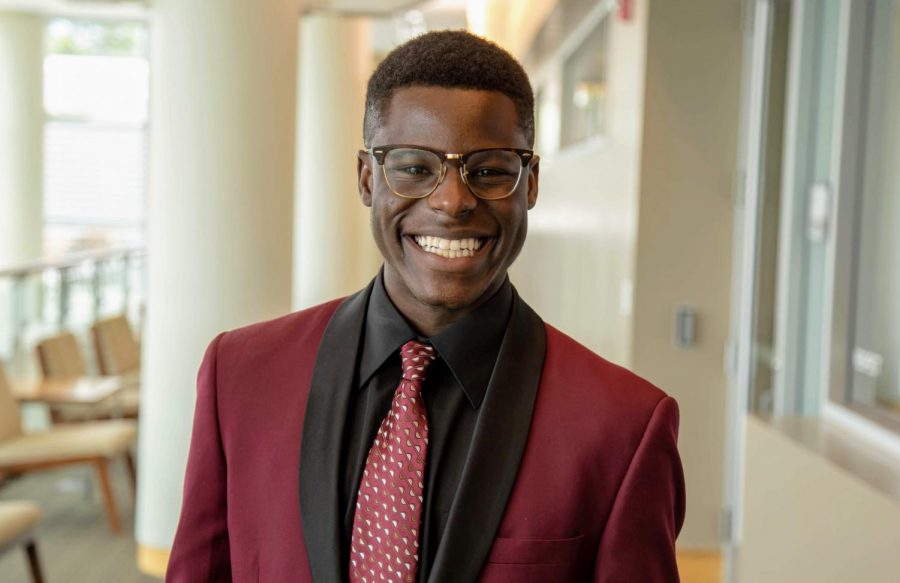 From nine to five, political science senior Michael Wiafe is Mr. President. 
But his work doesn't stop then. He is always on the job. 
As president of the Cal State Student Association, Wiafe represents and advocates for the 480,000 students attending one of 23 California State University campuses, a job that often takes him beyond San Diego State.
"I've been in San Diego for the past three weeks, which is the longest time I've been in San Diego straight since January," Wiafe said. "I usually travel at least once every two weeks."
Wiafe began his yearlong term in July, just weeks after a state audit revealed the CSU "failed to fully disclose"a $1.5 billion surplus from state legislators and students while floating the possibility of tuition hikes. 
"The week before my term started was when the whole audit thing started," Wiafe said. "That was a pretty big battle from the jump."
However, things have only gotten busier for Wiafe since then. As president, he oversees several research projects and is in charge of the search for a new CSSA executive director. 
He is spearheading other hiring initiatives as well. 
"We had a little bit of staff turnover, so right now, I am chairing the executive director hiring committee and working on position descriptions for two of our other senior staff," Wiafe said. "So a lot of HR battles."
Nevertheless, Wiafe is undeterred in his mission to advocate on behalf of students, frequently behind the scenes and out of the spotlight. 
"The work Michael is doing each day is often left unseen by his peers," iInterim Executive Director of CSSA Brandon Tsubaki said. "Most students will never know the countless hours he spends advocating for the food and housing insecure, those seeking timely mental health services or those who seek affordable quality education."
It is not unusual for him to be on the phone when he is not in class or at a meeting, and when he does have a couple of hours of free time, they are often spent at Sunset Cliffs, Underbelly or with friends, Wiafe said. 
Yet, his dedication to serving others has not gone unrecognized by those he works with. 
Before becoming the president of CSSA, Wiafe served on the Associated Students executive board as vice president of external relations. 
"Michael is a servant leader," Angie Espinoza, the current A.S. vice president of external relations and long-time friend of Wiafe, said. "He practices empathy, awareness and community building to ensure that the people working with him are just as excited and confident as him in their ability to accomplish the task at hand."
This skill has proven to be helpful for Wiafe, who often finds himself the middle person between power players ⁠— a role that he says is accompanied by its own set of frustrations. 
"I'm the person between students and the chancellor's office, the person between the (CSSA Board) and our staff," Wiafe said. "I'm also the person between our executive officers on the board, our staff, the chancellor's office and advocacy organizations, which can be frustrating."
However, Wiafe is always looking towards the future. His priorities as president include putting in place measures that ensure the success of future student leaders in his position. He views his term as "the year that needed to happen."
"There is a lot of change that's going to happen this year," Wiafe said. "I really hope to create the most solid foundations for the next generation of student leaders."