Renowned Chicano poet inspires students with poetry reading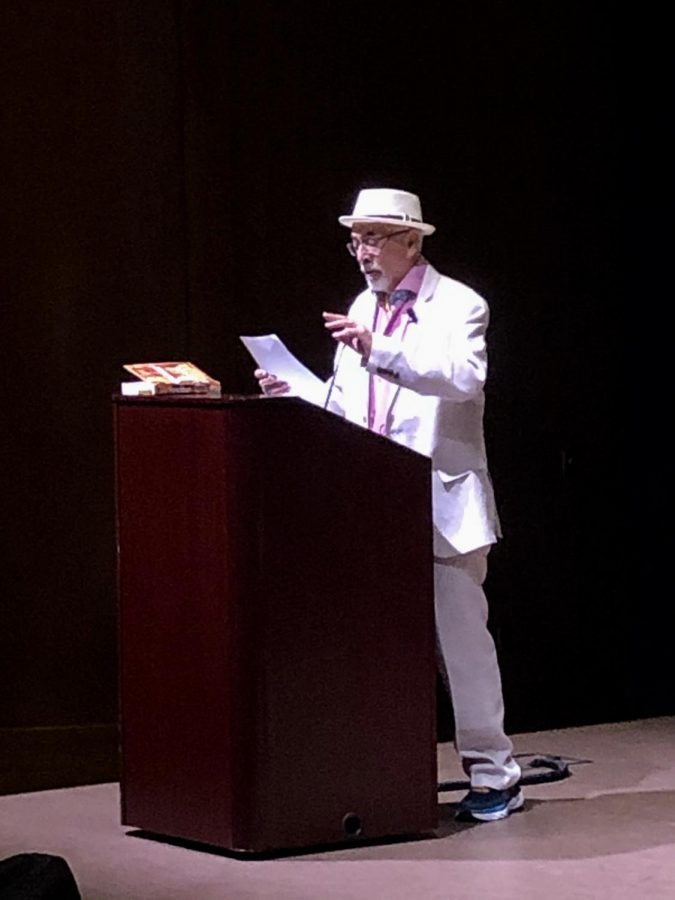 Students, faculty and artists alike gathered to hear renowned Chicano poet Juan Felipe Herrera recite his poetry.
San Diego State's Department of Chicana and Chicano Studies hosted Herrera at the Aztec Student Union theater on Wednesday, Nov. 6. This event was a part of the department's 50th anniversary celebration, focusing on prominent Chicano artists in San Diego.
Even before the event began, the seats in the theater were packed and the crowd mingled as they awaited his presentation.
Prior to Herrera's appearance, psychology freshman Cienna Corpuz said she was enthusiastic about hearing Herrera speak, despite having little-to-no interest in poetry.
"I'm definitely excited to learn a little bit about the culture," Corpuz said.
After introductions from Department Chair Maria Ibarra and Campus President Adela De La Torre, Herrera took the stage.
He began by reading an excerpt from his book "187 Reasons Why Mexicanos Can't Cross the Border" and instructing the audience to yell "because" whenever he pointed towards them.
For five consecutive minutes, Herrera would list humorous reasons preventing Mexicans from crossing the border such as "a quinceanera will ruin the concept of American virginity" and "there's not enough room for impalas on the freeway."
He then recited his poem "How To Make World Unity Salsa" and began naming various ingredients such as "jalapeños" and chanting "mash the pulp," causing uproarious laughter from the audience. 
Herrera's poetry readings were interspersed with stories from his own life, including his time attending San Diego High School and his tenure as the first Chicano U.S. Poet Laureate from 2015 to2017.
Herrera also previewed his upcoming book "Everyday We Get More Illegal," and read an excerpt from one of the book's poems about hispanic children living in U.S. border camps. 
Following Herrera's poetry readings, he held a short question and answer session with the audience. During the Q&A, one student asked Herrera what Chicanos could do to continue gaining recognition for their art.
He responded by saying Chicanos must figure out their collective goal first before taking further steps.
"First we need to say to each other what do we want to build? What's the new idea? How can we keep the movement alive?" Herrera said.
After the event's conclusion, many of Herrera's books were being sold outside the theater and he held an impromptu book signing session.
Chicano studies junior Daniela Luna and marketing senior Tricia Rivera were among many students who bought one of Herrera's books and waited in line for his autograph.
Luna said she was inspired by Herrera's poetry and wants to continue pursuing her own writing dreams.
"He's like a time machine, and hearing about his experience gives me inspiration to write about my own life," Luna said. 
Rivera said she enjoys attending Chicano studies events and advises other students to attend these events as well. 
"More people should take advantage of these events because they really open your eyes to what's happening in the Chicano community," Rivera said.
Herrera's final word of advice for aspiring writers was that they should keep writing and experimenting while using everything around them as inspiration. In addition, he said the future was bright for ambitious Chicano poets. 
"In this group, there is going to be a second U.S. Chicano Poet Laureate," Herrera said.