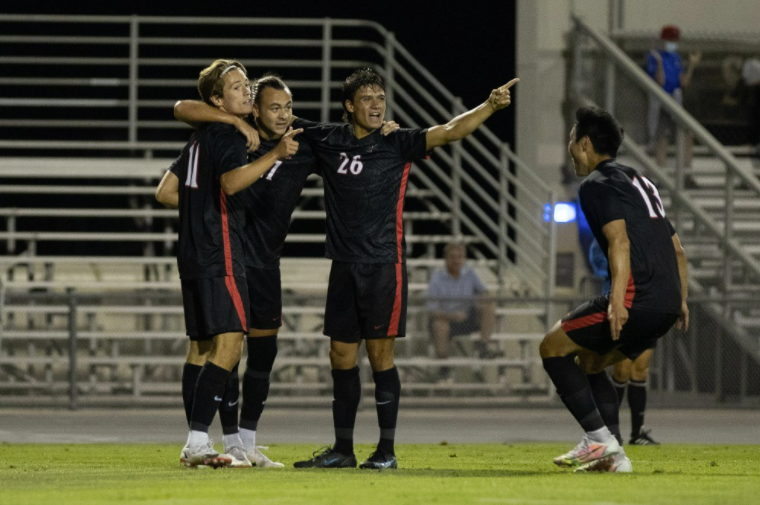 San Diego State Aztecs men's soccer defeated the Point Loma Sea Lions 4-0 in a friendly match on Aug. 20 at the SDSU Sports Deck. SDSU's goals came in the second half with freshman forward Alex Hjaelmof and junior midfielder Blake Bowen both scoring twice.
The Aztecs outshot the Sea Lions 20-2, with Point Loma's only two shots of the game coming in the last minute of regulation. 
Head Coach Ryan Hopkins emphasized how fortunate he was to finally see fans in the stands at the SDSU Sports Deck.
"I didn't know what to do. It was my first game with fans so it was cool. It was awesome to have students here and it was also cool to have a local derby so we were able to have some of their fans too," Hopkins said after the match. "Hopefully we put up a good performance that they want to come back and that's all they can ask for."
Despite being tied 0-0 at the end of first half, the Aztecs led with 10 shots on goal and zero shots for the opponents. 
The Aztecs dominated in possession but the first goal of the game didn't come until minute  57. Hailing from Rugsted, Denmark, Hjaelmof scored his first goal as an Aztec off a Sea Lions defensive mistake.
Hjaelmof's second goal of the night came one minute later, after taking a penalty kick for the Aztecs to make it 2-0.
The third goal of the night came in minute 67. Bowen scored his first goal with a left foot shot from the top of the 18-yard box that curled inside the near post to make it 3-0. Bowen scored again 10 minutes later off an assist from sophomore midfielder Inigo Villaldea, catching the Sea Lion goalkeeper out of position to make it 4-0.
Sophomore and junior goalkeepers Jacob Castro and Tetsuya Kadono managed to keep a clean sheet each half to shut out the Sea Lions.
"It was a great first match," Hopkins said. "It took some time for us to get going, but once we figured it out, we scored some really nice goals. All around, it was a great night for us."
The Scarlet and Black are back at the Sports Deck next week to open up their 2021 campaign on Thursday, Aug. 26  when they host the California State University Northridge Matadors at 7 p.m.
According to Go Aztecs, the first 200 fans get free sandals and the first 100 students get free pizza at the SDSU Sports Deck.