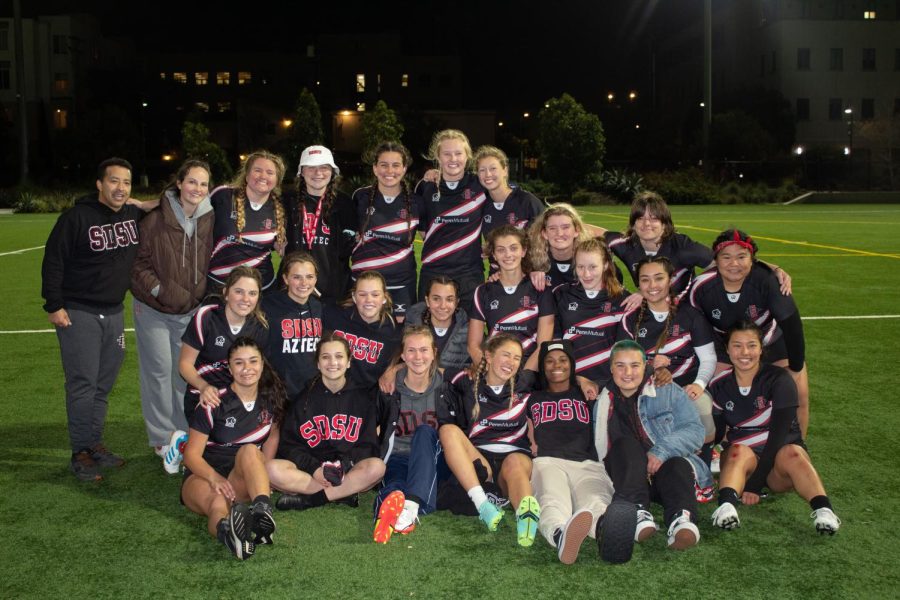 Morgan Prickett
The San Diego State women's rugby club is heading to their first-ever National Rugby Association of America's National Championships starting on Friday, April 29.
Quite interestingly though, this women's rugby team still isn't officially an SDSU club.
Yes, you heard that right. SDSU women's rugby is heading to nationals and they haven't even achieved official club status on campus.
Head coach Tony Roulhac said, "It's been a challenge. Obviously starting as a student organization and at the moment we're just getting to the point where we're going to be a club sport hopefully in the fall."
Despite receiving limited support from the school, SDSU women's rugby battled on and off the field to put themselves in a position to reach the National Championship.
Coach Roulhac said it means a crazy amount to him that this team was able to battle this far with fewer resources.
"It's a validation of all the work we put in," Roulhac said. "The girls put in so much work to get there with fundraising and things like that so I can't even explain it. Everyone's just on top of the world right now."
Even though they're not officially a club, SDSU women's rugby will officially be making their trip to Houston, Texas to compete in the Division Two CRAA Spring Championships.
"It's almost like we're just any student organization competing against actual school teams which is kind of crazy but I think we got it," Junior Juliette Bionaz said.
After an incredible 4-0 season where the Aztecs outscored their opponents by a total of 66 points, The Aztecs were able to receive a bid to attend the tournament. 
The Aztecs won their first two games of the season; 42-0 against the University of Nevada Las Vegas and 31-12 against the University of California, Irvine.
Potentially the biggest game of the Aztecs' season was their third match against a strong Clairemont side. The Aztecs narrowly defeated their opponent 19-14 and potentially secured their chances at reaching nationals.
The Aztecs then went on to win their final game by forfeit against California State University Long Beach.
Potentially setting up a movie-style ending to the Aztecs' season, Clairemont received a last-minute bid to the tournament which could result in a heated rematch between the two sides in the semi-finals or finals.
"I just hope everyone goes in without the amount of nerves that I think we will because I know this is a big thing," Bionaz said. "I myself am very scared but I think I need to get over that and I hope that everyone else gets over that because I think when we're in our heads that's when mistakes happen so we just need to be confident in ourselves."
The CRAA D2 Semifinals commence on Friday, April 29 at 11 a.m. and will be broadcasted on the Bay Area Online Sports Network.
If the Aztecs make the finals, their match will commence at noon and will be televised for free on the Rugby Network along with the other Championship matches.
Bionaz hopes that this tournament will be an opportunity to expand SDSU women's rugby's outreach.
"I think it'll mean a lot to us as a club because it might be an opportunity to get other girls to join," Bionaz said. "We really only have 20 people on the team and only 15 go on the field. A lot of people have concussions or injuries so it would mean a lot to us if we could get a little bit more recognition from the school so that we could get more players."