Interviewing local San Diego bands: Unbuttoning the White Collars
The White Collars share how they went from quarantine to the music scene
Quarantine left many people with very little opportunity to do much of anything. When faced with the soul-sucking boredom of isolation, three friends from Point Loma High School decided to take the opportunity to start a band. Those three friends– Cameron Powers, Neil Kuhn and Ben Freeman formed a rock band called "The White Collars," and that decision marked one of the rare victories to come out of those months in quarantine.
"We wanted to do something so we put a lot of work in," Powers said. "We got to the point where we were practicing two times a week, so we were very productive."
"I don't like the school aspect, but everything else is fun," Powers said. "We've met a lot of people and Aztec Music Group has been cool."
Aztec Music Group (AMG) is a recognized student organization at San Diego State University that provides opportunities to people who are interested in breaking into the music industry. AMG organizes house shows and other musical events around SDSU and the greater San Diego area, and has enabled The White Collars to get a fair amount of time on stage. 
"So far we've got to play a lot of gigs," Kuhn said. "A lot more than we realized. It's almost like we're meant to be up there."
The White Collars' association with AMG also helped them find a fill-in drummer after their original drummer Adam Brown left the band to pursue other interests. They met their new drummer Ian Kearns through Zen Yokel, the president of AMG. In addition to drumming for The White Collars, Kearns is the lead singer of Lucky and the Cosmos, another local San Diego band.
At the heart of The White Collars is a strong friendship, which encourages them to cooperate with one another. Together, their collaborative process ensures that their band is never defined by just one sound.
"I feel like our vibe stays the same, but when I look at albums of other artists, a lot of songs are very similar," Kuhn said. "For us, we do have creative differences, and if we argue it just means we care."
Those "creative differences" are exactly what make The White Collars special– each member brings their own perspective to the table, as they each come from separate musical backgrounds.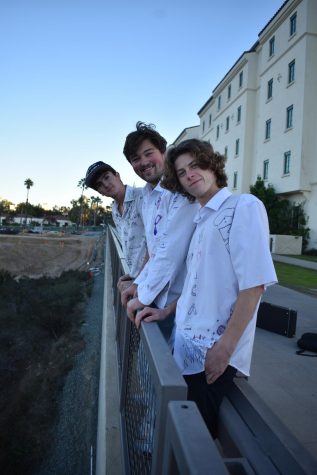 For Powers, the Red Hot Chili Peppers were a monumental inspiration.
"I can't get enough of (The Red Hot Chili Peppers)," Powers said. "I have a tattoo and everything I wear is Chili Peppers. And it's not just their music, but seeing videos of them, just how much fun they have – I just wanna be like that. Have a good time while doing something good for the world."
Kuhn was also influenced by the California rock scene of the 80s' and 90s', but leaned farther toward the pop punk movement of the era.
"When I first got into rock music, (I listened to) Green Day and Blink-182," Kuhn said. "I didn't play any instruments or anything, and then I was like, 'How cool would it be if I could play a guitar or whatever?' And then I picked up guitar halfway through Freshman year of high school."
For Freeman on the other hand, joining a band came before he really developed an interest in music. His first band wasn't a rock band, however– it was his school's band.
"I joined band one year, and the teacher was like, 'You're gonna play trombone since you're tall and you look like you're able to," Freeman said. "So I loved it from there…it became my passion. That's something that I found out that I never would have had I not taken band in middle school. So kids, take band. It's worth it, you never know what'll happen."
The White Collars have a passion for what they do, and they have the drive to get to where they want to be, which, according to Kuhn, is nothing short of "the top."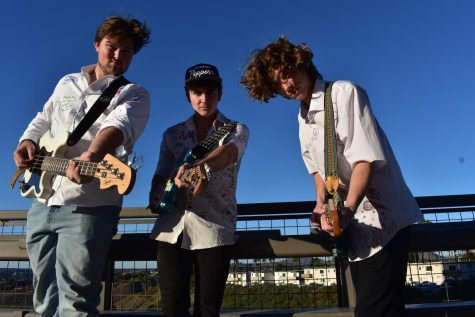 "We really wanna make it big, because it would be nice to do it for a living," Powers said. "(Music) is what we love to do. We like working together, we wanna be lifelong friends, and music is just something that we all love, so it would be great to make a living off of it and be able to travel the world and stuff, doing what we love."
The White Collars have gained a lot of momentum this year and they show no signs of stopping.