Linebackers
SDSU has a strong linebacking core this year and it's led by senior standout Miles Burris. Burris is next in the line of great Aztec linebackers, as he led the MWC in sacks (9.5) and tackles for loss (20) last year. Playing middle linebacker will be redshirt freshman Jake Fely. Junior Rob Andrews should also get some playing time with Fely. The other outside linebacker will be senior Logan Ketchum, who was fourth on the team in tackles last year. The linebackers have more veteran players than any other portion of the defense.
Wide Receiver
This position has the most inexperienced group on the team and the biggest question mark as the season is about to begin. The Aztecs lost both Vincent Brown and DeMarco Sampson to the NFL, and now have a bunch of new faces at the receiver spot. After being a defensive back as recently as the spring, sophomore Colin Lockett will be one of the starters at wideout. Joining Lockett at the other receiver spot will be sophomore Dylan Denso. Denso is the only SDSU receiver who has caught a ball in his career as he had four grabs last year. Redshirt freshman Ezell Ruffin will also see some playing time this season. The pressure will be on the receivers to make defenses respect the passing game and keep teams from putting eight men in the box.
Tight End
The Aztecs have four quality tight ends on the depth chart, making it the deepest and most talented position on the team this season. Sophomore Gavin Escobar led all tight ends last season with 29 catches for 323 yards. Those numbers should be higher in his second year. Alston Umolo, a senior who was a preseason All-Mountain West pick last season before an injury cut his year short, is back in action. Junior D.J. Shields and sophomore Bryce Quigley round out the best tight end group in the MWC.  The tight ends will be a major part of the offense as the receivers will be breaking in early this the season.
Running Back
The SDSU rushing attack made a gigantic leap last year. After the running game finished 2009 ranked 116th in the nation, the Aztecs doubled their rushing output and finished last year ranked 46th in rushing averaging 161.3 yards per game. Coming back is sophomore running back Ronnie Hillman, who was a First-Team All-Mountain West selection last season. Hillman ran for 1,532 yards and scored 17 touchdowns last season. Look for junior Walter Kazee and freshman Adam Muema to contribute to the running game as well. Sophomore Chad Young will be leading the way for the running backs, as he replaces Brandon Sullivan as fullback.
Quarterback
The San Diego State football team is welcoming back four-year starter Ryan Lindley, who is looking to make his last year on Montezuma Mesa a memorable one. As the leader of the offense, Lindley enjoyed his best season last year when he threw for 3,830 yards and 28 touchdowns. He will be working with his third offensive coordinator in four years, as Andy Ludwig, former Cal offensive coordinator, is now the new play-caller for the Aztec offense.
Offensive Line
Four of the five starters are back from a group that paved holes for Hillman and kept Lindley clean last year. The lone new starter on the line this year will be senior left guard Emilio Rivera. Protecting Lindley's blind side at left tackle will be his high school teammate senior Tommie Draheim. Senior Kurtis Gunther will resume his role at right tackle. The right guard spot will be filled by junior Nick Embernate, while junior Alec Johnson will move to center this year after occupying the left guard spot last season.
Defensive Line
The defensive line lacks experience this year, and a number of young players will have to step up. Senior defensive tackle Jerome Long, who piled up 30 tackles and 6 tackles for loss last season, will take on the leadership role for the defensive line as he is the unit's lone returning starter. Sophomore Jordan Thomas is starting at defensive end in place of senior Larry Gibbs who is still recovering from a foot injury. Slated to start at the other defensive end spot is senior J.J. Autele. Expect both freshmen Sam Meredith and Jon Sanchez to see a lot of time in the rotation as well.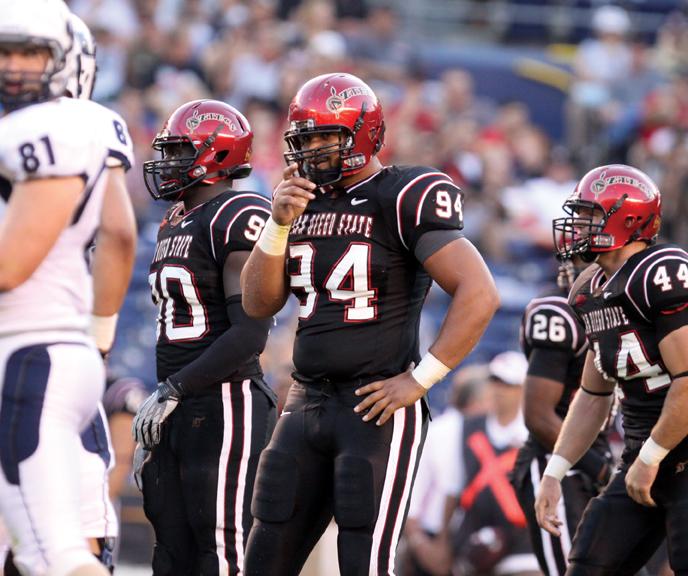 Defensive Back
There will be plenty of new faces in the secondary this year. One of the players SDSU fans will be familiar with is Leon McFadden, who is the star of the secondary. McFadden was First-Team All-Mountain West Conference last season as a sophomore and his junior year should be even better. At the other corner will be senior Larry Parker, who should also be handling punt return duties this year as well. The two safeties will be sophomores Nat Berhe and Gave Lemon but senior Brandon Davis will be in the rotation. The "Aztec" position will be filled by junior Khalid Stevens. Parker, Andrews, Berhe and Stevens are all first-year starters but are all talented enough to fit well in their new roles.