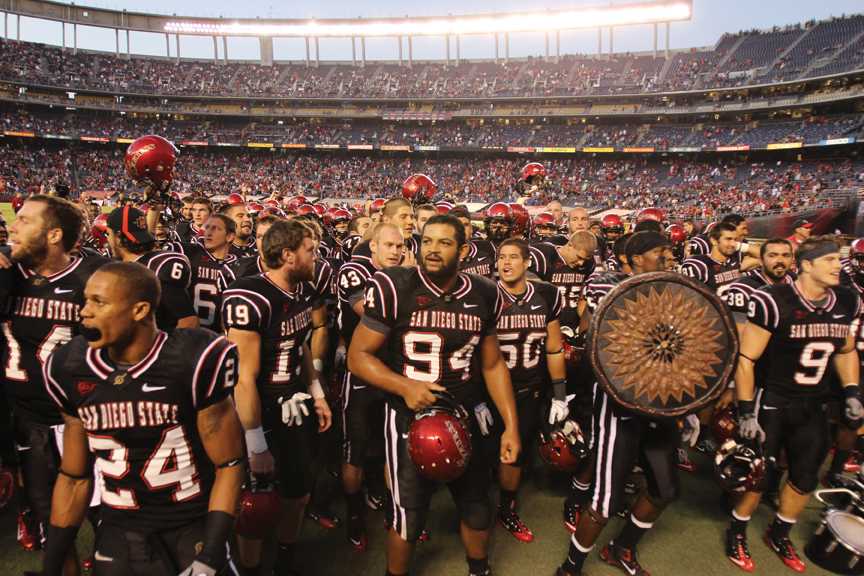 Another opportunity came for the San Diego State football team and now another opportunity has gone.
SDSU came up short in another game against a big name program, falling to the TCU Horned Frogs 27-14 on Saturday night.
The loss is the second straight for the Aztecs, who also fell to 0-1 in Mountain West Conference play.
The offense struggled for most of the night, once again hurting itself with self-inflicted wounds.
The defense struggled in the first half, allowing TCU to convert on seven of eight third-down conversions while giving up 17 points.
SDSU shoots itself in the foot
Turnovers kill, coaches know it and players know it, so when the Aztecs turned the ball over four times against the Horned Frogs its chances of winning went by the wayside.
TCU scored 17 points off of SDSU turnovers on Saturday night.
Sophomore running back Ronnie Hillman's fumble at the one-yard line, the only turnover the Horned Frogs didn't score off of, took seven points away from the Aztecs.
It was a frustrating night for SDSU fans and players.
Senior quarterback Ryan Lindley added to the Aztecs' woes by throwing three crucial interceptions.
Head coach Rocky Long said after the game SDSU left valuable opportunities out on the field.
"TCU played better than we did," Long said. "In the first half we prevented ourselves from scoring at least 10 or 17 points by our own mistakes."
"The fumble going in is a mistake that we made, it wasn't that they stopped us. We dropped a snap from center on the first field goal. That's a mistake we made. Then we threw an interception, so we probably left 17 points on the field in the first half."
Seventen points in a game that saw the Aztecs only down by six points in the early going of the fourth quarter is huge.
Third-down conversions
During the first half of the game, it seemed like TCU's third down conversion percentage was at about 100 percent.
The Horned Frogs weren't far off. TCU converted seven of eight third downs in the first half and 10 of 16 for the game.
The conversions were backbreakers as they kept many TCU drives alive and eventually led to scores.
Horned Frog sophomore quarterback Casey Pachall was a surgeon on third downs, finding mismatches against the Aztecs' secondary and exploiting them.
After the game, senior linebacker Miles Burris gave praise to Pachall for his third-down precision.
"He did a really good job and he is a great player," Burris said. "We didn't play well at all on third downs and it really killed us."
The rate at which TCU was converting seemed systematic.
Long said his defense didn't do enough on defensive get stops on third down.
"That was a lack of pressure on the quarterback and not good enough coverage," Long said. "It's always frustrating when you can't stop somebody."
Lindley's struggles continue
After the Michigan game, Lindley said he ignored all the criticism thrown his way by SDSU fans and local media.
Well, he'll have to ignore another week's worth of criticism because the senior signal caller certainly wasn't at his best against the Horned Frogs.
His final stat line: 15 completions on 41 attempts for 201 yards and two touchdowns to go along with three picks.
It definitely won't be a game tape to show the grandchildren in the future. It was arguably the worst game of Lindley's career.
Long said Lindley is his own toughest critic and he didn't need to tell him anything after the Michigan game.
In the postgame press conference, Lindley put the onus on himself.
"I didn't make plays when I needed to," Lindley said.
Extra Points
The defense forced four turnovers against TCU, they have now forced 16 turnovers through five games.
Pretty good, considering they only forced 16 turnovers last year.
Senior defensive back Larry Parker picked off his fourth pass in the last three games.
Parker has been in on seven turnovers the last three games.
The Aztecs have a quick turnaround as they travel to play a tough Air Force team at 6 p.m. on Thursday at the USAF Academy, Colo.