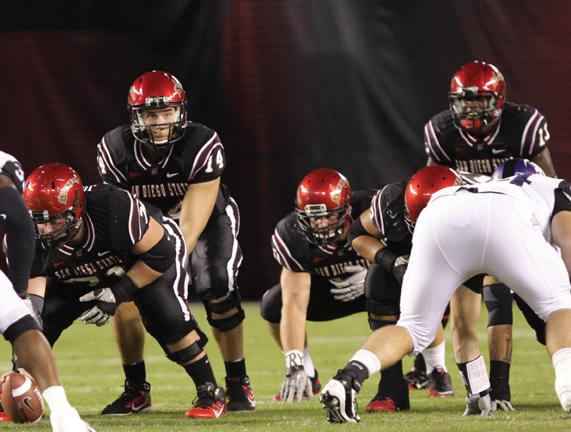 Dear San Diego State football fans,
The world didn't end with Saturday's loss to TCU. It won't end if the team slips up tonight against Air Force.
So please, turn down the panic meter.
Coming into the season with one glance at the schedule, this three-game stretch, which ends tonight against the Falcons, could be seen as the most difficult one of the season.
The Aztecs had to travel to Ann Arbor, Mich., play a quality TCU team and then travel to play Air Force on a short week.
Look at the two teams SDSU lost against. Michigan is 6-0, currently ranked 11th in the Associated Press Top 25 and has one of the most dominant players in all of college football.
TCU won the Rose Bowl last year and even with the loss of a number of starters last year, they are only a couple of bounces away from being 6-0.
The losses weren't pretty and shouldn't be acceptable but there's no shame in losing to those teams.
They certainly aren't as ugly as the 70-7 or 63-14 losses to New Mexico or Utah that seemed commonplace years ago.
Defeat always tastes bad but please put those games into perspective.
There are some other things that should be put into perspective, one of them being senior quarterback Ryan Lindley.
Sure, Lindley has struggled the last two games but no, Lindley isn't the worst quarterback ever, he shouldn't be benched, shouldn't have his scholarship taken away or anything like that.
Take a quick glance at the Aztecs' record book. Lindley is in the top two for completions, passing yards, passing touchdowns (first), career starts and total offense.
He's going through a slump, as every player does, and facing a lot of criticism from the fans and media.
But when the season ends he'll probably still go down as the best quarterback to ever don an SDSU uniform.
Lindley isn't shy about it; he knows his and the team's play needs to improve.
"We know there are things we need to fix," Lindley said. "You need to have that focus and know that you need to get better. It's not 'We're going to give it another try,' it's 'We're going to fix things.' There are things that need to be better and we need to go do it."
Having the team get better falls on the head coach and complaining about head coach Rocky Long appears to be the popular thing to do after losses, even though Long has only been the Aztecs' head coach for five games.
His 3-2 record is the same as his predecessor Brady Hoke had through this point a year ago and against a much tougher schedule.
Long turned New Mexico into a perennial bowl team during his time there and he appears to be keeping SDSU on the right track despite the losses.
The team shows fight every game and had a good chance to erase a 20-point deficit in the second half against TCU.
"The character of our team is (such that) we're going to play hard and the games are going to be close no matter who we play," Long said.
That's a lot more than previous coaches who walked on Montezuma Mesa could say (see Craft, Tom and Long, Chuck).
The Aztecs still have a good shot at being 8-4 or 9-3 with a miracle upset against Boise State.
Sophomore running back Ronnie Hillman won't be fumbling in the red zone every game, Brian Stahovich won't be mishandling field goal snaps and Lindley won't be throwing three picks every time he walks out onto the field.
The team will start playing better. It may or may not be against the Falcons, but with the lighter part of the schedule approaching the wins will come.
So, win or lose tonight, don't panic about the Aztecs.
—Antonio Morales is a journalism senior.