SDSU's new play delights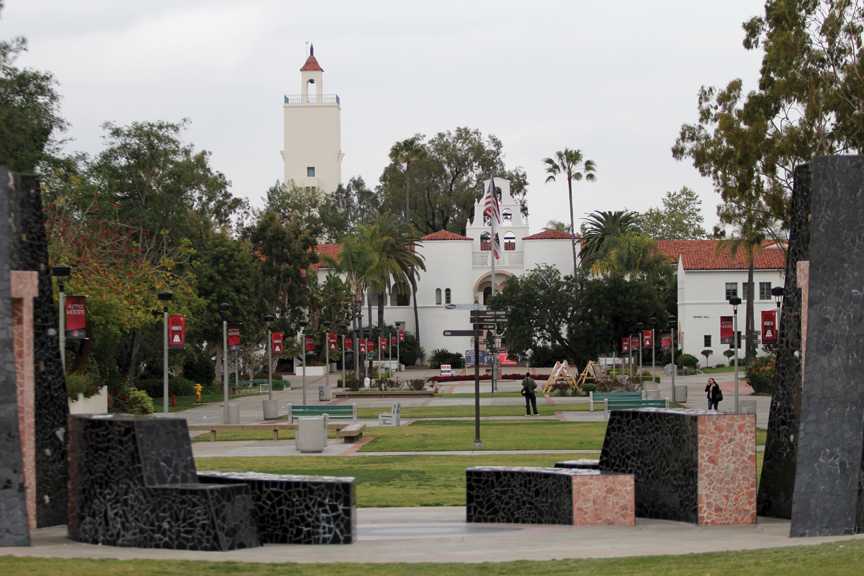 Musicals have become so diverse and ever-changing in the past few decades. Good old-fashioned, mindless entertainment is barely alive on Broadway or in San Diego. The modern form of theater is wonderful, but it is becoming more difficult to find a live production that pays tribute to a time when the point of going out to a show was simply to escape reality for just a little while.
San Diego State's new production of "The Boy Friend" is an unbelievably upbeat tribute to one of the stage's endangered species: a light singing and dancing romp. Now playing at the Don Powell Theatre, the simple goal behind this nostalgic musical is to provide a cheery night out; and it does.
The main plot focuses on Polly Browne (Cassie Abate), a young member of a "school for young ladies" in Nice, France during the 1920s. The other women are going to a ball with dates, but Polly is hopelessly single. Things begin to look up when she meets an errand boy, Tony (Tom Vendafreddo), and they become smitten with one another. It's easy to believe events could conclude there, but as the play progresses and things get zanier, classic comedy revelations and mix-ups ensue with Polly and her peers.
In the wrong hands, this could have been an uncomfortably campy and corny emprise. Surprisingly, "The Boy Friend" works well because every member of the cast and crew are dedicated to the overly broad material.
The production is consistently funny, not just because the dialogue is particularly witty, but because of the way each cast member acts throughout the silly situations. A particular comic standout is Kati Donovan as Dulcie, another student of the finishing school. She really lets loose in the song "It's Never Too Late To Fall In Love," especially in the exaggerated Betty Boop-style way she says, "Boop-a-doop."
There is some wonderful singing, especially from Abate. Her beautiful voice perfectly suits the innocent nature of Polly.
Paula Kalustian's choreography is at times gleefully goofy and very impressive at other moments. Most of the dancing is performed by Bethany Elkin, who plays a student named Maisie, and her primary love interest, Bobby Van Husen, played by Roger Ellis. The two show off some strong dancing skills as they Charleston, tap dance and tango together in several musical numbers.
The five-person orchestra is comprised of two keyboardists, a guitarist and banjo player, a percussionist and a bassist. The small band is not going for a big, dazzling sound, but instead accomplishes something distinct. Its music deliberately sets the mood for the ridiculous action that happens on stage.
Director Kalustian makes sure everyone enjoys themselves when watching "The Boy Friend." Her pacing is so confident and natural, the two hours fly by quickly.
"The Boy Friend" is a delightful time that leaves audience members with smiles on their faces. The cheerful spirit is contagious, and makes the antics a fun treat to experience.
Tickets and information about "The Boy Friend" can be found at theatre.sdsu.edu.

About the Writer David Dixon, Staff Writer
Since, 2005, when he became a writer for the now defunct Rated G column at the San Diego Union Tribune, David Dixon has been writing theatre and film reviews,...