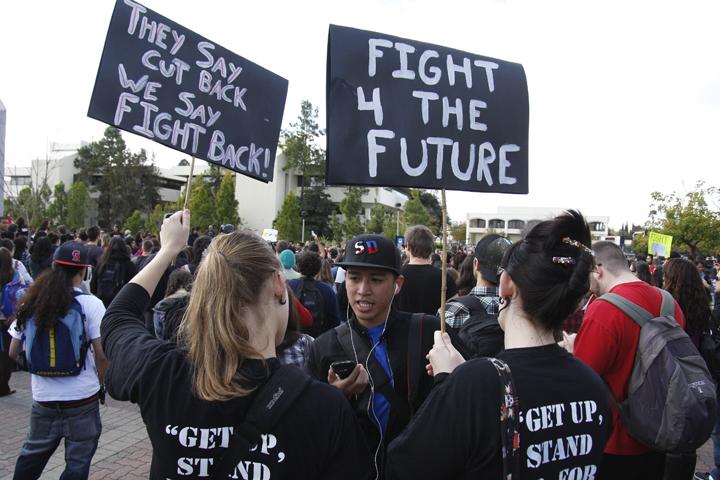 David J. Olender / Photo Editor
California State University Trustees have given students yet another reason to keep an eye on their personal finances.
The CSU Trustees voted to increase student fees on June 18. Undergraduate and graduate professional fees will be increased by 5 percent. Additionally, doctoral education student fees will be increased by 10 percent. Students in the CSU system will begin paying these fees in the fall.
Fee increases such as these are not unheard of in the CSU system. Last year the CSU system increased fees by 32 percent. According to CSU Chancellor Charles B. Reed, the CSU Trustees increased the fees to make up for the lack of state funding. The CSU system has had its state funding reduced by nearly $625 million throughout the past two years. If the plan to implement additional fees fails to offset the lack of state funding, more fees could potentially be added.
"The board's decision to limit the student fee increase to 5 percent is based on the Assembly budget proposal that provides additional state revenues. It will allow us to move forward with adding classes and sections for students this fall," Reed said in a statement on the CSU website.
"The board also left open the option of revisiting fee levels in November if the state does not fully fund the proposed budget," according to the CSU website.
In addition to raising fees, trustees also voted to lift the cap off the non-residential student fee. The cap was previously $11,160 annually but now non-residential students can potentially pay more if they are taking enough units.
These decisions are causing students such as Journalism Sophomore Summer Rainbolt to leave San Diego State in search of more affordable schools.
Rainbolt attended SDSU as a non-residential student. In an attempt to pay less in fees she tried to attain residency but was denied.
"I had a great time at San Diego State … I wanted to stay there because I loved it, but now because of the tuition cost, I have to go home," Rainbolt said. "There's no way I can afford it."
Stories of students leaving SDSU because of the cost of tuition are not uncommon. Hospitality sophomore Dennis Hyman said he has friends who have had to drop out because of financial reasons. He also said he has developed a cynical point of view about this fee increase.
"I read the e-mail and rolled my eyes … I was like, "Why are they raising fees again?' I think that (President Stephen L.) Weber and the people in his staff are trying to make a little bit of extra money … I don't believe that it is solely based on California saying there is not enough money," Hyman said.
Hyman is involved in several enrichment clubs on campus and said that the effects of the fee increases are especially evident in this area.
"You've got to pay for school and you've got to pay for these enrichment clubs. Now with these higher fees it will be harder to get the most out of these clubs," Hyman said.