MATT-ER OF FACT: Get to know the best team in San Diego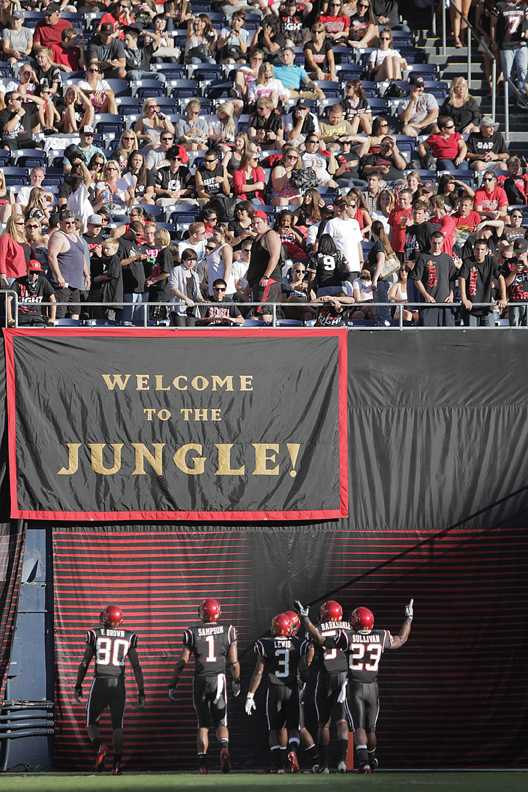 The San Diego State football team is off to a historic start this season but is only averaging 33,050 fans per game.
Now, if you're a student and you regularly attend San Diego State football games, then hit the showers.
As for the rest of you students, I'm going to need you to read along. You've got some learning to do.
But first, if you're a woman, and you're (preferably) blonde, and you're a future gold-digging housewife, I'm going to need you to stick with me just a while longer. But not because I want anything to do with you. If I did, I wouldn't be majoring in journalism. Instead, I'd like to introduce you to some fellow SDSU students:
Meet Ryan Lindley. He likes to throw the ball, he's a bachelor and he'll be a millionaire soon. Lindley will go to the NFL whenever he decides he's ready.
Get to know our next bachelor, Mr. Vincent Brown. He's fast, wears the No. 80 and he turned down millions of dollars last year. Not exactly a sound business decision, right? Wrong. He'll make even more millions after this season as a receiver in the NFL. In his free time, he likes to … wait … Brown doesn't have any free time, because all he does is win, much like the rapper in that one song.
Meet bachelor number three (by the way, I don't know if these guys are really bachelors or not. So I'm sorry to all girlfriends or wives. If you need a shoulder to cry on, I'm here for you). Just kidding, that's what your boyfriend is for. Ahem, meet our next bachelor, Mr. DeMarco Sampson. The football wouldn't be more comfortable if it were in Allstate's hands. Sampson leads the team with 526 receiving yards.
Then there's the freshman running back Ronnie Hillman. He's the three-time Mountain West Conference player of the week, making Hillman the front-runner for conference player of the year. He enjoys hurdling defenders, breaking ankles and long walks to the end zone. He has shown to be elusive, but something tells me he'll have a hard time dodging all you gold-diggin' Aztec women … Run Ronnie run. Hillman is eighth nationally in rushing yardage, and he's just 155 yards shy of the Aztec's rushing total from last year, even though we're midway through this season.
All right future housewives, you're dismissed; hit the showers. Be sure to scrub under the armpits, not over.
For the rest of you, listen up. When SDSU defensive coordinator Rocky Long left his position as head coach of New Mexico, he said, "If you want to compete with the big boys you better start acting like a big time program. And that isn't just the football team, and the football coaches, that's the damn fans."
Well I'm going to teach you damn fans how to act like a big time program. Consider me a Moses of sorts (with less body hair), coming from the South with a banjo on my knee, and Southern college football wisdom in my bosom. But don't worry, I won't tell you to agree with Conservatives, Baptists or incestuous relations. Nor will I tell you an incestuous relation is a bad thing. But I will be stern, and I will be misogynistic.
Here are my Ten Tailgating Commandments. (If you're not a fan of Moses, religiously speaking, imagine me as an early settler of the United States. But instead of kicking Native Americans off their homeland and giving them diseased blankets, I'm here to give you 10 tips about tailgating):
1. Thou shall come to the game and be loud.
2. Thou shall arrive early. Like way early.
3. Thou shall come properly clothed.
For men, this means team colors &- red and black. For women, this means wearing as little on as possible.
4. Thou shall bring food and drink and song and friends.
If thou hath no money, just buy 10 cheeseburgers from the McDonald's Dollar Menu. But if thou art a badass, bring a grill and raw meat.
5. Thou shall drink from an unorthodox contraption at least once, if thou choose to drink at all.
The "beer funnel" is a popular device. But if you haven't done it before, self-proclaimed legend David Pope will be near gate G4 giving demonstrations all day, drinking down his unemployment check.
6. Thou shall yell "Go Aztecs!" to at least one random passerby.
7. Thou shall learn the fight song. For the team sings it after games in the corner of the stadium where the band sits, next to the student section:
Fight on and on ye Aztec men
Sons of Montezuma
We will win again
Keep your spirits high
Never bow a knee
We will fight till victory
Fight on and on ye Aztec men
Proudly raise your banners high
For it's the Red and Black
Hail to our team
San Diego Aztecs fight!
8. Thou shall skip to number 10 for thou hath nothing for nine.
9. I got nothing.
10. Remember, at an Aztec game, an SDSU fan is thy best friend.
If you're an Aztec student, your team is off to its best start in more than a decade, and they just knocked off a ranked opponent. "Because they suck," is no longer an excuse for not attending football games.
SDSU has the coaches, players and future gold-digging wives to change the humdrum college football culture at the university. The only thing missing at the games is you.
8212;Matt McClanahan is a journalism senior.