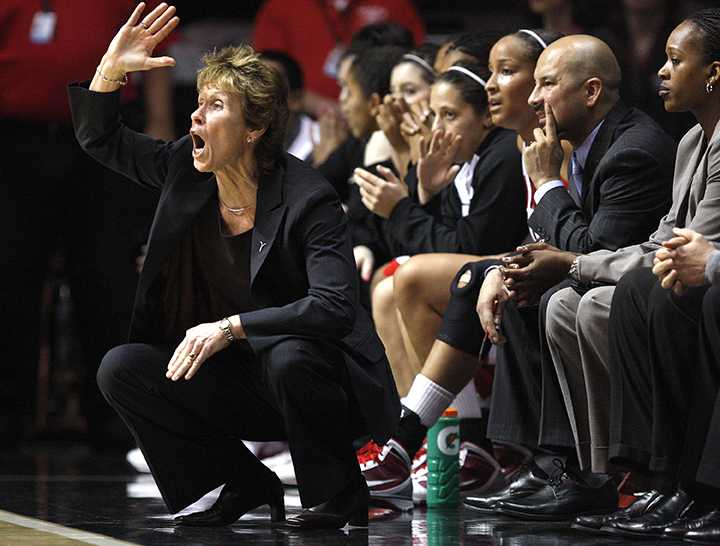 Glenn Connelly / Photo Editor
The term "scrappy" may come across as condescending, but it's hard to avoid the adjective when talking about the 11-seeded San Diego State women's basketball team's run in this year's NCAA Tournament.
SDSU beat 6-seeded Texas on its own floor in Austin in the first round and then pulled off another upset against 3-seeded West Virginia to advance to its first-ever Sweet 16 in school history.
But that's where the magical run ended as 2-seeded Duke dominated the second half and denied the Aztecs a spot in the Elite Eight, 66-58.
Despite giving up 12 steals and 13 turnovers in the first half, SDSU was down by just one point at the break and seemed poised to keep its magical March going.
"Sometimes you are in games and can't wait until halftime," head coach Beth Burns said. "But in this game, I was like, "Let's just huddle and keep going.' I didn't want them to sit down and regroup. I thought it would be important for us to keep momentum."Unfortunately for the Aztecs, that's exactly what happened.
The Blue Devils nearly doubled-up SDSU in terms of rebounds in the second half, pulling down 15 defensive boards to the Aztecs' nine and a staggering 12 offensive rebounds to SDSU's five. Duke also got to the charity stripe seemingly at will. After taking just five penalty shots in the first half, the women in blue took 17 trips to the line in the second half, connecting on 13 of those shots.
"Our defense was really working for us (in the second half)," Duke senior forward Joy Cheek said. "We were having fun on the defensive end, and we just wanted to keep going at them. We had a goal in mind and that was to win."
The loss meant the end of a college career for two of the greatest players in 8212; not just Aztec women's basketball 8212; but SDSU sports in general.
Senior guard Jené Morris averaged more than 20 points in her five career NCAA Tournament games and is the first player in program history to be named conference Defensive Player of the Year twice.
Fellow senior guard Quenese Davis is the team's all-time leader in assists and was named MVP of the Aztecs' 2010 Mountain West Conference Tournament championship.
While Morris has been invited to attend the WNBA Draft and Davis will likewise be working out for WNBA scouts, the finality of their time on Montezuma Mesa was not lost on their coach.
"I am as proud as I can be of the two women to my right (Morris and Davis) and the third senior who is sitting in the locker room (guard Kim Spinardi). They came to a 0-16 operation and made it look pretty good. Everybody who is returning to San Diego State has big shoes to fill because we don't intend to take a step back. We intend to be better tomorrow than we were today."