WATER POLO: SDSU?s final push for the win drowns out Cal Baptist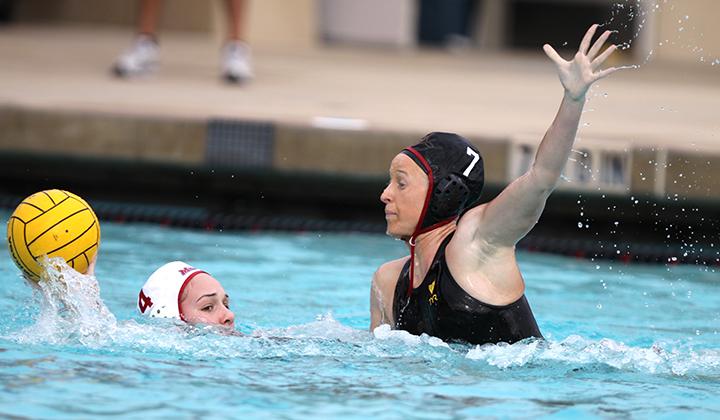 David J. Olender / Assistant Photo Editor
With a minute remaining before halftime, the San Diego State water polo team trailed Cal Baptist by three goals.
SDSU was within reach of the Lancers, but needed a momentum boost going into the half.
Junior driver Sarah Brady provided that boost, scoring as time expired to get the Aztecs back in the game.
"I feel like that goal, to me, was the turning point," head coach Carin Crawford said. "As (long) as we are only down by two. I know if we get the next goal, that we're going to win this game."
No. 14 SDSU did exactly that, scoring twice in the third and fourth periods to defeat Cal Baptist 10-9 on Friday afternoon at the Aztec Aquaplex.
The Lancers didn't waste any time in the first quarter, scoring just 36 seconds into the game. But the Aztecs quickly responded, getting consecutive goals from senior driver Melissa de Jonckheere. SDSU had the lead, but it allowed Cal Baptist to score four straight to take a 5-2 advantage. The Aztecs were held scoreless for the remainder of the first, until freshman utility Amber Pezzolla converted a 6-on-5 opportunity with 47 seconds left.
The Lancers would score first in the second quarter, but SDSU stayed right with them matching each of their three goals.
The second half was a completely different story for the Aztecs.
Not only did the offense give SDSU the lead and eventually the win, but the defense kept Cal Baptist off the board for most of the second half.
"Cal Baptist is a very strong team," Crawford said. "And for us to be able to come from behind to get that win was a really good experience for this young team. We had to fight hard for it and I think we really showed our character."
Earlier in the day, the Aztecs snapped their two-game losing streak by handily defeating No. 20 Brown by a score of 10-5. Pezzolla led the SDSU offensive attack with five goals, the second time she's accomplished it this year. Earlier this season, she notched five against UC Davis in an 11-8 victory.
"Teams pay a lot of attention to her defensively," Crawford said of Pezzolla. "So her goals are hard to come by. She's always got a good defensive matchup and she has to work really hard. So I was thrilled that she had a breakout game."
The Aztecs will now prepare for a Senior Day matchup at 1 p.m. this Saturday against UCLA at the Aztec Aquaplex. The last time the two teams met, the game went into double overtime before SDSU pulled off a 7-6 upset of the Bruins.
"Senior Day is always a special day for us," Crawford said. "And it's important for us to send MJ (de Jonckheere) out with a win and we beat (UCLA) before, so I think we can do it again."