BASEBALL: Aztecs face tough loss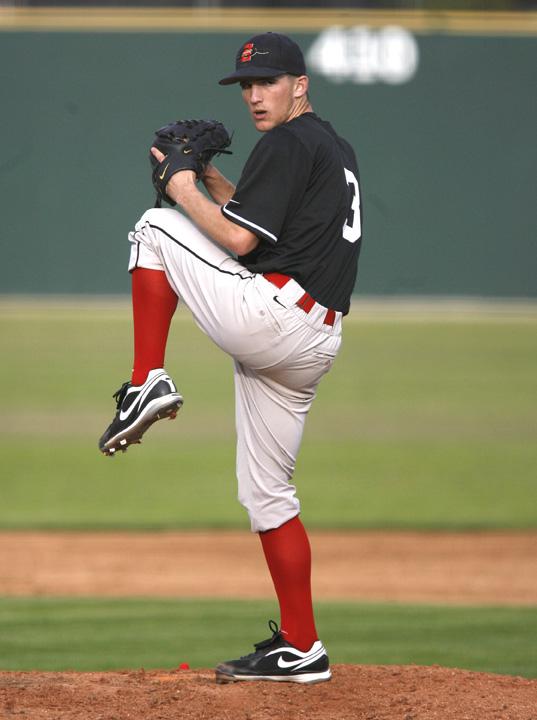 Glenn Connelly / Photo Editor
The San Diego State baseball team's second game against TCU opened with fireworks, but didn't end with them.
Despite a home run for SDSU in the first at bat of the game, the Aztecs allowed TCU to blow them out of the water late in the ball game for the second night in a row.
On Friday night the Horned Frogs hosted game two of Mountain West Conference play against SDSU, serving a disappointing loss for the Aztecs, 11-5.
The game was a fairly close matchup until the bottom of the seventh inning. Facing freshman pitcher Kyle Shaver, TCU was able to build five additional runs to make it 6-5.
Out-hitting the Horned Frogs 12-11, SDSU's loss was built by leaving nine runners on base compared to TCU's six.
Senior second baseman Mitch Blackburn opened the game with a solo homer into left field, and was able to take another one out of the park in the third inning as well. They were his first home runs for the season.
Another strong offensive performance for the Aztecs came from sophomore outfielder Brandon Meredith. The right fielder went 3-5 Friday, with a double and two singles, but was not able to score. Meredith now leads the team with a .340 batting average.
Fellow outfielder junior Cory Vaughn was able to find the plate in the fifth however, and would be the last SDSU player to cross home. Vaughn leads the team with four home runs and seven doubles this year.
"Putting up stats is nice," Vaughn said. "It feels great getting knocks here and there, but in the end it's all about getting a W."
Breakout star, freshman pitcher Bryan Crabb had a rough night. In his fifth start of the season, Crabb was retired to the dugout after giving up six runs, including a home run in the sixth, totaling 5.1 innings for the night. The loss in Fort Worth, Texas drops his record to 2-3 as a starter.
Following Crabb was Shaver and junior Ryan Wynveen, who both appeared during the inning when TCU sealed the game, putting up five runs.
Senior reliever Drew Leary came in and closed the eighth with a short, three-batter inning.
The two devastating defeats from the Horned Frogs, and the swept series in New Mexico last weekend give the Aztecs a conference record of 0-5.
"It's really frustrating," Vaughn said, "but we try not to think about our record and play game by game."